Remember, an effective advanced SEO report should provide actionable insights, be easily understandable, and align with the goals and objectives of the SEO strategy. By considering these points, you can create reports that drive informed decision-making and support ongoing SEO optimization efforts.
An undeniable aspect of SEO services is submitting SEO reports to clients. It's one of the major areas of expertise for a SEO outsourcing company. Even in-house SEO teams need to submit reports about their SEO campaigns and their success or failure rates to their company heads. That's because at the end of the day, clients and business heads need to know that the money they've put in for SEO and digital marketing is giving them results or is in the process of helping them attain something big.
The Challenge of Report Creation and Submission
Reports can be painstaking for those doing the SEO groundwork though, because all the time spent on crafting reports could have been put on fine-tuning SEO strategies. Often, business heads demand detailed reports highlighting every aspect of the work done and progress made in terms of conversions, traffic, page visits, video views, channel subscriptions, social media post likes, blog readership, etc. They would also want to attribute the results to particular channels or elements of the SEO work. So, the idea is to make the reports as convincing and explanative as possible, but without compromising the performance and time of SEO professionals.
Business Heads Need In-depth Reports
Since business heads aren't necessarily technical minded people, and the only things they understand apart from their core business are profits, losses, earnings and ROI, it may be difficult for SEO professionals to convince them of the progress they've made.
Having said that, business owners are pretty familiar with tools such as Google Analytics, Google Ads and various other keyword research and performance assessment tools. They want to get to the details and not just receive shallow reports indicating traffic and conversions once a month. They may require more frequent reports and more details that they find eye-opening which would contribute to small or large gains in traffic, conversions and earnings.
Detailed Metrics, but Only Ones that Matter


(Img source: How to Prepare Compelling Website SEO Report for Your Clients – Marketing Agency Software | Reportgarden)
However, while stakeholders want details and ground-breaking information, they also don't have the time to go through pages and pages of data. Even if you don't include all the metrics, you need to include metrics that matter. The metrics that matter also vary depending on the kind of business for whom the SEO is carried out.
Crafting the Right SEO Report
Let's go through the things to remember to get the right SEO report for your client or company management:
Objectives Framed after thorough Website Audit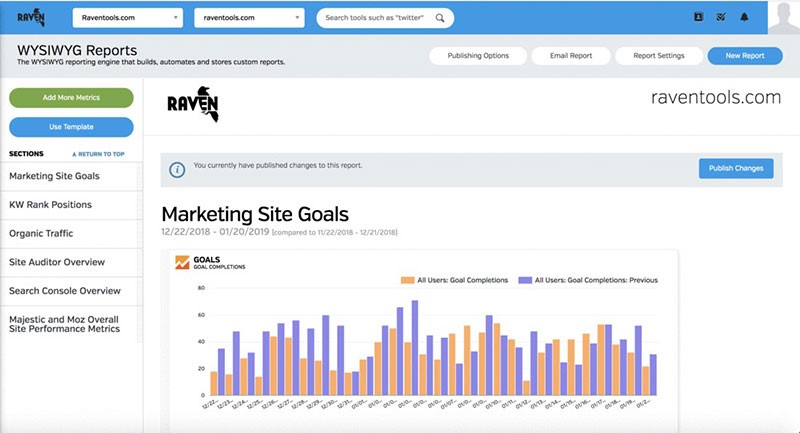 (Img source: The Ultimate SEO Report Guide – Example Reports and Template Included (raventools.com))
The first step is to determine what the business goals of the company are. What exactly do they want to improve with their website? What goals are realistically possible and what would require a significant investment? How much change needs to be affected? To provide these metrics you need to perform a thorough website audit of the client.
Information Presented in a User-friendly Manner
Next, you need to decide how to provide all that information in a user-friendly manner. Despite the fact that objective information is what readers of your report would look for, you also need to ensure that the layout and the visual elements are pleasing to the eye. You need to fill your report with all the critical information, but in a readable manner. Remember, your readers aren't necessarily technically minded.
Critical Metrics Absolutely Need to Be Included
While SEO reports need to be concise, they also must be sufficiently detailed in the essential information. That includes rankings for the keywords you've optimized your content and web pages, the traffic received by the website pages as well as the YouTube video channels and blog posts, the performance of each of the web pages, backlinks, etc.
A Mailing Schedule Helps
By setting up a mailing schedule, SEO professionals don't need to spend a great deal of time each month for compiling and sending reports.
Adding Interactive Elements
Make sure you have objective information in terms of research backed figures. Only figures can convince business heads about the progress made or the measures that need to be employed to improve traffic, rankings or views. The figures need to be presented in an interactive manner through graphs, pie charts and images.
Draw Conclusions and Get to the Bottom-line
It isn't just enough that you provide figures and data. You need to draw conclusions, describe the progress made and show the way forward through actionable insights.
Other Points to Remember
When creating advanced SEO reports, there are several key things to keep in mind to ensure their effectiveness. Here are some important considerations:
Define Goals and KPIs: Clearly define the goals and key performance indicators (KPIs) for the SEO report. This helps focus the analysis on the metrics that matter most and aligns the report with the overall SEO strategy.
Data Accuracy and Reliability: Ensure that the data used in the report is accurate and reliable. Use reputable SEO tools and platforms to gather data, and cross-check the information to validate its accuracy.
Segment and Prioritize Data: Segment the data based on different parameters such as organic traffic sources, keywords, landing pages, or geographical regions. Prioritize the data based on the objectives of the report to present the most relevant insights.
Contextualize the Data: Provide context to the data by comparing it to previous periods, industry benchmarks, or competitor performance. This helps in understanding the significance and impact of the data trends.
Visualize Data Effectively: Use visual elements like charts, graphs, and tables to present complex data in a more digestible format. Visualizations make it easier to understand trends, patterns, and comparisons.
Provide Actionable Insights: Interpret the data and provide actionable insights and recommendations. Highlight opportunities for improvement, identify areas of strength, and suggest strategies to enhance SEO performance.
Customize Reporting Frequency: Determine the appropriate reporting frequency based on the needs of the stakeholders. Some may require monthly reports, while others may prefer quarterly or annual reports. Tailor the reporting frequency to meet their requirements.
Use Plain Language: Use clear and concise language in the report to ensure that it is easily understood by all stakeholders, even those without technical SEO knowledge. Avoid jargon or complex terminology.
Include Executive Summary: Begin the report with an executive summary that provides a high-level overview of the key findings and recommendations. This allows busy stakeholders to quickly grasp the main insights without delving into the details.
Regularly Review and Update: Continuously review and update the SEO report template to ensure its relevance and effectiveness. As SEO strategies evolve, adjust the report structure and metrics accordingly to provide the most valuable insights.
SEMrush Reporting Tool
Now you can create SEO reports based on reporting tools or you can go for customized reports. The reporting tools you can use include Google Analytics, SEMrush, Google Search Console and Google Data Studio. Often you'd have to customize your reports though, and tools such as SEMrush do offer the option of customized reports. Let's just look at the customized report option provided by SEMrush.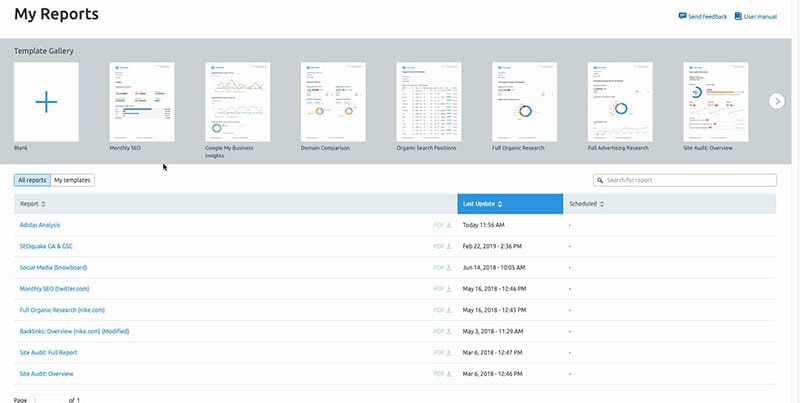 (Img source: My Reports | Semrush Knowledge Base – Semrush Toolkits | SEMrush)
SEMrush offers the My Reports tool to create and manage custom SEO reports and share them with your clients with your branding added. The tool features drag-drop widgets that help you access data from over 40 SEMrush tools, which can then be compiled into one PDF. Data can also be added from Google Ads, Google Analytics and Google My Business. With your branding added, you can also remove any references to SEMrush if you're part of the latter's Agency Growth Kit. You can customize the report with themes and colors of your choice.
As a digital marketing services company, we use a wide range of tools to deliver useful, detailed, and interactive SEO reports. These reports are a clear proof of the progress made in our digital marketing efforts for our clients.
Unleash the power of SEO outsourcing.
See real results with our tailored strategies.