Instagram stories have become a powerful tool for businesses. Here are some of the top strategies to use Instagram Stories to market your business.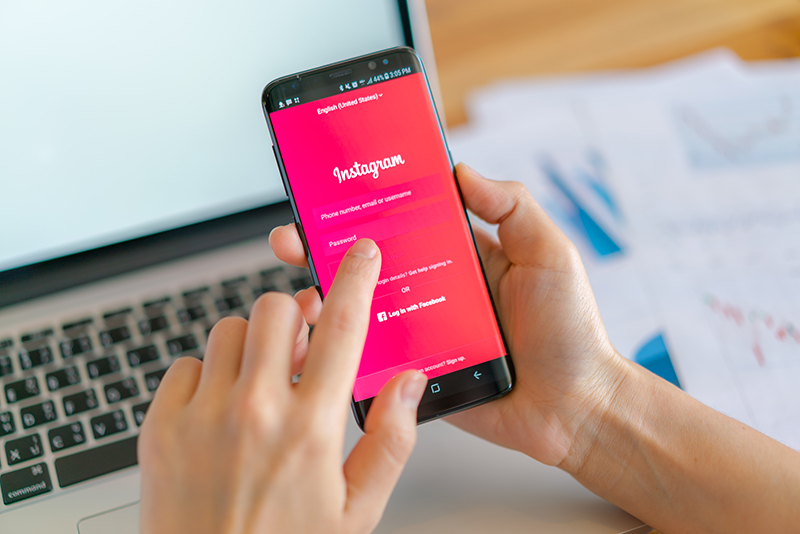 With every passing year and the increasing number of social media users, social media is playing a bigger role in digital marketing. Social media is growing at an unprecedented rate and has become a great platform for businesses to promote their brand, enhance visibility and engage with potential customers. Facebook is the number one social networking platform that people utilize for social media marketing and advertising. However, with evolving algorithms on popular platforms like Facebook, it is important for businesses to stay on their toes and look out for innovative strategies to keep users engaged with brands at a more personal level. Although Facebook is the number one platform that people use for marketing and advertising, Instagram (IG) has emerged as the top visual content-based social media platform that is currently trending. Instagram stands apart from all other prominent social media platforms and is one of the best places for businesses to promote brand engagement with their potential users. Studies suggest that Instagram has about 1 billion monthly active users worldwide and a more engaged audience than other social media giants like Facebook and Twitter. With a huge growth potential like this, marketers need to implement Instagram into their social strategies, particularly – "Instagram Stories". Instagram stories have completely changed the way people use the platform and turned it into something more than their everyday online photo album. This unique feature makes it easy for businesses to connect with users, create potential leads, humanize brands and generate a greater number of customers. Initially launched as a thinly-veiled effort to copy the popular Snapchat feature in 2016, Instagram is upping the market value for stories with the recent launch of product stickers. Businesses can use Instagram sales channel to let customers discover, shop, and buy products directly from Instagram.
Instagram Stories – A Powerful Tool for Businesses
With over 500 million daily users posting 1 billion Stories every day, Instagram stories have become a powerful tool for businesses to reach prospective customers and build a strong connection with existing customers. It is estimated that about 62% of people become more interested in a brand or product after seeing it in their Stories. In fact, brands have effectively utilized the channels feature by posting an average of 2.5 Instagram Stories a week. As per January 2020 reports, about 4 million brands are advertisers on Stories. These figures are expected to rise in 2020.
Through stories, Instagram provides users a strong platform to share their lives within the timeline of their profile, as well as story snippets for just 24 hours. Modeled after Snapchat in 2016, one of the striking features of Instagram Stories is that they are featured at the top of the home feed. Users can merely add another element to their Story and they are bumped to the front of the line. Instagram posts a reminder in the feed about Stories that are about to expire or that have been the most popular. This gives your followers another chance to watch your Story before it disappears.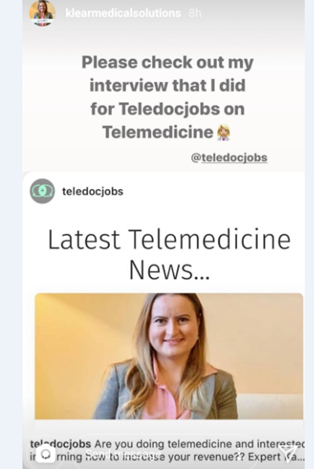 Stories can include a still photo or short videos (related to brands products or services) and interactive information like posting a question. Whether it is a business or everyday user, they can effectively utilize the "stories" feature to connect with their followers multiple times a day without over saturating their newsfeeds. In actual fact, they are a quick, engaging format perfectly suited for mobile experiences and the ephemeral format lowers the stakes and makes the whole experience less formal.
In a nutshell, this innovative feature offers a new way for users to share photos and videos in a slideshow pattern, which disappears after 24 hours. No matter what type of content you want to share, the IG Stories feature lets businesses maintain an individual persona on business profiles while having more creative freedom to craft a unique story equipped with catchy texts and stickers. This feature works best for a business announcement, a teaser for an upcoming product, or conducting a special event. This can be great for showing the sneak-peaks of your business so that your followers get to witness the real personalities within your business.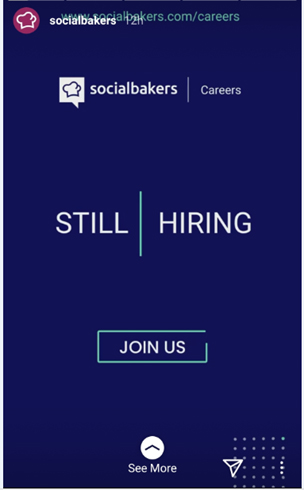 How to Grow your Business with Instagram Stories
Over the last few years, IG Stories have evolved significantly introducing several innovative engagement boosting features that are perfect for initiating conversations, humanizing brands and getting real-time feedback straight from the target audience. As mentioned above, about 500 million accounts use IG Stories every day. More than half of people surveyed said that they are making more online purchases by viewing stories. Also, about 38 percent people said that they discuss with others about a specific product or service in a story they viewed, while 34 percent said that they went into the store to look for it. Stories can inspire their viewers to take quick action (whether it is to buy a product or visit a website). Therefore, apart from views on your story, you can also get word of mouth advertising, online purchases and high traffic to your website when using IG stories feature. Here are some top strategies to grow your business with Instagram Stories –
Create/post content consistently – Consistency is key to social media success and the same rule applies to IG stories as well. If your aim is to increase your potential reach, it is important to post well-thought out, structured stories to your timeline. Since stories only last 24 hours, it is important to post new content consistently at a pace that best works for you as this will help to keep the audience engaged. This does not mean that you should create content just for the sake of it. Whether it is only once a week or three times a week, stick with a set schedule that your audience can depend on. Implementing a weekly series is important as this lets people know that they can connect with a specific business brand on a set day. When creating a weekly series for your IG account, look at what contextually fits your specific business line and examine what would be relevant to your ideal client. For instance, businesses can offer a "Tips on Tuesday" series or give any other creative, catchy title that attracts your audience. Make sure to combine different kinds of content (from photo and video to screenshots) in your content series.
Collect feedback from customers – Collect feedback from customers to evaluate whether they are happy about the specific products and services and check if any area of services needs to be improved. With IG Stories, collecting customer feedback is easier than ever. The most important thing is to create an attractive Story with an interactive poll sticker.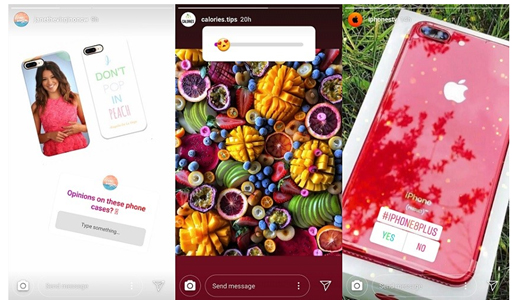 Source – https://digitalagencynetwork.com/10-ways-you-can-use-instagram-stories-to-grow-your-business/
Run promotions – Sharing fun promotions on Stories that go beyond discounts will encourage customers to buy. Highlight posts that celebrate customer's win. Share testimonials or a new product launch. Use your IG Stories to create social proof or promote a hashtag.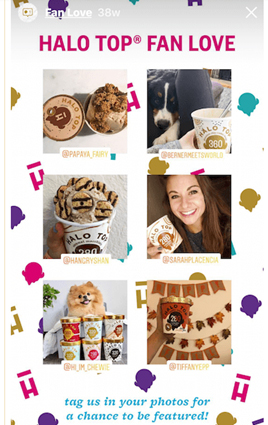 Source – https://www.socialmediaexaminer.com/instagram-stories-for-business-how-to-create-engaging-stories-alex-beadon/
Build your email list –IG Stories can help obtain more email subscribers to grow your Email list. For IG accounts that reach 10k or more followers, Instagram will allow to add links to Stories. This will help you add a link to your sign-up page. All links in Instagram Stories are hidden under the "See More" option. Hence, to make sure your users understand or discover a new link added to the story, add a call to action, like – "Swipe up to sign up."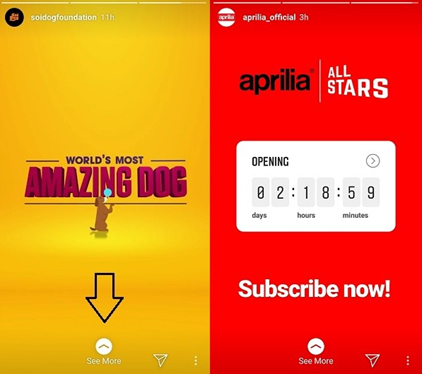 Source – https://digitalagencynetwork.com/10-ways-you-can-use-instagram-stories-to-grow-your-business/
Build more local exposure – IG Stories help build more local exposure for your brand. In fact, the location stickers can inform the audience where you are at a particular moment and where your store is located. By using location stickers it is possible to easily drive more foot traffic to your store.
Strengthen customer-brand relationship – Converting your one-time customers into loyal customers may help build your business in an effective manner. To make sure whether your customers continue using your products or services, it is important to build a closer relationship with them. Instagram Stories can help you with that in the following ways like creating and sharing easy tutorials as well as DIY (do it yourself) videos, apologizing and thanking your followers, interacting with audiences (by asking intriguing questions), and sharing user-generated content by showing that you care about customer content.
Develop How-to and Advice content – Use Instagram Stories to share a how-to or advice content that add value to your audiences. Picture your ideal client and reflect on what type of content they might need. Any business can develop tutorials or share advice related to their products and services. For example, an Ice cream shop can develop content and share videos that demonstrate how to make ice cream, share fun facts about their ice cream, or give followers a look at their own ice cream-making process.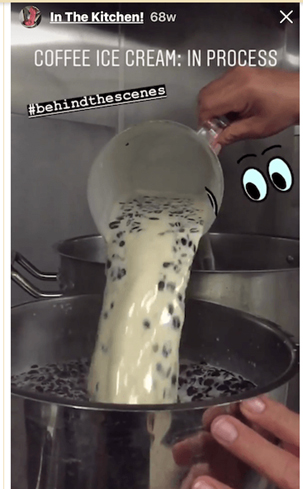 Source – https://www.socialmediaexaminer.com/instagram-stories-for-business-how-to-create-engaging-stories-alex-beadon/
Humanize your brand – Customers' perception of a particular brand will improve if they happen to witness a human touch behind your business and the product/service initiatives. Instagram Stories help brands display their exact style and individuality thereby sharing appealing content, such as fun videos or news of charity events.
Go Behind the Scenes – There are several unique ideas for sharing a behind-the-scenes look at your business through Instagram Stories. Create a list of the things happening around you that your customers may be interested in seeing. In some cases, things that may seem boring or mundane to you may be fascinating for someone else. For example, Everlane is a top apparel brand that is known for featuring the type of authentic, behind-the-scenes content that their customers love. Everlane uses Stories to reinforce their core business value – "transparency". They constantly share honest, detailed information about how each of their products is made in their stories and they go even deeper into the origins of each product, which reinforces their brand and builds trust with their customers. In fact, Everlane's Stories are not just FAQs, but they serve as look books that promote new product offerings.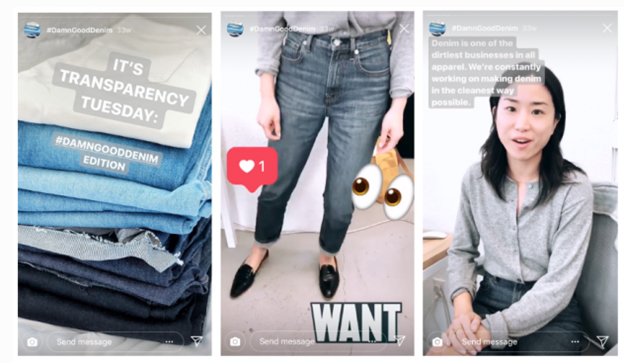 Source – https://blog.hootsuite.com/brands-insta-stories/
Boosting Engagement with Instagram Stories for Business – Innovative Startegies
What makes your brand unique? Whether it is the range of your products, or the quality of your service, Instagram Stories is the perfect place to share what sets your company apart. Most businesses have been holding back from attempting the "Instagram Stories" feature. Stories format is the current trend that may go on to rule the future of social media content consumption .It is important to learn how to effectively leverage it for business.
Instagram Stories have tons of unique, easy-to-use features that enhance customer engagement just from one click polls to instant emoji slider stickers. Businesses that remain confused regarding brand development strategies can make use of Instagram's new "Create" mode that has tons of pre-populated stickers designed to initiate your creativity and encourage more engagement.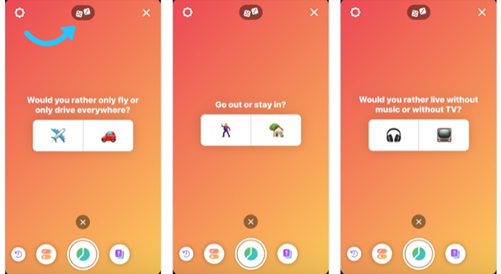 Using these stickers in IG Stories each week can help build more customer interaction and boost the overall ranking with the Instagram algorithm.
Use the right Instagram stickers – Businesses can increase their level of exposure if they strategically use stickers. While sharing a photo or video to your story line, it is possible to add stickers to encourage different types of engagement. Here are some of the more interesting options for stickers –
Poll stickers – An ideal option for an instant engagement boost, poll stickers are one of the quickest and easiest stickers to build engagement. Polls are a fantastic way to drive more audience interactions. It is possible to get feedback from audience by writing questions and custom answers. For example, content creators regularly share polls to ask audiences whether they should buy an item or not. Although these may seem like basic points of conversation, it is an extremely effective way to create a stronger sense of community on Instagram.
Product stickers – Product stickers help drive more sales directly from Instagram Stories. The sticker allows you to tag specific products in stories, just like regular Instagram shopping posts. Adding a shopping sticker to a product can allow buyers to simply tap to learn more about the product tagged, and then tap again to make a purchase. Shoppable Instagram Stories stickers can be placed on both images and videos.
Emoji slider stickers – This is another easy engagement opportunity for stories. Not only are they great for getting a quick sentiment reaction, they can be used more creatively as well.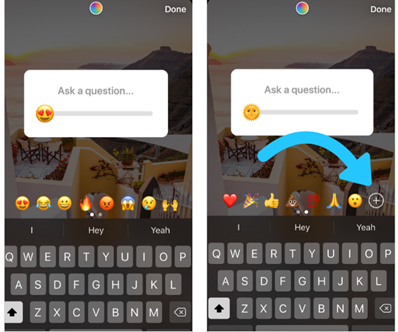 Questions stickers – Questions stickers are ideal to encourage more interactions. Right from gathering feedback on products to inviting questions for Q+A, these stickers help prompt timely responses from the right type of audience.
Quiz stickers– This type of stickers are perfect for a quick and fun way to interact with the audience. For instance, quiz stickers can be used to communicate the brand story, or details about a new product launch.
Chat stickers – Released in 2019, chat stickers are perfect for setting up a quick chat forum with up to 32 participants. Due to the limited number of participants, this can be used to discuss topics related to business goals, product ideas or marketing concepts.
Hashtag sticker – IG Followers who click this sticker will be directed to the relevant hashtag page.
Countdown stickers – This is a great tool to promote an upcoming product launch or sales event on Instagram which in a way would help generate more sales. IG followers of a specific brand can tap the sticker and set a reminder when the countdown for product sales ends.
Add hashtags and location tags – Adding hashtags and location tags will help enhance or build your business reach organically. Instagram Stories set their own dedicated space at the top of a hashtag or location search result page. Geotags will help a brand get discovered in location-level stories (example – New York City or a popular restaurant in your neighborhood). Tagging your location in your Story posts when it is relevant can make your brand visible in front of people who are checking in on that particular spot. As people search for locations, they will be able to scroll through the stories attached to that location too. It is possible to add as many as 10 hashtags to each Instagram story, including one clickable hashtag sticker.
Instagram Stories Ads – Brands looking for organic options to drive sales with Instagram Stories can use "Instagram Stories Ads". IG Stories Ads help showcase a business brand, products and services to an already engaged audience. It is estimated that about 75 percent of Instagram users take action like visiting a website or making a purchase, after looking at Instagram Ads. Instagram Ads have all the same targeting options as Facebook Ads (like including targeting based on location, demographics, interests, behavior, and more). Therefore, by utilizing Facebook's Ads manager, brands can create Instagram Ads that show up within Instagram Stories.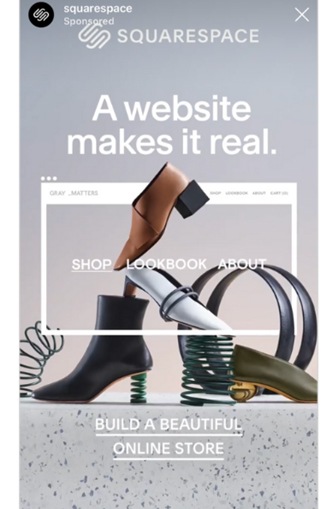 Source – https://later.com/blog/instagram-stories-for-business/
Use Instagram "Live" – Going "Live" on Instagram Stories platform can be a unique strategy to boost customer engagement. It is a great way to capture the followers' attention and an excellent forum for encouraging tons of questions and comments. One of the important advantages of IG Live is that it triggers a notification to followers who are using the app at that time, so it is worth going "Live" when the majority of followers are online. After finishing live stream, it can be uploaded to the Story for the next 24 hours. Uploading Live Videos Story changes the icon (to differentiate it from the rest of the stories at the top of that app), as generally these live videos happen less frequently. Some top Instagram Live ideas include – vlogging live, running a contest, influencer takeovers, hosting a talk show, hosting a Q&A or AMA (Ask Me Anything) and covering an event or sharing an interesting moment.
Adding Links–If you have over 10K followers on Instagram, it is possible to add direct links to stories. There are several ways to make this feature even more valuable for your brand. Beyond just telling your audience to check the link in your bio, consider mentioning your own Insta account using an arrow to point to your account at the top left of the Story. Whether done verbally or through a text caption, providing a quick explanation for why someone should "swipe up" is a good start when it comes to driving clicks.
Release a Branded IG Stories AR Filter–In 2019, Instagram opened up Facebook's Spark AR Studio to the public which allows anyone to create and submit augmented reality filters and effects for Instagram Stories. These on-brand filters create a visual that is ideal for their target audience group. The more people use them, the more brand and product awareness they attain. For example, cult skincare brand "Summer Fridays" recently released two branded AR filters inspired by two of their unique products –"Jet Lag and CC Me Glow".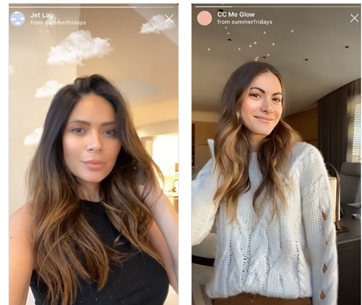 Source – https://later.com/blog/instagram-stories-for-business/
Stories have become an important part of Instagram marketing strategy. Understanding how Instagram Stories work and the benefits businesses can gain from the same is important. With its unique visual storytelling ability and strong conversion methods, businesses with huge consumer base can effectively use Instagram to drive engagement, build brand awareness and generate traffic.