Keyword research is an important factor for SEO. It involves evaluating search terms that people enter into search engines to get information about a product or service they are looking for. Keyword research is the crux of any online marketing campaign. Identifying the commonly used industry specific words or phrases that people type into search engines allows businesses to understand what keywords they should target and rank for to increase traffic to their site and reach their targeted audience.
Keyword research is one of the first steps towards setting up a successful search engine optimization strategy. If you want more traffic to your website, you should a secure a position on the first page of Google search results, or even better, be in the top three search results. Research shows that the first three search results grab about 75% of the clicks and only 0.78% of searchers click on a link on the second page of Google search results. Using the right keywords will put you in touch with your audience and help get them to visit your site.
For example, someone who is looking for a plastic surgeon in New York is likely to type "Plastic surgeon New York" into the search box. If your website content is optimized the right way with this keyword phrase, then your website would show up in on the first page of Google search results and likely bring the searcher to your site.
So, using the right set of keyword in your blogs, images and other content is important to secure the top position in search engine results page. On the other hand, using the wrong keyword may misguide users, increase your bounce rates and eventually lead to you to lose your ranking as well as and traffic.
Keyword Research – Basic Steps
Be clear about your main business goal: The first step in keyword research is to develop a clear idea about your main business goals or your mission, the audience you're targeting, where they are located, and what they are looking for.
Make a list of keywords: Next, develop a list of keywords with your audience's search intentions in mind. Think about the words they would be using to look for the products or services you're offering. What is your unique selling point? Once you have the answers to these questions, you will get an idea about the search terms that you want to be found for.
Do keyword research: This involves putting yourself in the place of your customers and focusing on what exactly they want. Test the keywords you have identified on Google. There are tools that can help you do this.
Pay attention to competition: Find out which keywords your competitors frequently use. This will help you understand gain insights to stand out in the crowd.
If you are redesigning your website, make sure that the navigation of your website, URL naming and content for each page is based on your keyword research. Keyword analysis will help determine the search terms people are using in relation to the products, services and the location of your business. Next, do keyword research to develop content for each page. Keywords should be incorporated into content writing smoothly and in brand promotion.
Keyword Research for Content Optimization
Content optimization is an important factor in SEO and it is important to keep content up to date. As your online presence grows, the search terms that describe the products and service which people use would also change. Performing content optimization on a yearly basis will improve your content and also help meet your SEO goals. When incorporating new keywords, make sure to include them in your meta titles and description of the page to match with the new content. This is because search engine are highly responsive to these changes and they expect consistency throughout the content. It is always better to choose specific keywords that have high search volumes and low competition.
Types of Keywords
Long-tail keywords: These are keywords that have 3 or more words, and low search volume and competition. It is easy to rank for long-tail keywords. Though they may get low search traffic, they may have high cost-per-click (CPC) and attract quality traffic.
For example: running shoes for men with flat heels
Short tail keywords: These are keywords that have less than 3 words and they are very popular and have good search volume and competition.
For example: running shoes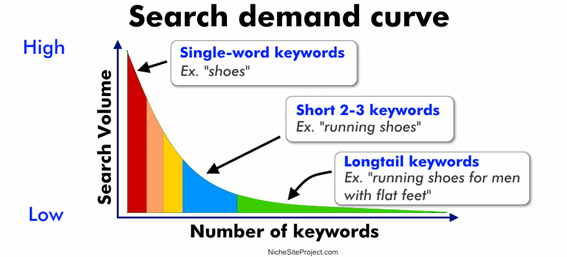 Source: Niche Site Project
Apart from long tail and short tail keywords there primary keywords and secondary keywords too. Primary keywords are keywords that have the main keyword phrases that you are aiming to rank for and appear in the headline, domain,blog post, meta description and meta title of the content. Secondary keywords are extra SEO keywords or phrases that help you to rank better with the content.
How to do Keyword Research
Find the seed keyword: Seed keywords are the basis of keyword research for SEO. It helps identify your competitors and niche easily and promotes your products or service online. These keywords are the most relevant keyword or phrases for your business. Seed keywords are terms that are closely related to your products or service or the basic search terms that are used by audience to search online. For example, if you have an online shoe store, the seed keyword for your business is "shoes".
Identify keyword ideas: Once you have your seed word ready, the next step is to come out with relevant keyword ideas. But remember to keep in mind the needs of your target customers.

Look for words that you have already ranked for: Find out a few hundreds of keywords that you are already ranked for in Google. This will help you to start your keyword research. Use "Search Analytics" in Google Search Console to find the average position of each keyword in Google web search queries and the clicks that it can bring in.
Identify the keywords that your competitors are ranking for: Look out for keywords that your competitors are using and you can pick the best one. If you do not know your competitors, then enter your seed keyword in Google and find out who ranks first. Check out for keywords in related industries too – you may find useful keywords that may not be relatable but still bring target audience to your website.
Search related: Let us consider an example, typing "plastic surgeon in NYC" into the search engine may give related search terms such as goals plastic surgery, Colombian plastic surgeon, plastic surgeon near me, etc.

Look at the "search related" section at the bottom of the Google page. There will be many keywords in the section that come directly from Google. This will also give you a new list of related keywords.

Look for keywords in Wikipedia: You can find several articles in Wikipedia provided by experts in various industries. Type a broad keyword in Wikipedia and look for the "contents" section of the page. It will list out the subtopics covered on that page.Let's continue with same example: typing the word plastic surgeon in Wikipedia give you subtopics like Aesthetic surgery, Burn surgery,etc
Use Reddit: If your target audience changed out in Reddit , you can find keywords here. Go to Reddit and search for the topic that your target audience is interested in and something related to the product you sell. The next step is to choose a subreddit that target audience hangs out in, and finally, look out for threads that have many comments.
Google Trends: This is one of the best sources for understanding the seasonality as well as the overall trends of keyword search volume. It can also provide a set of related queries that can help you to get more keywords into your keyword list. For example, the following image shows the trend graph for the keyword "flowers" in Google Trends:
Source: Ahrefs
Understand your niche: Finding out what your niche wants will help you discover various relevant keywords. You can talk with your customers to understand their needs or participate in niche communities social networks to do so.
The search volume for keywords may differ greatly, but if you want to target terms that your audience are looking for, then it is better to use target terms with lower search volume as they are less competitive. As both high and low competition keyword are useful for your website, knowing more about search volumes will help you prioritize keywords.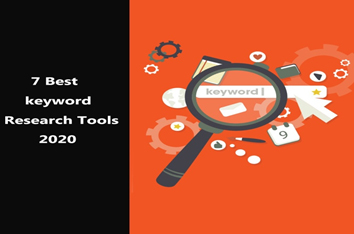 Source: https://medium.com/@zozothemesofficial/-ba767b82544
Use Keyword Tools: If you are the leader of your niche, then looking for some unique keywords is essential. You can use keyword research tools to find relevant keywords. Here are some popular keyword tools:

Google keyword planner: This is one of the most reliable sources of keyword data because it comes straight from Google. It designed to mainly for Google Ad Campaigns. This platform provides you many keywords and also finds queries that get many searches.
Source: SpyFu
Uber Suggest: This tool provides keywords that are not available in Google Keyword planner. You can type in your word and then click suggest. This will generate a list of keywords
Keywords Everywhere: This platform shoes keywords from various places around the web. Install the keyword extension and the next time you visit any of the sites that Keyword Everywhere integrates with, then you will find a list of keywords ideas.
Exploding Topics: This is similar to Google trends. It shows terms that are highly popular. This platform allows you to sort the topics by category.
Soovle: Soovle provides keywords ideas from various sources like Google, Youtube, Bing, Yahoo, Amazon, etc. It can show you hidden keywords that even competitors may not know about. It also lets you save and download your favourite keyword ideas.
Ahrefs keyword planner: This Kewyord planner provides very deep information about each keyword. It also tells you how many backlinks are required to rank on top of the Google.
SEMrush: This is a time saver because instead of providing random keywords tool, SEM rush shows the exact keywords that a site already ranks for.

Keyword metrics: Once you have thousands of keywords, you may find it difficult to pick out a few that deserves to be shortlisted. With keyword metrics you choose the right keywords for your business.

Keyword popularity: Knowing the popularity of keywords is the ideal way to start your research. When more users search for a keyword term, it will get higher ranking and more search volume for that keyword. You can check your keyword search volume with the help of online tools like Wordtracker.

Most popular keyword: To attract more visitors to your website, optimize the most searched for keywords. But remember, more the popular the keyword, the harder it is to rank.
Less competitive keywords: It may not make sense to use less competitive keyword, but this is a good approach for new sites to compete with mature ones. Young websites can find more success in using keywords that are not very popular.

Keyword traffic: Two main metrics – search volume and click rate – provide information about keyword popularity and traffic. A keyword may have many synonyms and people may search for same thing in various ways. So a single page on your website has the potential to rank for many related keywords. So evaluating keywords on the basis of clicks and search volume is not right – consider top ranking results as well as search traffic.
Keyword relevance: To optimize your website, it is important to choose keywords that are relevant your products and services. If your keywords are not very relevant to the products or service you offer, then the search engine will not get a relevant message.
Keyword Intent: It is vital to know the search intent of users to know the value of keywords. The intent behind each keyword or search queries are divided into three categories:

Navigational: brand or company queries
Transactional: purchase queries
Informational questioned oriented or solution seeking or curiosity queries

Keyword ranking difficulty: When it comes to understanding the ranking difficulty of a keyword, the best option is to manually analyze search results and use your SEO experience. Each keyword tool has its own way of calculating ranking difficulty score.
Cost-per-click: This metrics is important for SEO, but is regarded as an indication of keyword's commercial intent. CPC is more volatile than search volume. The search demand for a keyword fluctuates every month, whereas CPC can fluctuate at any time.
Related Blogs
Test Your Keywords
Once you have a list of keywords ready the next step is to narrow down your keywords by testing them using the following steps:
The first and foremost step is asking questions. Find out whether the keywords align with the website's content and whether the user can find what they want if they use that keyword. Check out if the keyword can ultimately lead to a return on your efforts. If your answer is yes to all these questions, then it means you have a good keyword.
The second step is to conduct a Google search with the keywords that you want to be used. Find out what your competitors are using and if the keywords get many Ads for it then it means that your keywords can bring value and also convert traffic.
Do not jump into targeting using the keyword. Instead, run a small campaign using the exact match option and find out how much the keyword generates.
Make sure to run the campaign for 24 hours and find out the number of conversion that you receive for a few hundred clicks. For example, if the test gave you 10,000 impressions and 300 click in 24 hours, out all those click 20 users may have become customers from users. This means that you can generate a revenue of $1800. This revenue is from a 3 percent Click Through Rate. So a 30 percent Click Through Rate on 10,000 impression means 3000 clicks which can give you a revenue of $18000 every day. The test may sometime show a different result, but can help target niches.
Once you have determined the estimated traffic potential of the keyword and analyzed the competition and how you can improve your ranking, the next step is to identify the resources that should be invested in building a competitive site and promoting it well.
Local SEO Keyword Search
Just like keyword research for SEO, local SEO keyword research is also important. This is the process of optimizing your website to ensure that your business is visible in the search engine result page for local search queries. It requires various strategies such as link building, adding local business schema mark-ups to your website and local citations. Apart from geographical locations, local SEO keyword research is similar to keyword research for SEO.
Local keywords are long tail keywords that have low search volume but are easy to compete for. This is because when you rank for local keywords you have better chances of attracting customers that are ready to covert. For example, when a user searches for "shoes", the user will find links about the meaning of shoes to different types of shoes etc. But with local keywords like "shoes in NYC", they can find the shoe stores in NYC. Up to 76 percent of people who are searching for businesses on their phone will visit that company in a day's time and 28 percent of those customers are likely to make a purchase too.
Google keeps changing its algorithms very frequently and using the right keyword research formula along with the right tools is vital to improve your organic traffic. Conducting keyword research and choosing keywords for your content is essential for search engine optimization. Many businesses choose to associate with SEO companies to perform keyword research. A reliable company will work with its clients to find the right keywords with right balance of search volume, competition and relevancy – all important ingredients for a successful marketing campaign.