Many people understand the significance of using appropriate keywords in their website content, but may be unaware how to choose the right keywords for digital marketing. An organic SEO company can help you choose seo keywords that are relevant to what your business offers and at the same time help with improving the traffic on your website. This can in turn help in increasing the sales of products or services that you offer.
Why is it Important to Choose Right Keywords for Digital Marketing
When determining how to rank your content in search results, Google considers keywords as a main SEO ranking component. The right keywords help Google to comprehend your content, making it simple for it to appear at the appropriate time in response to a search. Keyword research helps you understand your customers better and this helps with content strategy.
Knowing what your target audience is searching for will enable you to tailor your content for them. Keyword research helps to reach out to a greater number of customers who are prepared to buy your products. As most people click on the first few results they see while searching, it is crucial to rank your website as highly as possible in the SERPS.
According to Sistrix statistics, the result at position one in Google Search has an average Click-Through Rate (CTR) of about 28.5 percent, whereas the results at positions two and three have CTRs of 15.7 percent and 11 percent, and so on. Overall, keyword research helps marketing and promotional efforts, including email marketing, in addition to supporting the generation of content. It also helps with pay-per-click marketing and competition analysis.
Earlier, one of the goals of keyword research was to artificially raise sites to the top of search results by stuffing the website content with terms people use to search. Having the appropriate keyword density, or the percentage of the same keyword across the article, was frequently considered more significant than quality. This strategy is no longer effective. In fact, this strategy is regarded as a black hat technique and websites that use this strategy are often punished rather than praised. Google is constantly changing its search algorithm in an effort to provide users with results that are more relevant to their needs. Therefore, knowing how to choose the right keywords for digital marketing is important.
Tips to Find the Right SEO Keywords
Know the different types of keywords: Consider the many types of keywords before diving into the exact keywords that best serve the objectives of your organization. Generally, keywords are categorized according to their length, which reflects the number of searches they receive and, consequently, the demand they have among potential buyers.
There are three types,
Short, Seed or Broad keywords: These are the most difficult keywords to rank for because they typically have just one or two words. They tend to be the most well-liked and are short and broad.
Mid-Tail Keywords: Mid-tail keywords are longer, more descriptive, and show up in more targeted searches. They often contain three words. These keywords are less competitive than short ones.
Long-Tail Keywords: A long-tail keyword is a very descriptive term that is about the length of a phrase. Due to their specificity, these don't show up in search results as frequently, but they are quite effective at focusing on the precise searches your ideal client would conduct.
The appropriate keyword length can make all the difference. Depending on your objectives, each kind has different advantages and disadvantages, so think about a variety of searches to focus on.
Analyze your competitors:Make a list of your biggest rivals, then visit their websites to find out the keywords they are focusing on. To determine the keywords they are aiming for, read the content and look at the metatags. You can identify what you could be missing by looking at your competitors' keyword lists, and it will also help you grow your own list of suggestions.
Know about relevant demographics: In order to improve the ranking of your website in those queries, Google's algorithms use keywords and locations. It might be challenging to get the most of Google, but there are a few things you can do to make sure your company gets the recognition it deserves. Choosing the right demographics might help you turn website visitors into customers. You're looking for the particular customer who will need your products, even though your "pool" of potential customers may be very huge or highly populated. Spend time investigating your desired area before deciding on a spot.
Do thorough keyword research: Good outcomes are the consequence of good research, just like in other marketing strategies. You can only make wise marketing decisions with accurate research, and this also applies to your SEO strategies. Researching keywords reveals what the competition is focusing on, the most popular keywords, and other details. Google searches can be done for keyword research. Look at the queries shown under the "People Also Ask" section after conducting a search. In this case, Google suggests queries that were previously searched for and are related to your initial query.
You can choose blog subjects and keywords that will raise your rankings in these searches by optimizing them for those terms. If you need assistance in choosing keywords for digital marketing, there are tools like Moz Keyword Explorer, SEMRUSH which enable you to discover phrases that might be advantageous to your target audience. Using this tool, you can discover new terms and their search volume. According to Search Engine Journal, you can include low competition keywords, which are those with a search volume of 1,000 or fewer in all of your strategies. Even though it could be enticing to focus simply on broad, well-known keywords, you risk failing to reach out to the specific customers that you are after.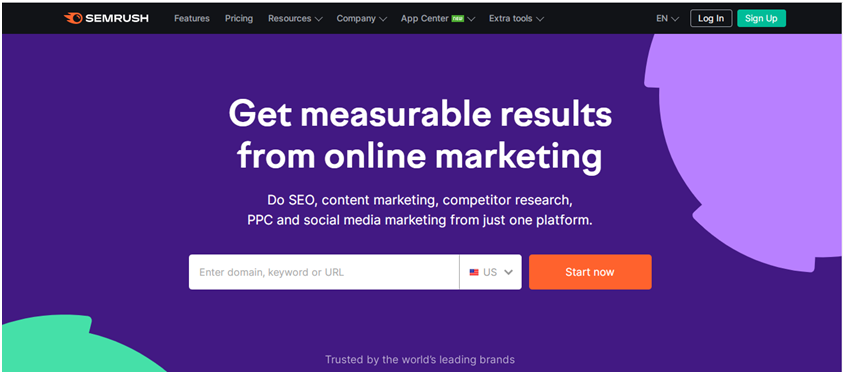 Reset your targets as necessary: SEO is highly dynamic and you will need to periodically review your objectives due to changes in your services and Google's algorithm. It is possible that as time goes on you will rank highly enough in a certain area that you won't need to target it as frequently. This is an opportunity to add additional keywords or geographically broaden your target locations. You will need to review the data to identify the most lucrative additional locations and take into account the kinds of customers those locations will attract.
Analyze the outcome: Don't forget to track your keywords after selecting them and evaluate the results. There are frequently popular words or phrases as well as fresh terms that your rivals may be using. Don't forget to use your keywords as much as you can! Include your keywords in your website's content, blogs and articles, social media postings, metatags, and other areas. Your target audience will find you more readily if you use keywords in your material on a regular basis.
Develop your company with a thoughtful SEO strategy: You should improve your SEO approach since more individuals than ever are doing brand research online. The appropriate SEO keywords can have a significant impact on your search rankings and financial results. By carefully navigating the ever-changing SEO landscape and using the correct keywords, you're positioning your company for success by appealing to your ideal customer base.
You can quickly connect with your potential customers with the ideal SEO methods and the proper keywords. With the help of the above-mentioned tips, you can begin your keyword research right now, select the ideal SEO keywords for digital marketing, and improve your ranking in the search results. You may also work with a reliable search engine optimization company that can help choose the right seo keywords for your digital marketing business, improve ranking, traffic and increase ROI.