Most businesses use a marketing strategy called a sales funnel, which is simply a process that turns prospects into customers. A business aims to attract as many leads as possible and guide them through the sales funnel until they become paying customers. The more leads you have, the higher are your chances of getting more conversions and ultimately, increasing revenue. The sales funnel is a very effective way of making sure you're working more efficiently and getting better results. It also helps you to track user behavior and customize marketing activities to the customer's needs at all stages. SEO can be used to keep your target clients engaged as they go through the conversion process. Consider how you could engage customers throughout the purchase process if you could rank for all of the search terms and inquiries that correspond to each stage of the conversion funnel. To get this done, keyword optimization, strategic content marketing, and well-designed site architecture are vital to ensure that your leads stay engaged with you throughout their whole buying process. Associate with organic SEO companies to optimize your website and digital marketing strategy and implement an effective sales funnel to generate more customers.
Importance of Using Sales Funnel
The process of creating a sales funnel takes a lot of time and effort. It is, nevertheless, a form of investment that pays off rapidly, and you will see good results sooner than you anticipate. The following are different ways sales funnel is advantageous for your business.
It helps you to customize your efforts to the needs of consumers at different phases of the sales funnel. It allows you to give proper arguments at the right time if you understand how important it is to set the expectations of potential consumers, motivate them, and illustrate what makes you stand out from your competitors at the start.
It lets you track the efficiency of activities at each stage of the sales funnel and eliminate bottlenecks. Perhaps, unfavorable connections with your brand dissuade potential buyers from the start, resulting in a small number of conversions. On the other hand, sometimes you may execute everything right but users don't complete transactions due to UX issues. Identify the problem areas and try to keep clients for a longer period of time.
You can learn new lead generation tactics, and you might even be able to figure out which ones perform best for your target market.
It lets you determine which customer groups are most helpful to your company and should be addressed in your communications if you understand the distinct stages of the sales funnel.
It helps you to cut out activities that don't produce the desired results while also saving money.
A well-optimized sales funnel can be created based on the analysis and evaluation that helps or even automates some of the operations. You can learn and understand how to scale your business because you can determine conversions at various levels of the funnel.
Different sales funnel stages and how SEO supports each stage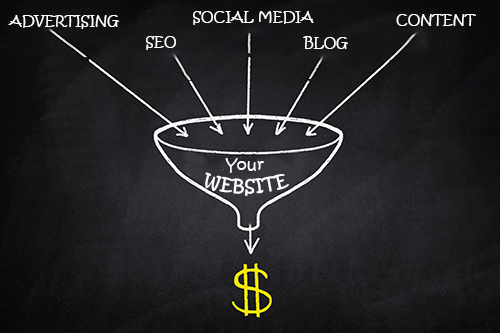 Awareness and attention: One of the most important goals of search engine optimization is to increase internet presence. Greater website exposure leads to greater brand recognition. At the top of the sales funnel, keyword analysis is critical since it allows you to precisely target marketing activities (including SEO) and ensure that you're reaching the proper audience. Although long-tail and brand terms will become more important in later sections, it's critical to concentrate on generic keywords at this stage. They will not, however, allow you to "shortlist" users. Another element that SEO teams focus on is constant effort on increasing placements in the SERPs. It makes it much easier to direct users' attention to aspects that are important to you. You can also appeal to consumers by utilizing structured data and standing out in search results (direct replies, emoji, star ratings under posts/products, or perfect meta descriptions). The next important aspect is having your website appear high in the search results and this improves your brand image. Local SEO and a well-optimized Google My Business listing are important components to invest in if you own a local business. Linking is particularly significant because, in addition to helping with SEO, it promotes referral traffic and visibility.
Interest: When people recognize that they require something, you must persuade them that your product or service will meet their needs at the second step of the sales funnel. Define your consumers' motivations clearly and lead them to the goal, which is conversion, without distracting their attention. Apart from the previously mentioned characteristics, this step requires the usage of brand keywords. If potential buyers are familiar with your brand, they will want to search it online. So, you must be visible for brand terms and keep an eye out for dishonest practices by your market competitors who may be using SEO to rank for your keywords. It's also a good idea to optimize your Google My Business page for brand terms. Make sure that you share your website content on your social media too.
Desire: Having a favorable website and Google My Business directory reviews is an important aspect of modern SEO. In terms of business, such reviews have an impact on potential purchasers' decision-making processes, which is critical at the third stage. You must demonstrate to them that your product or service deserves their attention. Comments are one-of-a-kind pieces of user-generated content that Google may examine. If you have incorporated properly formatted data, it can also help you rank higher in the SERPs and attract more visitors. It's worthwhile to invest in high-quality content that positions you as a trustworthy industry expert who is worth your clients' time and money. The importance of excellent product/service descriptions cannot be overstated. Encourage users to post reviews and display ratings.
Action: The fourth step is action, which refers to activities that occur on the site and lead to a purchase. Low conversion rates might be caused by on-page problems that are not connected to past marketing efforts. Modern SEO is concerned about user experience and aims to guarantee that visitors to your website are satisfied and do not abandon shopping carts. One of the ranking variables, Core Web Vitals, is indirectly related to user experience because it focuses on website loading speed and user comfort (page performance). Make sure your website has prominent call-to-action buttons.
Loyalty: Do you want to encourage people to return to your brand and give favorable feedback about your business? Then, you'll require outstanding blog content. All types of tutorials and texts related to the industry or your company's operations will benefit you. Keywords will improve your brand recognition because you'll be displayed in the search results. Existing consumers who willingly share and read your texts, will increase your brand loyalty.
The SEO Funnel in a Nutshell
Each stage of the sales funnel is supported by SEO. It aids marketers in increasing brand awareness, sales, and consumer loyalty. So, if you want to grow your customers by converting all your potential customers, consider partnering with a reliable SEO company outsourcing digital marketing service. SEO support company will help you focus on conversion at each stage of the sales process. You would clearly know where your leads are coming from, how many of them you've succeeded in converting into customers, and how many left at each stage of the process.