Are you in search for unique strategies that can help rank your website among the top-ranking sites on Google? Website owners are always on the lookout for innovative techniques to reach one of the top-ranking positions on popular search engines. However, constant changes in Google's algorithm make it hard to navigate their way to the top of the search engine results pages (SERPs).
This is where influencer marketing can prove to be a boon for enhancing the SEO efforts. There are several benefits of influencer marketing as it helps raise brand awareness and promote products more effectively than paid advertising. Search engine marketing companies outsourcing SEO services can help with a business' influencer marketing efforts.
Reports suggest that the power of the influencer market has doubled in the past few years, with the global influencer market value reaching 13.8 billion U.S. dollars in 2021. Historically, influencers have been considered as an additional paid social platform for B2C and D2C businesses. They have been recently recognized for their power in influencing B2B purchases.
Nowadays, these techniques can be used in several ways, considering more people with different preferences have gone online due to the COVID-19 pandemic. With new influencers in unique niches gaining huge popularity, brands have been given diverse options to bring uniqueness to their online marketing campaigns. From an SEO perspective, it is crucial to understand how influential bloggers with authoritative blogs and social media platforms relevant to the industry can be beneficial for your marketing efforts.
Top Ways in Which Influencer Marketing Can Impact SEO
Helps Build a Diverse and Strong Link Profile – The quality of link profile can have a huge impact on the search engine rankings. Typically, a link profile comprises backlinks and internal links alike. As per reports from a study conducted by Moz, the quality and authority of websites that get linked are considered one of the top search engine ranking factors. This means it is important to earn links from high-authority domains relevant to a website. However, that is not always an easy task to do. Working with influencers is a great way to generate better natural backlinks for your website, thereby improving the website rankings.There are several ways to earn high-quality links.For instance, if you tend to work with influential bloggers or influencers with their own websites, it is likely that they have a site of their own or have access to various high-authority sites. When these influencers create content and links, this generates a high-quality backlink for a website. In addition, an influencer sharing a link increases their chances of having other people share the link. This growing popularity means that there is a huge chance for higher-authority domains to pick up on it and then add it to their site. In either way, influencer marketing helps boost efforts at building a quality link profile.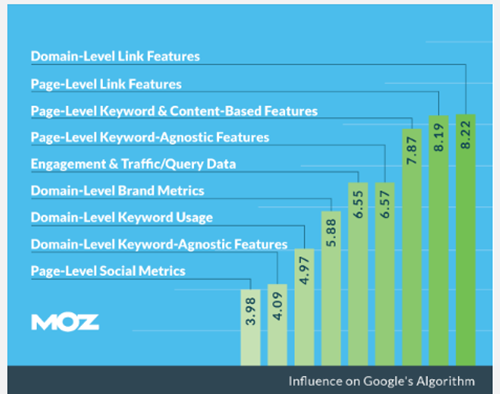 Image Source:
Leverage the Power of the Influencer Network – Often, one influencer has a network of many other micro-influencers or high-profile followers. This means it can increase the chances of creating multiple backlinks from high authority sites. For instance, if an influencer cites you in their content and broadcasts it across their social media channels, it increases the chance that another high-profile source in their network will visit your website. Associating with one influencer brings with it a network of other power sources, opportunities for improving business visibility and gaining potential customers.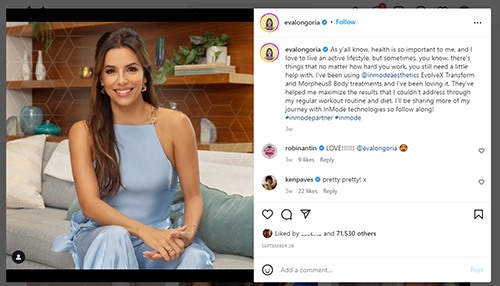 Provide Intriguing and Unique Content – The success of an influencer marketing strategy comes from its ability to create credible and engaging content. In fact, influencer content creation is considered one of the top factors that help improve search engine rankings. However, creating unique and intriguing content is not an easy task. Google not only considers the content quality, keyword usage, and content readability, but it also looks at the quantity and quality of social shares. Moreover, influencer content on a website can keep social media marketing material fresh and relevant to the audience.Create sponsored content that can add value to the target audience. In certain cases, influencers encourage target audiences to create their own content with a branded hashtag unique to the business niche. This results in an increase in the volume of user-generated content thereby creating a higher level of awareness about the brand.
Create Links from an Authoritative Source – The authority and reputation of the people that link their content to your business website can create a significant impact on the SEO aspect. Authority links are the links to a website from sources that build trust and have a good reputation themselves. In fact, the right influencers may have naturally acquired authority status due to their high profile, the size of their brand, and the duration they have been active for.When influencers create content and backlinks to a website, it can boost SEO.According to a survey by Ascend2, about 40 percent of businesses said that link building was one of the biggest challenges they face in their SEO, with half of the businesses considering domain authority as the best way to measure the quality of a link. With an influencer on the side, you can naturally acquire authoritative links as an inevitable part of the collaboration.
Help Reach a New Demographic – If you are trying to bring a product or service to a new target audience, an influencer marketing campaign can be a perfect strategy. In such cases, influencers who have already excelled in a specific sector are probably the people you need to associate with as this would help expose your business to their followers. Reports suggest that most people trust influencer recommendations, with two out of five people buying products that influencers have shared on their social media platforms. Influencer marketing can help bring a specific product or service to a new demographic.
Increase Content Reach and Engagement – By associating with an influencer, you can encourage followers. Whether it's through authoritative links to a website, exposure on social media, or sponsored guest posts on blog section, there are multiple avenues for engagement that open up with influencer marketing. Partnering with an influencer helps add credibility to the content and share brand message through a trusted source. As influencers have a massive following and significant reach of their own, they can automatically improve website visibility when they share content. The content reach becomes much more extensive, which in turn increases the chances of attracting potential site visitors. More website traffic translates to higher rankings in search engines.For instance, if a website plans to raise awareness about a brand or product through an influencer, they are improving their chances of earning the trust of their existing followers. These followers automatically engage with the brand and create a chain reaction in which they talk about the brand and share the content. The higher engagement leads to an increase in website traffic, which search engines consider when ranking a website.
Benefit from Influencer Campaigns – Often, influencers have a highly skilled and knowledgeable PR team behind them that creates quality content, design marketing campaigns, and direct their social media persona. When working with an influencer, you can leverage the power of their PR team and ongoing campaigns, gaining an additional benefit as well as the credibility that their brand brings.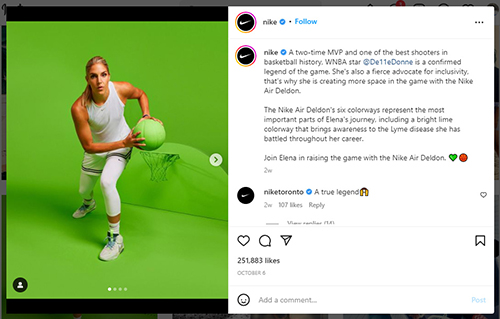 Boost Business Reputation – Influencer marketing not only improves the domain authority, but presents a business website as a credible and trustworthy source. Studies suggest that about 95 percent of people trust social media influencers more than recommendations from friends or family. An influencer association will boost the reputation of a business. For instance, if a service or product is endorsed by an Influencer, their followers will naturally be more inclined to purchase or avail that specific product or service.
Break into a New Platform – Is one of the social media platforms of your website suffering from low engagement? Associating with a successful influencer who has carved a following on that platform can help increase the number of followers. For instance, if a website is trying to break into Instagram or YouTube, sharing a post or vlog with that influencer can help you succeed on that platform. This will provide automatic exposure to their extensive followers.
Acquire More Relevant Customers – People are driven to influencers for their expertise in a specific area. Influencer marketing is the perfect way to attract customers that will make repeat purchases from a website long after the draw of the influencer has faded. An influencer will bring a whole sector of relevant customers right to your doorstep.
Types of Influencer Marketing
Here listed are some of the different types of influencer marketing that can help leverage your business –
Giveaways and Competitions – As per the product's marketing budget, a small portion of the budget can be used to offer giveaways to small events that can be organized on a monthly basis. Influencers unboxing videos on Instagram or YouTube channels can help promote a product by showcasing it in front of their followers at no extra cost to the business. Since these influencers have millions of followers, the company can expect handsome product sales just by giving a single freebie to the influencer to talk about it. In order to hold a contest, an easy method to increase participation is to include instructions for engagement as a condition for participating in the contest. Here are certain suggestions –

Sharing the post
Following
Joining the newsletter
Tagging friends
Commenting
DMing
It is important to state the guidelines clearly to ensure that there is no confusion for the participants that could hinder them from participation.
Sponsored Content – Brands reach out to influencers and ask whether they would like to endorse their services or products. The end product is usually an image, video, or blog post that showcases their product or service as per the influencer's channel. It usually starts with the brand sending the influencers a campaign brief that contains certain guidelines and specifications.
Content and Product Collaborations – Top brands collaborate with influencers to gain high engagement. This is particularly common in the fashion and beauty industries, where the influencers design their own line of clothing, accessories, or cosmetics with the help of brands.
Platform Takeovers – In this type of influencer marketing, the company permits the influencer to use their social channels for a certain duration. Typically, the time period involves a single day. On the other hand, some may last up to one week to mark special occasions or events. Influencers can create a-day-in-their-life or behind-the-scenes posts, stories, and videos that will keep their followers interested and entertained.
Brand Ambassadors – It refers to an influencer working or associating with a specific brand for a specified time as their brand ambassador. In such cases, the influencer will be considered the "face" of that brand, similar to how famous spokespersons use traditional advertising strategies. This kind of influencer marketing campaign usually offers great benefits and yields results such as –

More opportunities to display the range of a company's products and services
Repetition helps in better brand recall
Build greater trust, reliability, and authenticity to viewers' views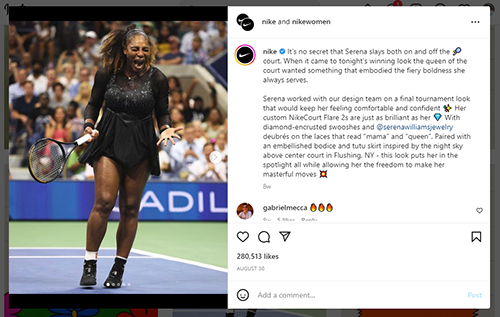 Staying on top of the most recent digital marketing trends can be challenging as it is constantly evolving. Understanding the role of influencers can bring innovation through unique content and storytelling to the marketing campaigns and help boost a company's sales and ROI. Influencers bring with them a new group of audiences, a whole host of followers and customers directly to a business. They also bring domain authority and credibility to a website, service, and products.
Adhering to above-mentioned influencer marketing recommendations can make the digital marketing strategies more efficient. Another option is to think about seeking the support of a search engine optimization company that provides the service of digital marketing specialists who are knowledgeable in the most recent developments and assist businesses in staying current with the latest digital marketing trends.