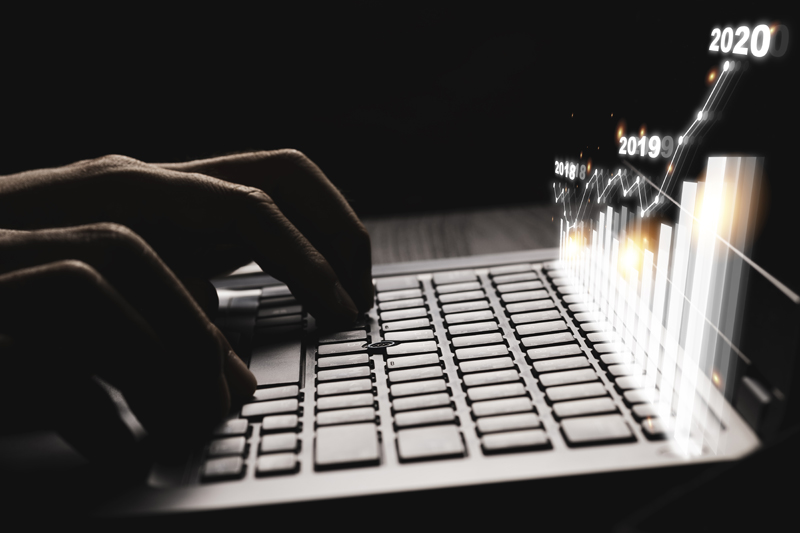 Now marketing has transitioned from traditional to digital, and most businesses rely on digital marketing services to stay competitive. Reports suggest that every second, about 2.3 million searches are conducted on Google. The race to reach the first page of Google search results is fierce. Trying to reach the first page, even with excellent SEO may easily take months or even a year. This is where paid ads (PPC) become an important consideration. Google Ads (formerly called Google AdWords) is Google's advertising service that allows businesses to display their ads on Google's search result pages. The ads usually appear at the top or bottom of a Google SERP (search engine result page). This is an effective, one-stop solution that helps reach out to the target audience immediately and drive relevant traffic to your website.
Google Ads and Its Impact on Your SEO Strategy
Google AdWords allows you to create, display and promote your products and services online. The AdWords platform runs on pay-per-click (PPC) advertising – which means you have to pay every time a visitor clicks your ad. As Google processes hundreds of millions of searches per day, it makes sense to create simple, effective ads and display them. AdWords offers precise targeting and measurability as well as tremendous reach to achieve high ROI. If managed properly, AdWords can help increase online traffic, in-store traffic, build brand recognition and generate sales while reducing marketing costs.
When you invest in SEO, one of the worst-case scenarios will be to rank #1 for a keyword that generates little to no sales. Businesses may invest considerable time (often months to even years), money, and resources to rank number one for a relevant keyword only to find that the traffic does not convert to sales. The role of keyword research for SEO becomes relevant at this point. It is important to optimize your website for the right keywords. Even with the best keyword research, there is still some level of risk that your selected list of keywords may not convert well. Perform a Google AdWords search campaign and within days or weeks you can determine which keywords are worth targeting for your SEO.
Here are some of the top benefits of using Google AdWords –
Increase brand awareness
Achieve faster results than SEO
Outrank your competitors' Ads
Increase Ad visibility to high-quality audiences
Influence audiences to make purchase decisions
If you are using Google AdWords to build your business, here are 7 tips to consider –
Choose keywords carefully – Take time and effort to devise a specific list of keywords that potential customers may use. One of the most common AdWords mistakes is focusing all your attention on the positive keywords that bring you traffic. Apart from positive or high traffic keywords, also search for negative keywords (keywords you don't want people finding you for) as well. For instance, if you are into the business of selling "gold watches", you must also use the negative keyword "silver watches". A comprehensive list of negative keywords can increase the quality of your traffic and improve your CTR (click-through-rate) significantly.
Support organic traffic with PPC – It could be risky to depend on free search engine traffic alone. Generally, it could take about 6-12 months to make an SEO campaign run successfully. However, an AdWords campaign, if set up and executed correctly can generate results immediately. You can also have control over the consistency of the traffic you get. Combining SEO (Search Engine Optimization) and PPC (Pay Per Click) is a great way to secure a robust presence on the web.
Make a list of Key Performance Indicators (KPIs) – Google ads key performance indicators are metrics that help you determine the success rate of the ads. KPIs may differ from one business to another and depend on what you want to gain from Google Ads. For instance, if you want to drive more traffic – focus on KPIs like clicks and click-through rates. For content downloading – it is better to focus on KPIs like conversion rate, and cost per conversion. Knowing what you want to derive from Google ads will let you know the important KPIs that you need to focus on. Create a list that shows which KPIs are important.
Include a Call-To-Action – Ad copy plays a prominent role in the success of your AdWords campaign. Ad Copy is far less complicated and tends to work best if kept plain and simple. A good call-to-action in your ad copy would enhance your campaign's effectiveness. Give your prospective clients an extra push to get them over the line like – Buy Now, Call Now, etc.
Review search terms report – In AdWords, keywords are the phrases you are targeting, while search terms are the phrases that people are actually typing into Google. The search terms report in AdWords will show you the exact phrases that are triggering your ads so that you can target them with SEO. Understanding these trends will give you better insight into how searchers – and Google – respond to your PPC campaigns.
Test and test again – Google AdWords allows you to test new Ad text and landing pages, and let Google tell you which one works best for you. You can even test positions. Just because your website appears number 1 doesn't necessarily mean you will get all the clicks. In some cases, number 2 and 3 may generate just as many clicks, but at a lower cost.
Never forget to track – The amount of data that can be retrieved about your campaign via AdWords reporting, Analytics and other tools is huge. You can precisely track the effectiveness of each search phrase – right from the most frequently searched to the highest converting and the most profitable one. This knowledge can help you begin your SEO campaign and get your website ranked highly in the organic results for the most profitable search terms.
The prominent role of Google AdWords in enhancing brand awareness and revenue cannot be overlooked. A well-designed and structured online strategy can offer good results. Selecting the right set of keywords is important. Healthcare businesses planning to improve their brand reputation can utilize a reliable medical SEO service to get their Google Ads ready and thereby enhance their digital marketing efforts.