YouTube and video content in general continue to take the center stage in the world of digital marketing. The effort spent on producing high-quality video content is well worth it, but it's also crucial to be aware of the various optimization strategies that can be utilized to improve the value of these videos. One such strategy is addning YouTube timestamps. The timestamping and optimization of YouTube videos with the assistance of organic SEO services can bring you more targeted traffic and also improve user experience.
Importance of Adding YouTube Timestamps
Google was initially observed testing a video timestamp feature for YouTube videos in June 2019. Timestamps successfully increase SEO potential and improve user experience. If you want to increase the number of people who view your YouTube videos, timestamps can be a huge assistance. Spending a few minutes updating those timestamps has become really relevant because Google pays you for it since usability and mobile-friendliness of websites are Google's main priority.
In today's age of monetization, where YouTube videos get lengthened in order to contain more mid-roll advertisements, timestamps may prove to be a very valuable tool for searchers. Users can quickly access the data they require thanks to timestamps. Most of the time, when people look up video tutorials or anything online, they want to get the job done, not watch a 20-minute YouTube video. However, with timestamps, users can skip to particular sections of videos, and in effect, Google is reducing the amount of time viewers spend watching them.
What Is YouTube Timestamp?
YouTube Timestamp is one of Google's 'key moments' features. The ideal way to direct a user to a certain section of your video is through this strategy. People frequently skip over the content since they are unable to find what they are looking for. In these circumstances, adding YouTube timestamps is a good choice to increase viewer retention for a longer period of time. The ability to reference certain minutes and seconds of the film makes it even more interesting.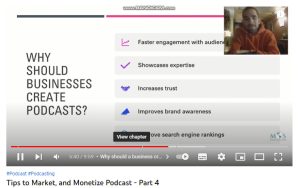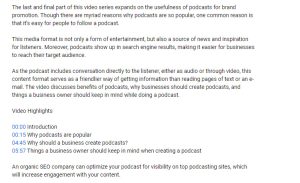 Why Should You Add Timestamps to Your Video?
Improved SEO Opportunities: One very helpful SEO video hack is the usage of YouTube Timestamps. The retention and view time of the audience are the only two factors used to rank YouTube videos. Therefore, YouTube will record two views when a user clicks on the Timestamp. The first view begins with the first click. The second perspective, which is the video's Timestamped moment, will come next. This two-way advantage helps in raising the video's ranking. It is necessary for all YouTube creators to use this function in order to improve their rankings. This feature has now become very popular, especially among people who use mobile devices, as Google already supports Timestamp hyperlinks, and timestamps are more significant for YouTubers.
Enhanced User Experience: The user could decide to exit the video if it is jumbled during a particular segment. For informational bits, no one would want to watch the entire 15 minutes of the film. Therefore, employing timestamps is advantageous for you. With the help of this function, you can now resolve the problem and achieve a major triumph by seeing a rise in the number of viewers.
Benefit for Mobile Users: Google has begun to pay for Timestamps on YouTube videos. The Timestamps on the videos are considered, and links to each chapter or header in the YouTube description are subsequently made.
How to Add Timestamps to YouTube Video on Desktop
Timestamps are currently present in only some YouTube videos. This is probably because few people are aware of it. In other instances, people may still be unsure of "how to add Timestamps to YouTube video."
So here are some steps on how to add these timestamps to your desktop films in more detail.
Go to the "Description" section of the video after signing into your YouTube account.
Start by entering the time in the format minutes: seconds in order to attach a particular component to a timestamp.
After that, add your keyword to that particular video clip and select "Save."
Reload the published video, then double-check and edit the "Description" portion as necessary.


To make the YouTube timestamps visible, put 0:00 at the beginning of each line. And, you might need to include three or more timestamps, each of which should last at least ten seconds.
How Can Timestamps Be Added to YouTube Videos on a Phone?
When it comes to inserting timestamps on mobile, things are a little different! Here is a step-by-step guide for adding timestamps to YouTube videos on a mobile app.
Open the YouTube Studio app on your phone and log in.
The "Menu" symbol can be found at the top left corner of the screen. Click on it.
When you wish to add timestamps, choose the video and click there.
Add timestamps to the description by using the pencil icon that is located at the top right corner of the screen.
Format — The time is denoted by t=, which is followed by the number of seconds from which you want the movie to begin playing. A Timestamp example is t= 2m46s. Use the ampersand (&) before the time stamp if the URL for the video has a question mark (?) at the end of it. For instance: &t=2m46ss!
Almost every video posted online is made to be optimized according to current SEO trends. How-to videos with numerous phases should incorporate timestamps, according to Google's explicit recommendation. In fact, ideally, any lengthy movie with numerous hints or actions should contain YouTube Timestamps. This feature of YouTube may be used for everything from product reviews to how-to videos. You should consider this before beginning to add chapters to your video.
By including Timestamps in your films, you can raise their rating, improve the viewing experience, and forge enduring relationships with a broader audience. Get the expertise of trustworthy organic SEO services to timestamp your videos and optimize them for increased visibility and traffic.