It goes without saying that any website designed these days must be mobile responsive. This is because mobile usage is increasing now, and a responsive website can provide a great user experience for patients who use their smartphones or tablets to access the internet. If your medical website isn't optimized for mobile devices, it could affect your online ratings. Physician practices and healthcare organizations are in need of professional medical website design services because the intense competition demands that they maintain an online presence to keep ensuring they are conspicuous enough to patients seeking care.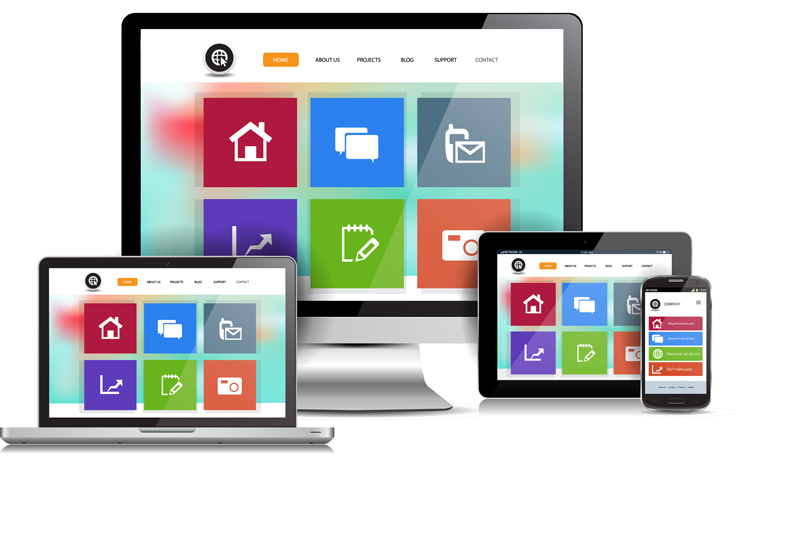 Importance of a Mobile Responsive Website
Why is a mobile responsive website important? The mobile phone is a portal to the Internet and most people rely on the convenience and compactness of the mobile device to browse stuff and get quick information on what they need. That could include ticket reservations, bill payment, stuff they'd like to buy through ecommerce sites, general information on various stuff and, of course, health information and services.
That's how many people get in touch with health websites, hospitals, nursing homes or physician clinics.And with a mobile device, they can do all this from just about anywhere, even while traveling in a train or bus. They don't need a table or a satisfactory seating posture to do all this. With a mobile device, they can do quick browsing and have quick information at their fingertips.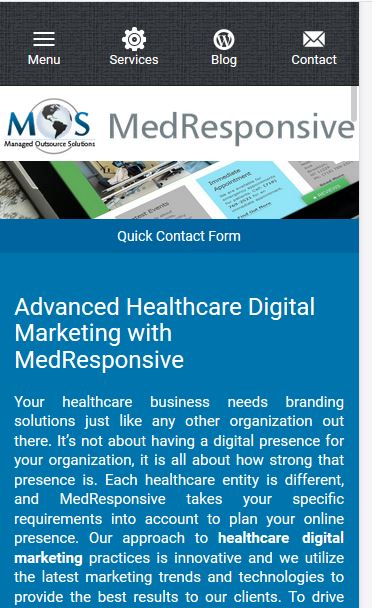 Only mobile responsive websites load well on mobile devices. You may be running a busy practice, but you don't want to miss out on patients coming in from mobile search by not having a website that gives people a user-friendly experience while browsing. There are competitors, you see, who could draw in visitors to their mobile-friendly website. And Google's algorithms give greater priority to mobile responsive websites in the rankings because more and more people search stuff on mobile phones these days. You may be a busy physician practice but that could change if your competitors with mobile responsive websites are able to get more patients attracted to their practice directly from the search rankings.
Not Just Mobile-friendly but Mobile Responsive
Now just having a mobile-friendly site isn't enough. It needs to be mobile responsive. A mobile-friendly website is solely focused on the objectives of the mobile devices, and may not have all the menus, content and features of the desktop version. The mobile-friendly site could be a truncated version of the desktop site, which really wouldn't serve the purpose. You need all the features of the desktop site on the mobile site. For that you need a responsive design.
A responsive website loads well on all devices, whatever be their screen resolutions. The content, menus and other features adjust to the window size. The spacing changes and the content are rearranged. So not only does your website rank favorably in the search rankings, provided you've got the other SEO factors sorted out, but users also have a great experience browsing your site, which could potentially lead to greater conversions.
Optimized for the Mobile
The reason a user browses on the mobile phone, apart from entertainment, is because of the convenience of the device and also because the user needs quick information. So a mobile optimized website needs to provide quick information. Optimizing for the mobile means more than just having a responsive design. A responsive design only manages with what you've designed and alters it for the particular device resolution. But a mobile optimized website requires the web designing process to begin with the needs of the mobile user in mind.
Points for Optimization
So there should not be long text blocks that will make the user scroll through endlessly without any information in sight. The interface too shouldn't be confusing whereby the user doesn't know where to click, or keeps clicking and hitting the return button again and again to get to what they're looking for. If there's too much of this, the user would just leave the site. And Google's algorithms also value user-friendliness.
What you need isn't paragraphs that are extremely long. You only need a few sentences in a paragraph.
It is ideal that your home page provides all the relevant information so that users who need quick information don't have to keep going through pages.
You can have a home page that scrolls long, but it should have short blocks of content with information regarding your practice that catches the eye of the reader while scrolling.
Make sure that you have plenty of headings and subheadings so that readers can easily spot the information they're looking for.
And if youare serious about conversions, you need to include click-to-call links, so visitors can contact your practice easily. Mentioning your phone number on the home page and contact page is good, but click-to-call links enable visitors to get to you right away rather than having to copy and paste the number.
Also, make sure your menu is uncluttered.
If your website is well optimized for the mobile and employs responsive web design services, it can work well for the desktop too and give you amazing results.
Again, to keep users from further hassles, an online form by which visitors can make a request for an appointment would be ideal. Having a team or an individual to monitor these forms can enable them to get back to the patient. The faster you can get back to the patient, the better.
Ensuring HIPAA Compliance
Make sure the website form is HIPAA-compliant, particularly when there is patient data. HIPAA compliance must be followed all through your website, if you want to avoid legal penalties. Make sure there are no sensitive patient images anywhere in your site.
Physician practices can benefit from the innovative solutions of an experienced medical website design company that also offers SEO and digital marketing solutions.