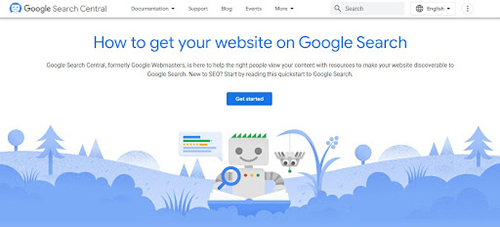 Google has officially announced that it is replacing Webmaster Guidelines with Google Search Essentials which gives users a whole new set of requirements to do well with SEO. This simplified refresh consists of three sections – Technical requirements, Spam policies and Key best practices.
Google launched the Google Webmaster Guidelines back in 2002, two decades ago. In November 11, 2020, it again changed its name from "Google Webmasters Central" to "Google Search Central", both on websites and on social media. The goal was to help people improve the visibility of their website on Google Search.
When it comes to the latest change, Google had previously mentioned that "webmaster" is an outdated term and very few people identify with it. With this movement, Google aims at moving away from the term "webmaster." It says that webmaster doesn't include all content creators who want to see their content rank in search results. Though this change is almost similar to the old Webmaster Guidelines, there are a few changes.
Google Search Essentials – Categories
Google has simplified the site by moving many of the former guidelines to specific sections where they belong. The company has introduced a categorization of the points covered in the former Webmaster Guidelines:
Technical requirements
Web pages have to meet certain technical requirements to get displayed on Google Search. Minimum technical requirements to make pages eligible to be indexed by Google Search are –
Googlebot isn't blocked.
The page works, meaning that Google receives an HTTP 200 (success) status code.
The page has indexable content.
Spam policies
This section covers common forms of spam and behavior that could lead to lower rankings or not appearing at all in Google web search results. To be eligible to appear in Google web search results, you website content shouldn't violate Google Search's overall policies or the spam policies which include
Cloaking
Doorways
Hacked content
Hidden text or links
Keyword stuffing
Link spam
Machine-generated traffic
Malware and malicious behaviors
Misleading functionality
Scraped content
Sneaky redirects
Spammy automatically-generated content
Thin affiliate pages
User-generated spam and more
The new additions and notable modifications to this list are:
New deceptive behavior related-topics such as misleading functionality
New section on other behaviors that can lead to demotion and or removal, such as online harassment, scam and fraud
Consolidated topics related to link spam and thin content
Google has made it clear that sites that focus on providing the best content and experience for people and uphold the spirit of the company's principles are more likely to do well in Google Search results. This new version will help site owners avoid creating content that Search users absolutely hate.
Key best practices
Best practices refer to things that can help improve how your site appears in Google Search results.
How can websites improve their search rankings? Google recommends a few core practices that can have the most impact on your web content's ranking and appearance on Google Search:
Create helpful, reliable, people-first content.
Use keywords that people would use to look for your content, and place those words in prominent locations on the page, such as the title and main heading of a page, and other descriptive locations such as alt text and link text.
Make your links crawlable so that Google can find other pages on your site via the links on your page.
Tell people about your site. Be active in communities where you can tell like-minded people about your services and products that you mention on your site.
If you have other content, such as images, videos, structured data, and JavaScript, make sure you're following those specific best practices so that we can understand those parts of your page too.
Enhance how your site appears on Google Search by enabling features that make sense for your site.
If you have content that shouldn't be found in search results or you want to opt out entirely, use the appropriate method for controlling how your content appears in Google Search.
The new set of Google Search Essentials is useful and easier to understand, and it will help you focus on things that matter for your site.
Being an experienced digital marketing services company, MedResponsive is up to date with all the changes Google makes to help website owners improve their online presence. Need SEO support? Talk to us at (800) 941-5527!