Soon after releasing the November Core update, Google is now up with its third Reviews update of the year. As expected, Google started rolling out the November 2023 Reviews update on November 8, 2023.

Google said that this will be the last time that they announce a Reviews update because, these will be happening at a regular and ongoing pace. The last Reviews update came in April 2023.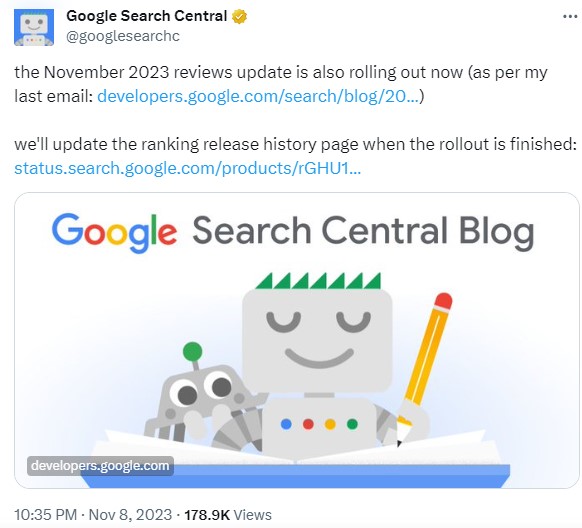 Accompanying its recent Q&A about core updates on November 2, Google had revealed that a significant Reviews update was on the way.
With the term "regular and ongoing pace", it is expected for the Reviews update to be transitioned into a more real-time system, and as a result any positive or negative modifications to your website, might now be promptly reflected in this Reviews system.
Google's Reviews System
Reviews are valuable decision-making tools. The goal of Google Reviews system is to appropriately recognize superior Reviews characterized by insightful analysis and original research. These Reviews are authored by experts or enthusiasts with a deep understanding of the subject matter.
Reviews system applies to global languages such as – English, Spanish, German, French, Italian, Vietnamese, Indonesian, Russian, Dutch, Portuguese, and Polish.
Google says that its Reviews system –
prioritizes displaying reviews with in-depth research, favoring substantial content over mere summaries of products, services, or other subjects
assesses articles, blog posts, pages, or similar standalone content created to provide recommendations, opinions, or analyses
considers diverse formats, including single-item assessments, head-to-head comparisons, and ranked-lists across various topics
Continuous improvement is an integral aspect of the Reviews system, with regular updates aimed at enhancing its functionality and effectiveness. Also, sites with fewer Reviews are less likely to undergo a site-wide evaluation by the system.
Best Practices to Write Good Reviews
Websites that were hit by this update need to review their content and check whether they could do better with Google's advice. Check out the best practices that Google recommends to help people discover your review pages in Google Search and on other Google surfaces.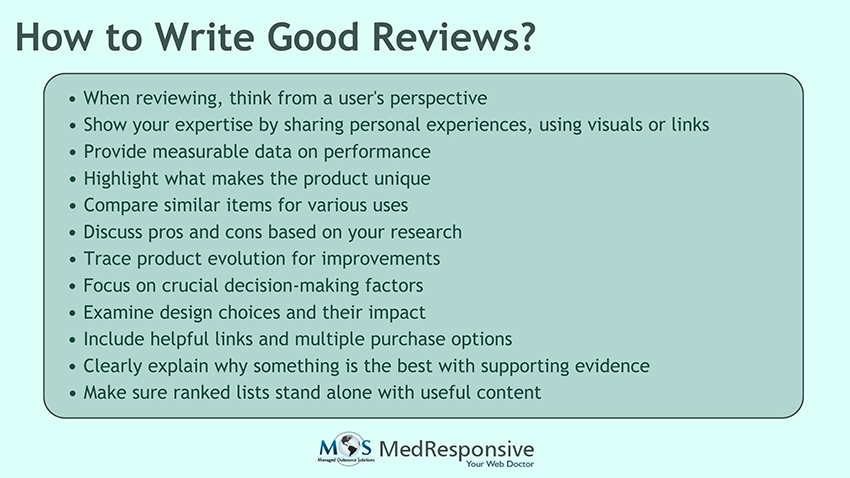 Being a professional digital marketing services company, in the U.S. MedResponsive is up to date with Google' s changing algorithms and updates. Our team is proactive in adapting strategies to align with industry changes, guaranteeing the continued success of your digital marketing campaigns. We tailor our digital marketing strategies to your unique business needs, ensuring a personalized and effective approach.