Core updates are scheduled, periodic modifications to Google's search algorithm, with the primary aim of enhancing the relevance and quality of web pages displayed in response to search queries. Google announced the rollout of its November 2023 core update last Thursday, November 2. Like most Google updates, it may take about two weeks to roll out completely. This is the fourth core update of this year, and the eighth official Google algorithm update of the year 2023.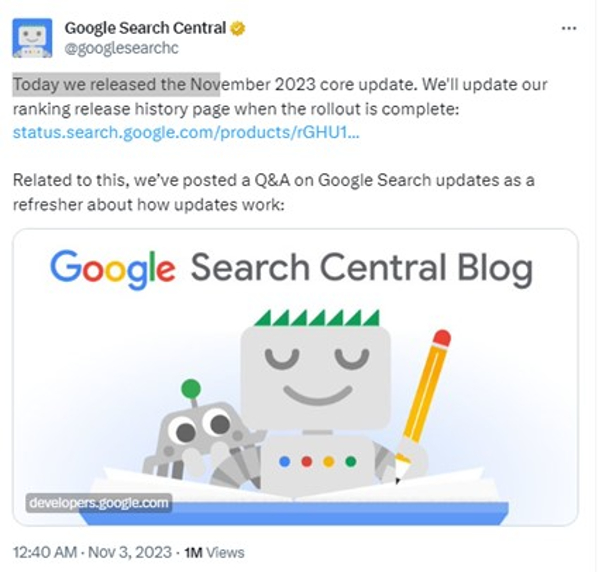 This is a global update impacting all regions, in all languages. Although core updates usually occur at intervals of one to two months, it's unusual to witness two significant updates released in such close succession. The new core update took many by surprise, arriving just a few weeks after the completion of the October 2023 core update.
Google's reply to the question "Why another so soon after the October 2023 core update?" is that "We have different systems that are considered core to our ranking process; this month's core update involves an improvement to a different core system than last month."
Marketers report that this update has been incredibly volatile. Based on the Q&A on Google Search updates, the company says that it will update Google Search thousands of times per year. They share only those updates that they think are notable.
Other highlights from this page include:
Ranking systems are what we use to generate search results. Updates are when we make an improvement to a ranking system.
If there's an update, chances are, there's nothing to do for most creators who have already been working to create helpful, reliable, people-first content.
If you see a change after a non-spam update, it's not a spam issue.
We do try to separate notable updates, so that if they produce changes, site owners can better identify which system is involved.
We do try to avoid having updates during the late-November to mid-December period when possible.
A Reviews Update to Hit Soon
In its Q&A update, Google hinted that a reviews update may soon hit, and they'll no longer be giving periodic notifications of improvements to their reviews system.
Google said, "We expect an update to our reviews system to start rolling out next week. That will also mark a point when we'll no longer be giving periodic notifications of improvements to our reviews system, because they will be happening at a regular and ongoing pace. We'll be updating our page about the system to reflect this; we'll also update that page if the system evolves in some notable way, such as covering more languages. Those who do reviews should read our guidance and stay focused on that over time."
Google Core Update Bug
Google core updates may have a big impact on your Google Discover traffic. It is said that this November 2023 core update was expected after Google messed up with the October 2023 core update that affected Google Discover traffic.
A day before this Google update, Google had confirmed a bug related to the October 2023 core update, which affected Discover traffic for certain websites. The bug commenced on October 5th and persisted until October 31st.



Websites that were hit by the core update will probably see lower levels of Discover traffic. If the October core update has not hit your website, hopefully you will see the Discover traffic return.
Being an experienced digital marketing services company, MedResponsive stays current with changing Google algorithms and updates.
Share your experience regarding last month's core update with us.