Running a hotel, or a hotel advertising agency? This Google update on Performance Max for travel goals adds value to your efforts to reach more guests and drive more bookings.
With more and more travellers searching for the best hotels in advance to spend their vacation, it is important for hotels to enhance their online presence. Performance Max for travel goals, which will be rolled out over the next few weeks, will support hotel owners to easily stand out and connect with people looking up their options across Google. This ad campaign allows hotel performance advertisers to easily serve across all Google properties. Advertisers can easily create property-specific asset groups and maximize their performance with Google Ads.
As an experienced search engine optimization company, MedResponsive stays abreast of all Google updates. We can create effective ad campaigns and SEO strategies for the hotel sector.Talk to us at (800) 941-5527!
Enhanced specifically for hotels, this easy-to-set-up campaign powered by Google's AI, allows advertisers to show relevant ads in front of people, when they're planning their trips. You can create ads in multiple formats that will automatically serve across Google channels and inventory, including Maps, Search, YouTube, and Hotel Ads (coming later this year). These ads appear across Search, Display, Video, and Discovery campaigns.
What Are the Benefits of Performance Max for Travel Goals?
Google has discussed the benefits of Performance Max for travel goals for hoteliers.
Advertisers can use Performance Max campaigns to –
Drive more conversions
With this AI campaign, advertisers can see an average increase of 18% total incremental conversions at a similar cost per action. It uses Google's hotel data to automatically serve your ads when people search for your property.
Easily set up campaign and reporting
This AI ad tool suggests messages, images, URL, amenities and features from the user's property to:
Suggest compelling headlines and descriptions
Include high quality interior and exterior images of the hotel property
Create property lists directly in Google Ads, or link a Hotel Center account to access existing property lists
Get property-specific reporting that allows to measure performance for each hotel in the campaign separately
Improve operational efficiency
With these fully automated ads that run across all channels, users can free up their time
You'll be free to focus on strategic initiatives such as budget planning, add more compelling creative assets, optimize via Recommendations, and analyze Insights that can help improve overall marketing strategies
How Does It Work?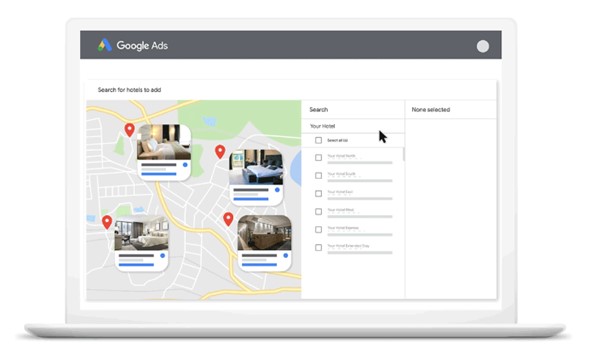 Image Source
During campaign setup, just choose hotel properties from a map using Google's hotel picker tool. Then the tool will pre-populate ads for your hotel in every format. You can edit any of these pre-populated assets or upload your own instead.
Check out the Insights page and property-specific metrics in the hotels tab which include demand forecasts and search trends to understand your ad's performance. It provides information on what guests are searching for when they see your ad. You can also easily access even more simplified property-level reporting and travel-specific campaign recommendations.
The major advantage is that even a single campaign can support up to 100 hotel properties and pre-populate recommended images, messages and other creative assets for each location. Users can also measure and share campaign performance for each location in the hotels tab.
Simply set your budget thresholds and conversion targets, and Google's AI will take care of the day-to-day specifics like bidding, channel optimization, and choosing the optimal asset groups.
Hotel brands can use Performance Max for travel goals to speed up their campaign creation process and expand their reach across Google. They also receive budget optimization recommendations per property, which allows to lower cost per acquisition, increase return on ad spend and increase bookings.
Google has discussed the examples of hotels that used Performance Max for travel goals and the results they achieved. One example is of Corissia Hotels & Resort that doubled their overall capacity over the last three years and needed an easy way to increase their bookings and revenue. They used Performance Max for travel goals to expand their distribution channels and reach more potential guests. Within one month, their Performance Max for travel goals campaigns yielded a 32% increase in revenue and a 26% increase in total direct bookings.
Google also highlighted that it will soon introduce audience signal recommendations to this campaign for more insights.
Ad Creation Key Steps
Performance Max ad campaign creation involves key steps such as –
Click Campaigns on the left-side menu in the Google Ads account.
Click the plus button, then select New campaign.
Select "Sales" as your campaign objective.
Choose the purchase conversion goals and click Continue.
Select Performance Max as campaign type, then select Hotels in the "What are you advertising? " section.
Select the preferred Hotel property feed source. You can add up to 100 hotels per campaign.
Best Practices to Optimize Your Performance Max Ads
This AI ad option is designed to perform well across a wide range of marketing objectives and media channels. Some of the best practices to set up your Performance Max campaigns, recommended by Google are –
Run campaigns for at least 6 weeks to allow the machine learning algorithm to ramp up and have sufficient data to compare performance.
Add at least 5 versions of text assets (4 headlines, 5 descriptions) to your asset group.
Add at least 5 versions of image assets (including 1200×1200) to your asset group.
Use as many assets as possible.
Use relevant audience lists as signals to speed up machine learning ramp-up.
Use Google Ads conversion tracking rather than Google Analytics conversion import to track video views or cross-device conversions.
Google says that it's OK to have Performance Max and Performance Max for travel goals campaigns running together targeting different locations or languages. The number of campaigns that can be set can be determined by factors such as – if properties have separate, custom budgets or separate ROI targets, if the campaigns are serving in different languages, and the number of asset groups required. To get meaningful results, it's critical that the campaign has enough volume. Before reviewing performance, it is ideal to wait for a minimum of 6 weeks.
Need support in setting up a Performance Max ad campaign to drive more bookings to your hotel? The MedResponsive team can help with creating property-specific ad campaigns and thus boost your online presence.
Just discuss your ad requirements with us at (800) 941-5527!