In recent years, the fields of SEO and digital marketing have paid a lot of attention to two concepts that are closely related: featured snippets and zero-click searches. Utilizing organic SEO services can help you optimize your website to take advantage of featured snippets and zero click searches, both of which are important components of digital marketing.
What Are Featured Snippets?
Featured snippets are succinct, condensed responses to search queries that show up above the standard organic search results on Google's search results page. They seek to respond to the user's inquiry quickly and simply, frequently by way of a list or paragraph. The most relevant and comprehensive response to the question is selected by Google's algorithm and displayed as a featured snippet, which is taken directly from a web page's content. There are featured snippets for some queries, but not all, and only websites placed in the top 10 search results can appear in them.
Here is an example of a featured snippet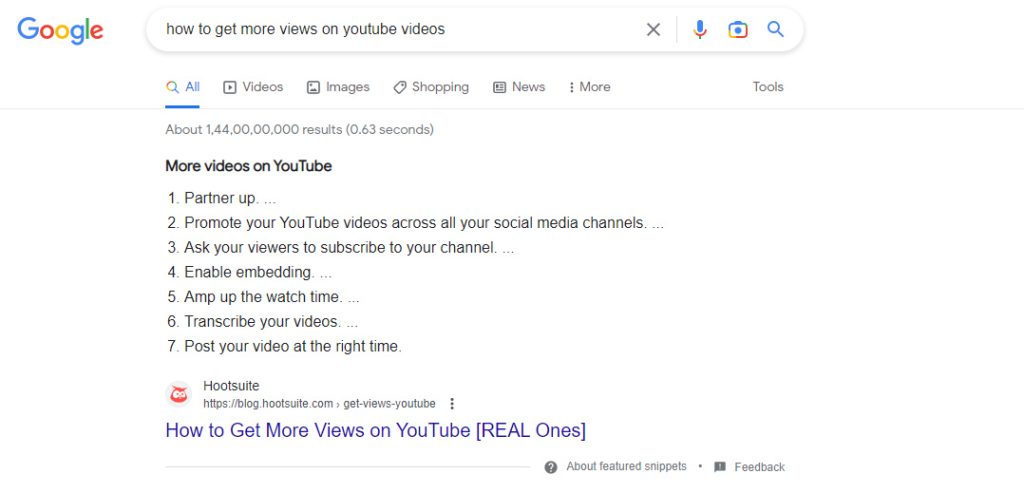 Importance of Featured Snippets
Featured snippets are crucial as they can significantly increase the visibility of your website. They can draw a lot of interest and clicks because they are at the top of the search results page. According to a study by Ahrefs, the average click-through rate for the website in the featured snippet position is 8.6%, whereas the average click-through rate for the website in the first organic position is 19.6%. As expected, featured snippets have been found to decrease the total number of clicks, as their purpose is to provide searchers with an immediate answer to their query without requiring a click. Ahref found that while only 30.9% of featured snippets rank at the very top, the vast majority of them rank in the top5 quite consistently.
Since Google only chooses content that it considers to be the most educational and pertinent, featured snippets can help establish your website as an authority on a particular subject.
Optimizing Feature Snippets
First, the targeted keyword or keyword phrase needs to be used extensively on the website you want Google to use for the snippet.
The keyword phrase should also be repeated as a question in a header tag, preferably in an H2 tag that is located very high on the page.
When using a text snippet as an answer to a header tag question, it's crucial to craft one or two optimized sentences with a straightforward sentence structure.
Use the question as a header tag with lots of trigger phrases to optimize for a list snippet, and then list bullet points underneath. Google will only display a few bullet points at most, allowing people to click on your page for more information and boosting your click-through rate (CTR).
When writing information for a table snippet, use the keyword phrase as a header element and make a straightforward table with lots of rows. When you use this kind of content optimization, Google won't show the entire table in the featured snippet.
You can check how well your page has been optimized for a list snippet, a table snippet, or a text snippet using the tools in Google Search Console or our Searchmetrics Suite. Utilize Search Console to assess each ranking position, including Position 0, in order to see the various CTRs, clicks, and other metrics for each place.
What are Zero- Click Searches?
Zero-click searches are those that provide results for a user's search query without requiring them to click through to a website. The goal is to quickly determine a keyword query's intent. Sometimes it's an address, other times it's a passage of text. This change makes it easier for Google users to receive web content right away, eliminating the need to go through to a specific page. It features featured snippets, information panels, local packs, image carousels, and video carousels. Research by Rand Fishkin found that over 50% of Google searches end without a click to other content. This means zero-click searches are on the rise.


Importance of Zero- Click Searches
Searches that require no clicks at all are significant because they change how people engage with search engines. Users are increasingly depending on search engines to present them with the information they require right on the results page rather than navigating through to websites. This means that websites must modify their SEO tactics to take into consideration the surge in zero-click searches. Even though getting a featured snippet on the search results page can still increase traffic to your website, it's no longer the only way to be seen.
Tips to Optimize Your Website to Appear for Zero Click Searches
Target Featured Snippets: Featured snippets are the most prevalent kind of zero-click searches. To target highlighted snippets, arrange your information in a way that it is simple to read. Utilize lists, tables, or bullets and ensure that it delivers a succinct and clear response to the query. Use pertinent headings and subheaders, and if necessary, add illustrative photos or videos.
Optimize for knowledge panels: Knowledge panels provide a summary of information about a specific subject or entity, and are another sort of rich result that shows up on the right side of the search results page. Make sure your content is well-structured and provides pertinent information about the topic or entity if you want it to appear in knowledge panels. In order for Google to understand the content and context of your pages, you should also ensure that your website has structured data markup.
Make sure your website is mobile-friendly: Voice search and mobile devices account for the majority (77.2%) of zero-click searches. With Google switching to mobile-first indexing, redesigning your site to support mobile-first indexing is now a necessity if you want to rank well in Google and survive the zero-click surge.
Use Schema Markup: Using the structured data format known as Schema markup allows search engines to better grasp your website's content and context. Using schema markup can make it simpler for search engines to display relevant information about your website in zero-click searches, such as event information, product details, and reviews.
Create High-Quality material: In order to show up in zero-click searches, it is crucial to provide high-quality, informative material. Make sure your content is well-written, simple to read, and offers your target audience useful information. To keep your material current and pertinent to your audience, use pertinent keywords and themes and update it frequently.
Optimize your Google My Business listing: Optimize your GMB listing by making sure your company's name, location, and phone number (NAP) information is correct and consistent across all web directories in order to maximize your Google My Business page. Encourage customers to give reviews and respond to their reviews. Add the right digital assets or photos to your GMB profile.
MedResponsive can help you Optimize Your Website For Featured Snippets and Zero-Clicks Searches.
To learn more, contact us today!
Highlighted snippets and zero-click searches are gaining significance in the field of search engine optimization. Website owners and marketers can improve their exposure and increase traffic to their sites by understanding how these kinds of results function and applying techniques to optimize for them. In addition to making sure that your website has organized data markup and correct company information, it's critical to concentrate on offering meaningful, educational material that immediately responds to consumers' inquiries. You can raise your chances of showing up in zero-click searches and featured snippets with the appropriate strategy by partnering with reliable organic SEO services.