Video marketing is considered the heart of any SEO strategy. In this social media-obsessed world, videos have become a powerful tool for digital business marketing. With more than 2 billion active users, YouTube is considered a fertile ground for free organic marketing. The blog discusses some of the tips to create the fastest growing YouTube channel.
It is estimated that around 500 hours of content is uploaded on the platform every minute. Being the world's second largest search engine (right after Google), YouTube makes it easy for content creators to share their content among a wide group of audiences.
As visual content tends to be more appealing and conveys a lot more than words, videos can make a visible difference to the marketing strategies of a business, making them more ROI generating. Want to create a fastest growing YouTube channel? However, growing a YouTube channel takes considerable amount of time and effort. With the help of a reputable digital marketing services company, you can grow your YouTube channel and succeed in your digital marketing campaign.
How to Start a Fastest  Growing YouTube Channel for your Business
When compared to other social media platforms like Facebook, Instagram, Twitter, and LinkedIn, investing time and resources in creating a fastest growing YouTube channel. Setting up a YouTube channel must be the top priority – as the social platform offers immense potential in promoting a business. In fact, video content dominates social media, and YouTube is the largest platform entirely dedicated to it. Reports from Oberlo.com suggest that 8 out of 10 marketers consider YouTube to be the most effective video marketing platform.
In fact, Google found that 90 percent of people use YouTube to discover new products. However, YouTube is a relatively untapped platform for small businesses. It is reported that 9 percent of small businesses have signed up for it, which suggests that there is still plenty of space left for business.
Here discussed are some of the most important strategies to develop a fastest growing YouTube channel for your business –
Make Compelling Video Titles – Optimizing video title is one of the most important strategies in developing a YouTube channel. No matter how good a video appears, it is useless if no one clicks on it. Identify a central idea of your video content. Then, optimize the video title as this will help attract more viewers. YouTube SEO starts with finding the right keywords.Identifying and incorporating the right keywords in the title enables Google crawlers to understand what the video content is all about, what they can expect, and how they will benefit from the content. Try to search for short and descriptive keyword phrases that address the specific theme of the video. Choose a title which answers the most important question for viewers. It is important to keep the title of the video short. In fact, the ideal length of video title should not exceed 60 characters. The readers should view the whole title at a glance.
Build Inspiration from the Top YouTube Channels – When a new business is launched, try advertising on YouTube. However, the brand needs to start slow and do some basic research about the market. Try to be creative and do some basic research on the specific strategies applied by the top YouTube channels. A great starting point will be to analyze the YouTube trending videos and discover their similarities on both strategic and technical levels. Identify the best of these strategies from top channels and try to incorporate the best one that matches well with the brand personality.
Analyze YouTube Competitors – After discovering certain unique tactics from top channels, narrow down the searches and analyze what your competitors are doing. Conducting a competitor analysis can help find gaps in the YouTube competitors' content. Even though performing a competitor analysis can prove to be a challenging process, there are plenty of competitive analysis tools that can be used to perform this task in an easy manner.
Create Perfect YouTube Thumbnails – Creating effective thumbnails can make searchers click right away. The thumbnail created should be relevant to the video's content and title. Always include short descriptions and relevant images in the thumbnails that help users understand what your channel is all about. Catch the interest of people and tell a story using thumbnails. The video title and its thumbnail should convey a complementary story together.Here are some useful tips to create custom thumbnails –
Use standard video sizes like – 1280×720 or 1920×1080. Smaller sizes can look blurry.
Use only high-quality images.
Use the 16:9 aspect ratio that works best for YouTube players.
Use emotion. Include exciting faces and focus on the eyes.
Include the video title on the thumbnail as it helps attract more views
Image formats should be JPG, PNG, GIF, BMP, or TIF
Follow a consistent style on all thumbnails
Use Photoshop to customize thumbnails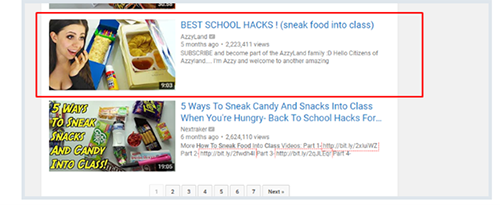 Image Source:
Cross-promote YouTube Content – Cross promoting your YouTube content on other social media platforms can help gain higher reach or exposure for the channel. Depending on the specific social media channels chosen, it is important to follow a specific and unified approach that goes well with all the platforms.
Include Calls-to-Action (CTAs) – Adding a call to action button in the videos will help create more engagement on YouTube. Whether the ultimate goal is to get more likes or add more subscribers, always be clear and precise about key actions people need to take. It is important to add website link or ask for subscribers to the channel within the video or at the end to help people understand the next step.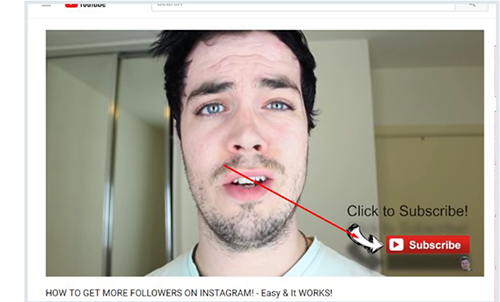 Image Source:
Create Partnerships – Creating partnerships is an important YouTube marketing strategy. Whether the collaboration is with another brand (with similar group of audience) or an influencer, it is a great social proof move for the audience. Building partnerships in YouTube marketing campaign will not only help in channel promotion and attracting more views on videos, but also provide access to a whole new audience segment. Collaborative videos also help increase the subscriber base. However, while creating partnerships, always select a partner with similar values and personalities. Otherwise, the whole concept of collaboration will be fake and forced.Here are a few ideas on how to create collaborative videos –
Collaborate with influencers from other social networks.
Collaborate with brands and Youtubers that are more powerful than your specific brand.
Interact with the audience group and ask their opinion on videos in the comment section.
Find YouTube influencers and other brands in your niche and create videos together.
Introduce Live Streaming on YouTube – Live streaming is an important feature that every social media platform tends to utilize as this helps attract more viewers. For instance, reports suggest that live videos usage has increased by 55 percent in 2020. Live streaming sessions can allow people to put a face to a specific brand name, which makes them feel more connected with that brand in the long run.
Share Videos via Social Media Platforms – Sharing videos via social media platforms is an important strategy for YouTube channel promotion. As each social media platform has its own unique culture, it is important to figure out which platform will best suit the video content. However, simply publishing the latest videos on social media platforms will not be enough. It is equally important to be active in social communities and groups.Here are some top tips on promoting videos –

Add YouTube video to Slide Share presentations
Use Reddit for getting YouTube views
Share YouTube video on Pinterest and Twitter
Publish your videos on Scoop.it
Promote and share videos on relevant Facebook, Google+, LinkedIn groups, and other communities
Integrate videos into blog content
Include videos in guest posts on related websites
Create a small promo video on your FB page and link back to your original YouTube video
Add YouTube channel to your Instagram bio
Focus on YouTube Ads – Investing in paid ads on YouTube is an important marketing strategy.There are different types of paid advertising on YouTube such as –
Display ads – Also known as video discovery ads, these appear to the right side of the video and above the video suggestions list (that are only available on desktop).
Skippable video ads – These ads can be inserted before, during or after the video. Generally, up to three minutes in length, these are skippable after five seconds.
Non-skippable video ads – Unlike the skippable ads, the non-skippable type will play itself until the end. Having the same placement, these ads can be up to 20 seconds in length.
Bumper ads – Up to six seconds in length, this is a non-skippable video ad inserted before the video.
Overlay ads – This refers to the semi-transparent ads that appear on the lower part of the video.
However, before investing in YouTube ads, it is important to do adequate research to determine what type of YouTube videos get maximum number of views and craft the content on that basis.
Brand your YouTube Channel – Branding the channel is an important marketing strategy that can make it visually appealing and increase brand awareness. Use company logo for the YouTube channel. In the case of independent video bloggers, it is better to use headshot instead of a logo. To help users easily locate your page, add titles and descriptions to the videos. On top of the banner image, include links to the website and social media. Include an informative and relevant bio about the company in the video (in a short and engaging format).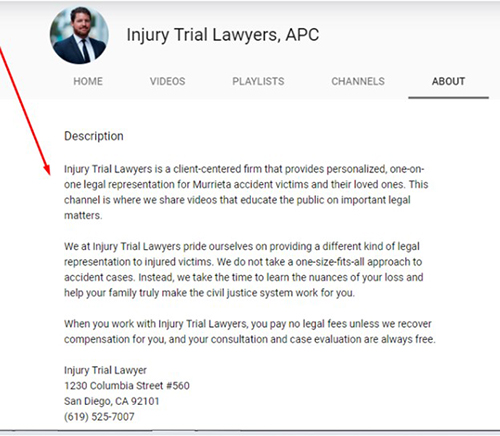 Image Source:
Check out YouTube Analytics – Mere implementation of the digital marketing strategies may not bring in results. Turn to your YouTube analytics to see the impact of your digital efforts and optimize accordingly. Depending on what aspects that need to be monitored, turn to YouTube's own analytics dashboard, or to a third-party YouTube analytics tool. In order to discover which tool best suits your needs, it is important to test them without a problem. For example, Social Insider offers a 14 day-free trial to understand how the platform works and what data can help boost your YouTube presence.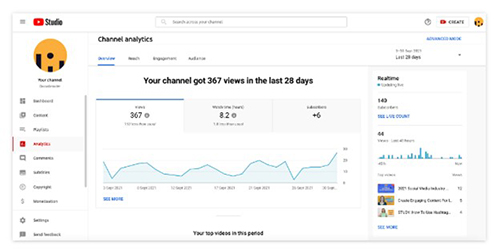 Image Source:
Regarded as one of the most popular online video-sharing platforms, YouTube makes it easy for content creators to share their content with a large audience. Having a well-researched YouTube marketing plan or strategy will help create engagement and grab the attention of your targeted audience.
A great YouTube social media marketing strategy involves repurposing content that you have previously made in various formats like podcasts, infographics, presentations, etc. However, building or promoting a YouTube channel requires constant effort and innovative tactics. With the help of a reliable search engine optimization company, you can create a fastest growing YouTube channel and succeed in your digital marketing campaigns.