We all know how local SEO for multiple locations is important for businesses. Similarly, social media marketing strategies for local communities are also very essential for businesses to reach out to targeted audiences, particularly for ecommerce and online retail businesses with multiple branches or geographic footprints. Keeping this in mind, the social media giant, Facebook has launched Neighborhoods, a single destination to build and strengthen local communities on Facebook.
Neighborhoods – A Nextdoor-like Tool
People have always used Facebook to connect with their neighbors and local services – such as to gather support for local businesses, asking for recommendations and tips in local groups, offering support, or meeting neighbors who share common interests and so on. Especially during this pandemic, these connections have surged. Therefore, to tap into those connections in a direct way, Facebook – with 2.7 billion users globally – rolled out a new feature, Neighborhoods within the main app – that offers many capabilities similar to Nextdoor, a hyperlocal social networking service for neighborhoods.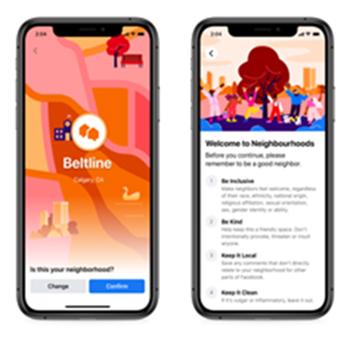 Image Source:
https://about.fb.com/wp-content/uploads/2021/05/NRP_Neighborhood_Product_2phone_vertical_1920x1760.png?resize=890%2C816?w=1178
'Neighborhoods' is a single destination that makes it easier to bring the local experience across Facebook into one place, and strengthen local communities on the platform. This dedicated space within the Facebook app helps users to engage with a wider group of locals who they're not directly connected to. It helps them connect with their neighbors, participate in their local community, and discover new places nearby.
How 'Neighborhoods' Works
Neighborhoods profile – an opt-in experience of the Facebook app – is dedicated to user's neighborhood that's different from their main Facebook profile.
Facebook cited in its blog post that, "to join Neighborhoods, a FB user need to be 18 years or older and confirm their neighborhood. The profile photo, name, and cover photo will be the same as that used in his/her Facebook profile. Users can add other information about themselves such as personal interests, favorite places, and a short bio in Neighborhoods profile". Once a user joins Neighborhoods, Facebook will confirm with the users if they really live where they say they do.
In addition to join just their own neighborhood, users also have the option to join nearby neighborhoods and can then join discussion areas with other users who live within the same part of the city.
What Does Facebook Neighborhood Offer?
This feature – that is currently available in Canada, and will begin to roll out to select US cities soon – gives Facebook users a space to connect outside of the news feed. Some of the best things it offers FB users include:
A Chance to Meet and Connect with Neighbors: As we mentioned earlier, when a user creates their Neighborhoods profile, they have the option to add their interests, favorite places and a bio, so that people can get to know the user within the Neighborhoods Directory. Users get a chance to meet and connect with their neighbors by writing a post to introduce themselves, engaging in discussions on posts from fellow neighbors and by answering Neighborhoods Questions in the dedicated feed. These answers would by useful information for people who are new to an area.
Allow to Engage with Local Neighborhood Groups: Neighborhood users are allowed to create and join groups reserved for people within that neighborhood, so that they could meet others around them who share the same interests. However, to make it easy for people living nearby to find their neighbors, admins of local Facebook groups can import their group into Neighborhoods. It will also allow people using Neighborhoods to create or join Neighborhoods-bounded groups – for local bird watchers, or discuss the previous night's game with fellow basketball lovers in one's area – that are available within the Neighborhood's experience.
Discover New Places and Local Recommendations: Neighborhoods provides a Recommendation feature that lets its users share suggestions to their neighbors about places and businesses to visit from their local community. Neighborhood also provides another feature Favorite Polls, which allows neighbors to vote on their favorite places and businesses in the area, including restaurants, parks and more.
Provide Moderation and Safety: To help users keep interactions among neighbors relevant and kind, the new feature Neighborhoods is built to be safe and inclusive with Guidelines. The moderators of Neighborhoods use these Guidelines with the aim to review posts and comments in the Neighborhoods feed. They can either report a post or comment to a Neighborhoods moderator or remove/hide the posts that go against Neighborhoods Guidelines and Facebook Community Standards. However, users can block someone on Facebook or Neighborhoods – Facebook won't inform them – and if the blocked user has logged into Facebook, they won't be able to find you in the Neighborhoods directory.
Offers Privacy: A user can choose whether to join Neighborhoods – your neighborhood or your Nearby Neighborhoods – and create a profile. The profile will have the user's name, profile and cover photo from their Facebook profile and the name of their neighborhood. However, when a user creates a group in Neighborhoods, it can be private or open and visible or hidden. If the Neighborhood Group is:

Private: Only members of the group who have joined the neighborhood can see posts
Open: Anyone in the neighborhood or Nearby Neighborhoods (if Nearby Neighborhoods is selected) can see who's in the group and what they post.
Visible: Anyone in the neighborhood can search for and find this group.
Hidden: Only members can find the group.
This new feature by Facebook – which was under development since October last year – is a great way to gather data on users, and it would potentially keep them on the app longer. Moreover, according to TechCrunch, "this new feature will be sharing users' neighborly behavior to serve their targeted ads elsewhere."
Most importantly, once the feature is rolled out in the US, a FB user can consider joining Neighborhoods as their social media strategy. This is because having a good social media marketing strategy in place helps to reach out to a large number of targeted audiences and also boosts the business' visibility with both existing and new consumers – globally or locally.