While SEO is as important as ever, advanced social media marketing strategies are also essential for businesses to reach out to targeted audiences, particularly for ecommerce and online retail businesses.
Email marketing is another powerful strategy, where you really can become conspicuous to targeted audiences by being a major presence in their inboxes. But getting started in email marketing can be an elaborate process, particularly in getting a database of contacts ready and sending messages to them. You obviously would also need to track the effectiveness of those messages to ensure that all the effort you and your team are taking hasn't gone waste. Facebook could be out with a solution soon.
Facebook Testing New Solutions for Email Marketing.
Business pages would soon be able to carry out email marketing through Facebook's platform. Search Engine Journal reports Facebook testing new tools that will enable marketing emails to be sent through Facebook's platform. Small and mid-sized businesses (SMBs) can compose emails and upload contact lists. They can also track the performance of these emails. The interface of this tool set is also reportedly user-friendly.
Facebook's tests were spotted by a social media marketer, Meg Coffey who shared her screenshots on Twitter. Now Facebook has confirmed testing these email marketing features, further cementing Coffey's hunch. So, these screenshots are worth checking out: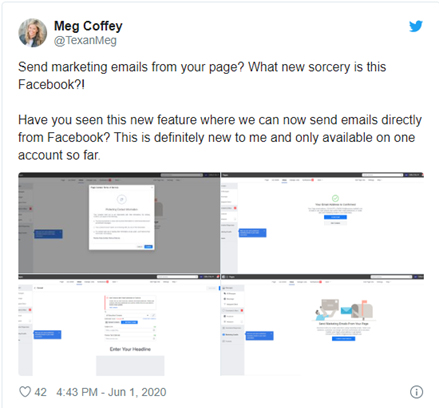 (ImgURL:https://www.searchenginejournal.com/facebook-tests-email-marketing-tools-for-business-pages/371530/#close)
The screenshots also reveal that if your business page has access to this feature you will get a notification stating Marketing Emails.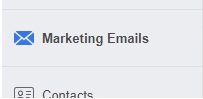 Clicking this notification opens a screen asking the page manager for a confirmation of their email address.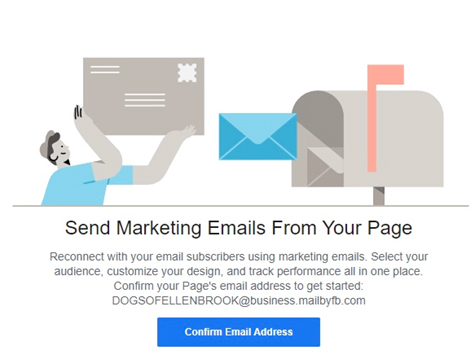 (ImgURL:https://www.searchenginejournal.com/facebook-tests-email-marketing-tools-for-business-pages/371530/#close)
Once you confirm your email address, you get the following notification: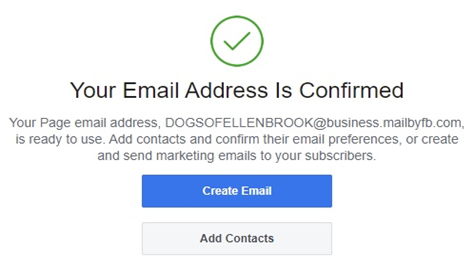 After getting the email address confirmed, the page manager can add email contacts. You can individually enter contact information or even directly upload it from their spreadsheet. But before you add the contact information, Facebook requires confirmation from page managers about whether they've received permission from those contacts to send them promotional messages.
After page managers add their contacts, they can use the Pages app to start creating email messages. The following is the screenshot of how composing a marketing email appears in Facebook: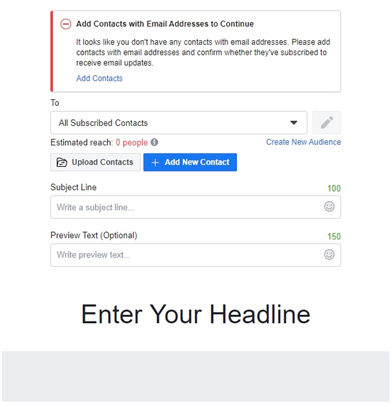 Test Confined to Limited SMBs
Facebook says the test is confined to a limited number of businesses. The social networking giant is focusing these tools on small and mid-sized businesses alone. If the tests turn out to be positive and really help businesses in their marketing efforts, these features could perhaps see a broad launch. It isn't hard to see that these tools can actually benefit businesses without an inhouse email marketing strategy or system. This takes a great deal of burden off their shoulders.
Small- and medium-sized businesses can now send marketing messages easily without any elaborate procedures. These features offer scalability too, and provide the ability to track results. Large businesses, in any case, won't be hinging on these services. They would also be having their own email marketing strategy. But for many small and medium-sized businesses, this is a great way to get started.
Advanced digital marketing strategies encompass various solutions, but this option of sending marketing emails through Facebook's interface can certainly make a difference.