Due to the frequent changes in Google's algorithm, search engine optimization strategies also need to change. You can figure out the changes simply by comparing various substitutes developed in this field recently. Effective SEO tools help you to analyze the existing content on your website and provide suggestions to make it more appropriate and relevant.
It is essential to maintain the credibility and accessibility of your web page using different SEO tools. It provides you with a platform to analyze the performance of your competitors and to make sure that you have made essential changes to compete with other websites in your niche.
One Step Ahead with Effective SEO Tools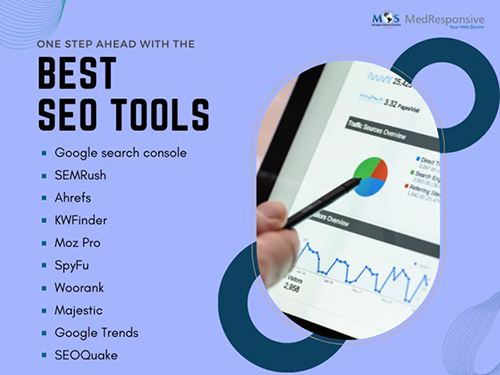 Google search console is a free service offered by Google that helps you to understand the performance of your website in general. You can verify it simply by adding your website codes to this tool. This gives you an idea about how Google and its users view your website. It examines the number of people who have visited your website so far. It can also help you to make the necessary changes for better performance of your website.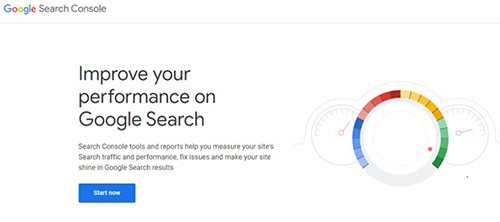 It is an effective SEO tool that can easily analyze the changes, new ranking strategies and the current ranking of your website. This tool has a feature known as domain Vs domain analysis that helps you to compare your site with your competitor's site. SEMRush permits you to evaluate your rankings and gives suggestions to improve the performance of your website.
Ahrefs is one of the popular online SEO tools. It gives emphasis to the content on the website that needs improvement so as to grab top positions on search engines. It determines your competitor's backlinks and you can use it in the initial days of your new ventures. Ahrefs can be used to find out the well-performing content on websites. It checks and rearranges the broken links and evaluates pages that are running perfectly.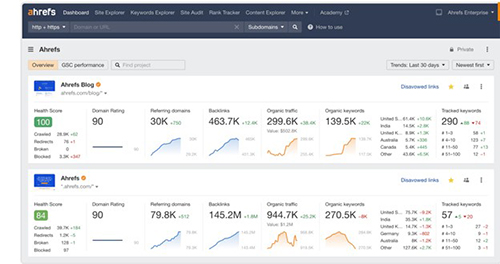 KWFinder is a great SEO keyword tool that helps beginners rank keywords easily. It can check the performance and ranking of your page and also suggest several new keywords to achieve higher ranks on search engines. It assists you in finding long-tail keywords that have minimum competition.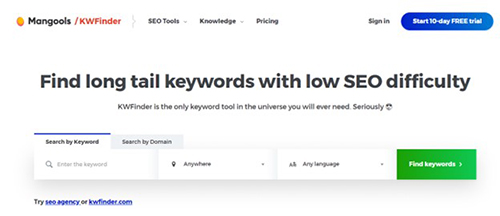 Moz Pro is one of the effective SEO tools that not only gives information about the performance of your page but also suggests ways to improve its ranking. It provides a free toolbar called MozBar to see your website metrics while browsing. It has a page optimization feature to understand the necessary steps in SEO to improve every single page of your website. You can compare your site with your competitors and make necessary changes.
SpyFu discovers the top online competitors in your respective fields. It is being used by digital marketers to improve their online performance by using keyword research and competitive intelligence. SpyFu gives details about keywords that rank higher on search engines and their hierarchies.
It is an SEO auditing, ranking and digital marketing tool to track and report your marketing details. You can observe your competitors by noting the keywords they have used. It helps you to overcome security issues and duplicate content by providing solutions to resolve them.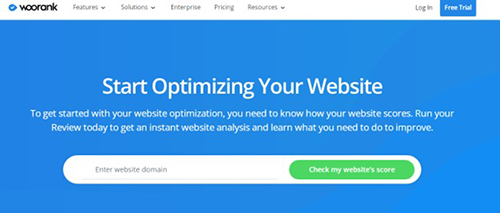 According to experts, it is one of the best marketing SEO tools. It has certain features like the majestic million and the site explorer. The former permits you to see the rankings of other top websites and the latter gives you an overview of your sites and their backlinks.
It gives you information and trends regarding a keyword. It helps you to identify trending topics in different industries. It has a keyword research feature that helps you to find relevant keywords and avoid using irrelevant ones. Its ability to recommend related keywords makes this tool unique. It also provides keywords that have a very close connection to your search.
It is one of the best free SEO tools that perform on­-page site audits, website comparisons to check your performance with competitors, and analyzes both your internal and external links. This helps you to get reviews about the SEO value of any webpage. You can activate it anytime while browsing.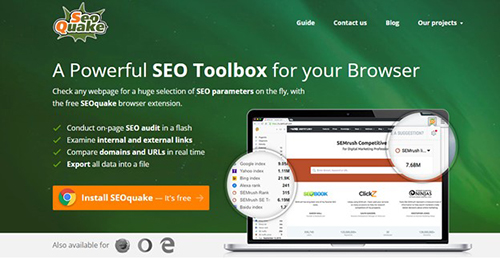 SEO Tools Make Your Tasks Easy
Finding the best SEO tool is one of the most crucial tasks in search engine optimization. A good SEO tool not only helps you to increase the traffic to your website but also gives an idea about the performance of your competitors in their respective fields. It provides valuable assistance to get an idea about the keywords used by other prominent websites and their strategies to attract the attention of their users.
Organic SEO companies can help bring your website at the top of the search results page.
Need help with search engine optimization, content writing services, and web design services? Our team at MedResponsive can help!

Call us at(800) 941-5527and schedule a FREE consultation with our Senior Solutions Manager.