Mobile health or mHealth involves the use of smartphones, tablets, and other portable devices to connect with patients and deliver healthcare services. The World Health Organization (WHO) defines mobile Health (mHealth) as "medical and public health practice supported by mobile devices, such as mobile phones, personal digital assistants, wireless devices, and patient monitoring devices." With the widespread and increasing use of mobile technologies, both patients and healthcare providers are using them to connect with each other. Mobile health came to the rescue during the COVID-19 pandemic by allowing providers need a mobile-friendly website and patients to connect remotely.
The rapid development and adoption of mobile technologies implies that healthcare providers need a mobile-friendly website to be found in search results. As people are using their mobile devices to search online for healthcare services or information, medical practices need a functional and mobile friendly website to rank on Google. Medical SEO services can make your website mobile-friendly, which can drive patient engagement, improve care delivery and outcomes, and reduce medical costs.
How Mobile Technology improves Patient Engagement and Activation
A Pew Research Center study found that up to 85% of American adults own a smartphone, up from 81% in 2019, which makes mobile an ideal option for video meetings with physicians. Mobile technology helps healthcare providers to support patient engagement in their health and promotes informed decision making.
Helps overcome connectivity challenges: The healthcare industry is facing severe staffing shortages which can disrupt care. The Association of American Medical Colleges estimates that there will be shortage of about 37,800 to 124,000 primary and specialty-care physicians by 2034. Mobile technology provides the solution to this challenge by allowing providers and patients to connect with each other seamlessly. Patients can use their smartphones to find healthcare providers to quickly send secure messages, schedule appointments, and receive notifications.Patients can get notifications directly on their mobile devices. This can ensure proper and timely care for many common health conditions. Chronic disease self-management apps designed for smartphones have increased patient engagement, providing quick and easy access to data, medication schedules, and calendars. Using tablets, hospitals and medical practices can simplify patient data collection and storage, and save time spent on administration and in waiting rooms.
Integrates with wearables: Wearables such as smartwatches, smart glasses, and other fitness trackers allow patients to track their sleep, calculate calories, track workouts, and even detect early signs of diabetes, and encourage a healthy lifestyle. These devices seamlessly integrate with mobile health apps and support patient monitoring, surveillance, screening, diagnosis, and help with treatment, post-treatment, and ongoing management. Providers or nurse practitioners can use mobile apps to prescribe drugs or send reminders on taking medications, do exercise, etc. This is especially helpful for elderly people in nursing homes and to support those who are at home but are particularly vulnerable to health issues.
Supports telehealth: Mobile devices work along with telehealth to improve patient engagement and boost care delivery and outcomes -without any physical contact. Many ailments such as migraines, skin conditions, diabetes, depression, anxiety, colds, coughs and infectious diseases like COVID-19, can be reviewed and treated via telehealth.
Enables access to patient portals: Patient portals are shown to improve adherence to medications and streamline patient-provider communication. They allow patients to access their medical histories and care plans, track medications and allergies allow users to review and update their medications, and also alert their provider about any errors in their electronic medical records (EMRs).Mobile devices provide patients with quick accessto their electronic patient portal. Patient portal apps make digital bill payment easy. Patients can also use mobile apps to complete pre-visit assessments and reduce the amount of time they need to spend in the physician's office. The Health Information National Trends Survey (HINTS) reported that nearly four in 10 patient portal users accessed their portal through a smartphone health app in 2020.
Reduces costs: Online or mobile consultations also save money for both patients and providers. With digital consults, patients can save travel costs and avoid revisits with timely care. Providers can benefit from lower operational and practice visit costs.
Build a Mobile Friendly Website to Optimize Patient Engagement
Patients who access healthcare websites from mobile devices should have an experience optimized for the device.A mobile-friendly website is one that ensures a good user experience on mobile devices, which is crucial to help users find your website and also to engage with them effectively. A search engine optimization company that specializes in medical SEO can ensure that your website is optimized for mobile users, including local SEO. This involves ensuring that your pages load fast and display well on different screen sizes.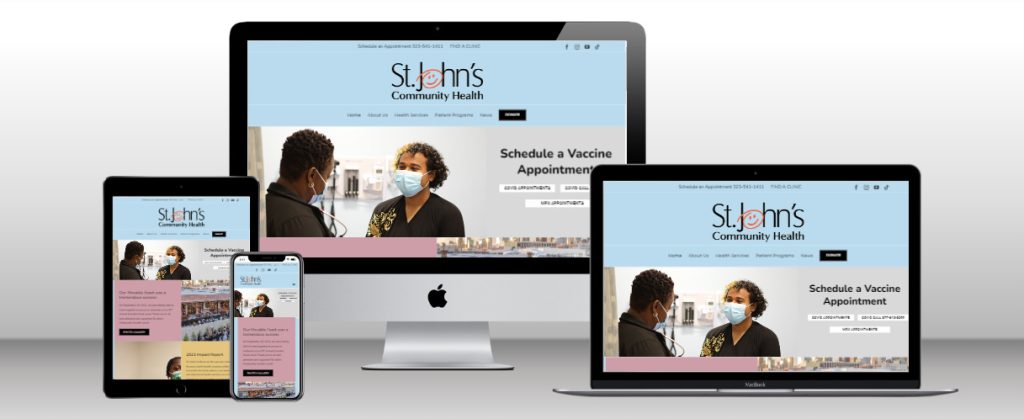 Medical SEO companies are experts in building mobile websites for healthcare providers that work on smartphones, tablets, and computers. SEO experts will work with you to assess the type of resources that patients require from your website and ensure a customized solution that meets their needs. Specific features and best practices for a mobile friendly website healthcare providers include::
CMS designed for healthcare organizations Attractive but sleek, minimalistic and user-friendly design
Effectively displays your medical services and educational content
Scaling of images for mobile users
Video in a format that can run on a phone
Avoiding pop-ups that obstruct content visibility
Short meta titles which can be read easily on mobile devices
Keeping content short but informative
Navigation bar and search bar that allow visitors to quickly find and access the information they need – such as contact details
Features to help patients take action such as a button to call you directly from your site
Avoid using mobile to show different content to users than to Googlebot or cloaking. In most situations, the same content goes to users and search engines.
Key Features of Mobile Friendly Website Design:
Fast loading pages: Page speed is more important for mobile users than for desktop users. Studies show that users expect web pages to load in less than 0.4 seconds. SEO experts will evaluate your page speed with Google's PageSpeed Insights and follow best practices to reduce your site's page speed load time. This includes: implementing caching, enabling GZIP compression, reduce redirects and "keep-alive" HTTP header or persistent connections, compress images, minify CSS, HTML, and JavaScript code, and keeping your plugins, themes, and CMS updated at all times.
Smooth navigation: With responsive design, users can navigate your website smoothly from any mobile device. They will be able to find anything they want with just 2 or 3 clicks and allow users to move from one page to another without any hassles. The site will adapt to screen sizes from a smart phone to the desktop. Ideally, navigation patterns in responsive web design should maintain a consistent look, feel, and experience on your site.Things that come into play when it comes to website navigation include making hypertext obvious, streamlining the navigation bar, keeping side bars separate, putting navigation where visitors expect it to be, ensuring clear and simple navigation, fat footers, and directing visitors to the fundamental pages, and including call to action buttons in the right places. Make sure links are easy to tap with thumb and finger.
Flexible images and responsive text font: Use techniques to resize images proportionately, but reduce image resolution on smaller devices. This is important to ensure that very large images don't take up too much space on small screens. Make sure to ensure readable web text — pay attention to font choice, color, line spacing, and the technicalities of responsive text font.
Accessible design: Optimizing your medical website for accessibility implies following relevant WCAG and ADA standards so that all people, regardless of ability, can easily navigate and use your website. Include capabilities that can make your content easier to read and your tools easier to use for patients.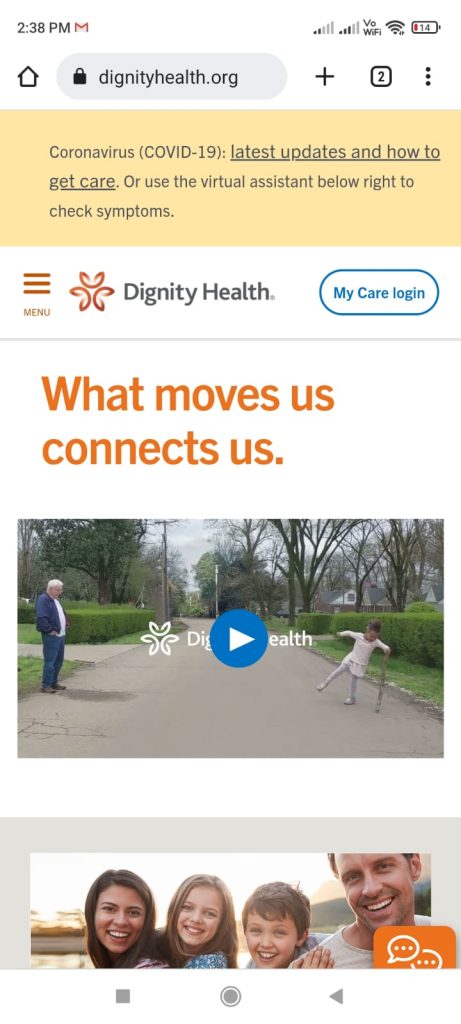 Image Source:
SEO experts will use Google's Mobile Friendly Test to carry out a mobile site test and obtain your website's score in terms of mobile responsiveness and make appropriate modifications to improve the mobile experience if Google detects there are possible improvements. Investing in digital patient engagement tools and medical SEO services will help you build a mobile friendly website that drives patient engagement and activation, and provide the best care possible. It will also increase your return on investment by improving user satisfaction and increasing visits and referrals.
MedResponsive, an MOS digital marketing agency focused on healthcare and everything medical, has extensive expertise in the mobile SEO. We can help you build a mobile-friendly website to help your patients find and access your site and engage with it effectively.