Have you ever considered why any entry page to your website need to be successful in generating and maintaining the interest of visitors? Often, visitors arriving on a page are seen abandoning that page and leaving the website without looking into the other pages. This signifies bounce rate. According to Search Engine Journal, "bounce rate refers to the percentage of visitors that leave your website (or "bounce" back to the search results or referring website) after viewing only one page on your site." In Google Analytics, bounce rate is actually the percentage of single interaction visits to a website. There are good and bad bounce rates that can affect websites. However, higher bounce rates are considered to be one of the major problems faced by many digital marketers. So to have efficient website performance with good bounce rates, make sure to develop a planned website with the help of reliable providers offering digital marketing in healthcare.
According to SEMrush, bounce rate is the 4th most important ranking factor on SERPs.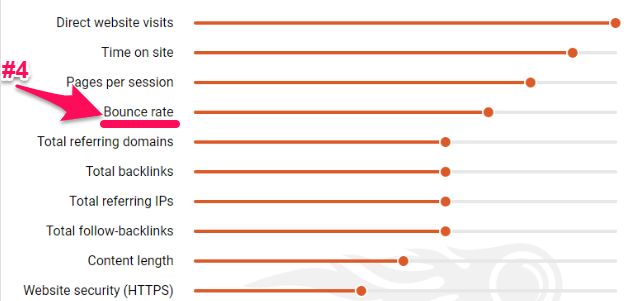 Source: https://neilpatel.com/blog/bounce-rate-analytics/
Generally, most websites will see bounce rates between 26% and 70%, says a RocketFuel study. The same study has gathered data that provided a bounce rate grading system of sorts, which says:
25% or lower: Not good because the analytics implementation is almost certainly broken
26-40%: Excellent
41-55%: Average
56-70%: Higher than normal, but could make sense depending on the website
70% or higher: Bad and/or something is probably broken
It being a known fact that higher bounce rate is bad, these rates point out that the website is not good at attracting the constant interest of visitors. That is, visitors only view single pages without looking at others or taking some form of action within the site before a specified time period. You need to look at each page individually and assess the bounce rates of those pages. If it can be improved, then your problem is solved. That is, if you come across a page that has a higher than average bounce rate, look at the other criterion along with it, such as:
Are people spending a long time on the page?
Are they converting on a goal?
Are they returning to the site after their initial visit?
While looking at all these criteria, if you come across a page that has low time on site, a high bounce rate and that isn't converting, that's a warning and should be addressed immediately. Proper timely check is important to boost your conversions.
You can check your overall bounce rate in the Audience Overview tab of Google Analytics.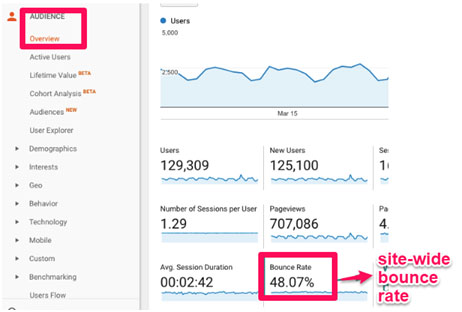 Source: https://neilpatel.com/blog/bounce-rate-analytics/
Even if your website is perfect in your eyes, there could be a number of reasons why your website has a high bounce rate. Some of the reasons and solutions include:
Unappealing and poor content: Users land on a page, looking for particular information. If they cannot find the necessary information on your webpage then they redirect to another website that meets their needs. Your content has to satisfy your prospects' needs; otherwise they will quickly find a competing site to occupy their time. Websites with boring, incorrect, messy, or irrelevant content will experience increased bounce rate and their conversions will suffer.For better conversions, understand why people would choose your site over another competing website. Create content that is engaging and appealing for your users. If your content effectively answers your visitors' questions and alleviates their concerns, then it helps to pave the way toward conversion. Moreover, if the user is spending a couple of minutes or more on the page, then a positive signal is sent to Google that they found your page highly relevant to their search query and you will have less bounce rates.
Confusing Title Tag and/or Meta Description: Always scrutinize your title tag and Meta description. These two have to be accurately summarized to the content of your page. If not, visitors may enter your site thinking your content is about one thing, only to find that it isn't, and then bounce back to whence they came.
Be loyal to your customers and either review the content of your page and adjust the title tag and Meta description accordingly or rewrite the content to address the search queries you really want to attract visitors for (searchenginejournal.com).
Technical Error: Another major reason for exceptionally higher bounce rate could be technical error or blank page. Technical error mainly happens when your site's JavaScript malfunctions or when a plug-in goes down. If you see your page visitors spending less than a few seconds on the page, then it could be that your page is blank (returning a 404) or not loading properly.

Source: https://www.searchenginejournal.com/website-bounce-rate/332439/#close

Always check your page from your audience's perspective. Take a look at the page through popular browsers and device configurations to replicate their experience. To discover the issue from Google's perspective, check in Search Console under Coverage. Without wasting time, correct the issue yourself or talk to someone who can, because, an issue like this can cause Google to drop your page from the search results in a hurry.

Page speed issues: A slow site can provide a poor experience, that is, if your web page takes longer than a few seconds to load, your visitors may get fed up and leave.To avoid this, fix site speed, and often this is a lifelong journey for most SEO pros and webmasters. Your website should load nearly instantly. For instance, you can use a platform like GTMetrics, which will give you a report on your website's speed and tips on how to fix it (if the site is loading too slowly). Other similar tools are Google PageSpeed Insights and Pingdom.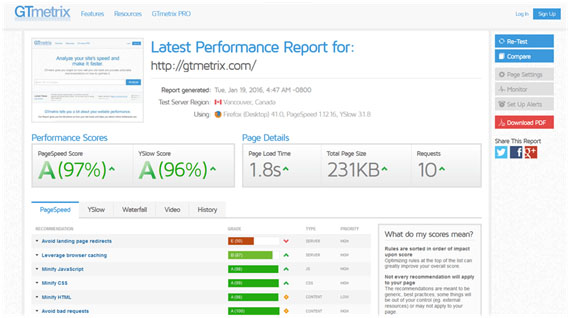 Source – https://www.cleverism.com/complete-guide-gtmetrix/
Poor user experience/UX: If your website isn't appealing overall, the layout isn't organized, and your navigation isn't easy and insightful, your visitors will simply navigate back to any other website. Similarly, if your site is cluttered with too many irrelevant images or other content elements that add more clutter than value, your bounce rate will also likely rise because people aren't sure what you want them to do next. So take a look at UX, which is a major factor.
Source -https://www.invictusstudio.com/blog/5-signs-website-boring/

Make your website UX lean, that is, simple but with a pleasing layout and design, a navigation menu that is quick and easy, and content that is just adequate to attract visitors to convert.
A healthy approach to address higher bounce rate is to view this as an opportunity for improvement. Understand why it happens and follow the methods mentioned above to get your bounce rates back to manageable levels.
Today, consumers first go online before making a purchase decision and if you don't have a well-optimized website, you are likely to lose your customers. An optimized website with good bounce rate is crucial for digital marketing. Healthcare businesses for instance, can approach a reliable social media healthcare marketing company to develop an overall well-functioning, customized website.