Digital marketing and SEO companies always need to watch out for unpublicized algorithmic updates. The Halloween season came with a special installment from Google – a creepy update that wasn't publicized or confirmed, but sure made its presence felt on the 1st of November 2018, as Search Engine Roundtable reported it back then. There still isn't any confirmation from Google, as of now, but it is becoming more and more powerful.
There were major ranking changes reported, says Barry Schwartz of Search Engine Roundtable. The webmaster forums and Twitter were also abuzz with discussions of ranking drops. The biggest change reported was ranking volatility, with one webmaster reporting the SERPs changing by the hour. There is also confusion on what this algorithmic update is actually targeting. One webmaster reported a random page ranking instead of the main page of his site. And then it got back to normal. The random page was competing with the main page though they weren't dealing with the same topic.
What the Tracking Tools Reported
It was initially thought to be a test Google was conducting and something temporary, but as the week wore on the effects became stronger. Webmasters were scared and irritated. Search Engine Roundtable mentioned the results depicted by some of the tracking tools:
Mozcast reported this, and called it stormy weather: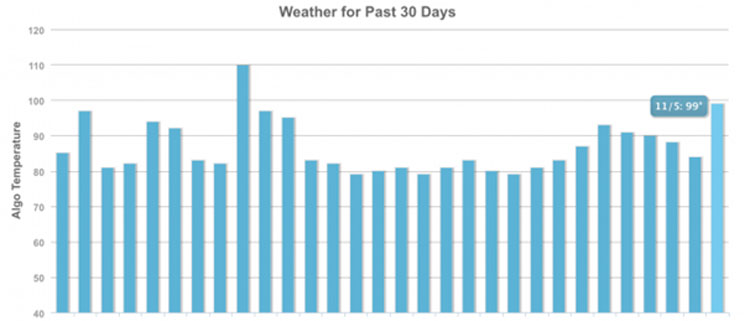 (Img sources: https://moz.com/mozcast/&https://www.seroundtable.com/google-halloween-search-algorithm-update-continues-26642.html)
Algoroo also reported volatility:

(Img sources: https://algoroo.com/&https://www.seroundtable.com/google-halloween-search-algorithm-update-continues-26642.html)
And it was portrayed by SERPMetrics as well:

(Img source: https://serpmetrics.com/flux/&https://www.seroundtable.com/google-halloween-search-algorithm-update-continues-26642.html)
Is This a Phantom Update?
With Google not confirming the launch of any update, Search Engine Journal's Roger Montti brings out the question of what webmasters have termed, "Phantom updates". These are updates that, like a ghost, have been sighted by many but not officially confirmed. But Google has always denied these kinds of updates. A better way to understand this is to realize that algorithmic changes almost happen on a daily basis, Montti opines. But algorithmic changes are different from core ranking algorithmic updates, such as the one launched in August. Google maintains that the broad core algorithmic updates happen only a few times in a year.
So where does this Halloween update fit in? While there are widespread reports of ranking fluctuations, the Search Engine Journal believes there isn't enough of discussion among webmasters to consider this a core algorithm update. It could be a greater number of featured snippets or it could well be some testing which could balance itself out in some time. In any case, there isn't any point in hitting the panic button just yet. An experienced SEO company always maintains vigil though, so that it can be ready to make any changes to its clients' strategies, if required.