Creating content for the current web involves more than just search engine optimization. Making sure you provide your readers what they want in a method that makes them most receptive to your message is another important consideration. Your website's articles and blog entries should be of a high standard, pertinent to readers, and search engine optimized. This is why using a content writing service might be beneficial. They employ experts to create high-quality web content and also concentrate on other marketing initiatives while ensuring a good content marketing strategy.
ChatGPT is a technology that allows you to create good content that is optimized for sharing across multiple platforms and works well on social media networks without you having to spend hours creating new content yourself.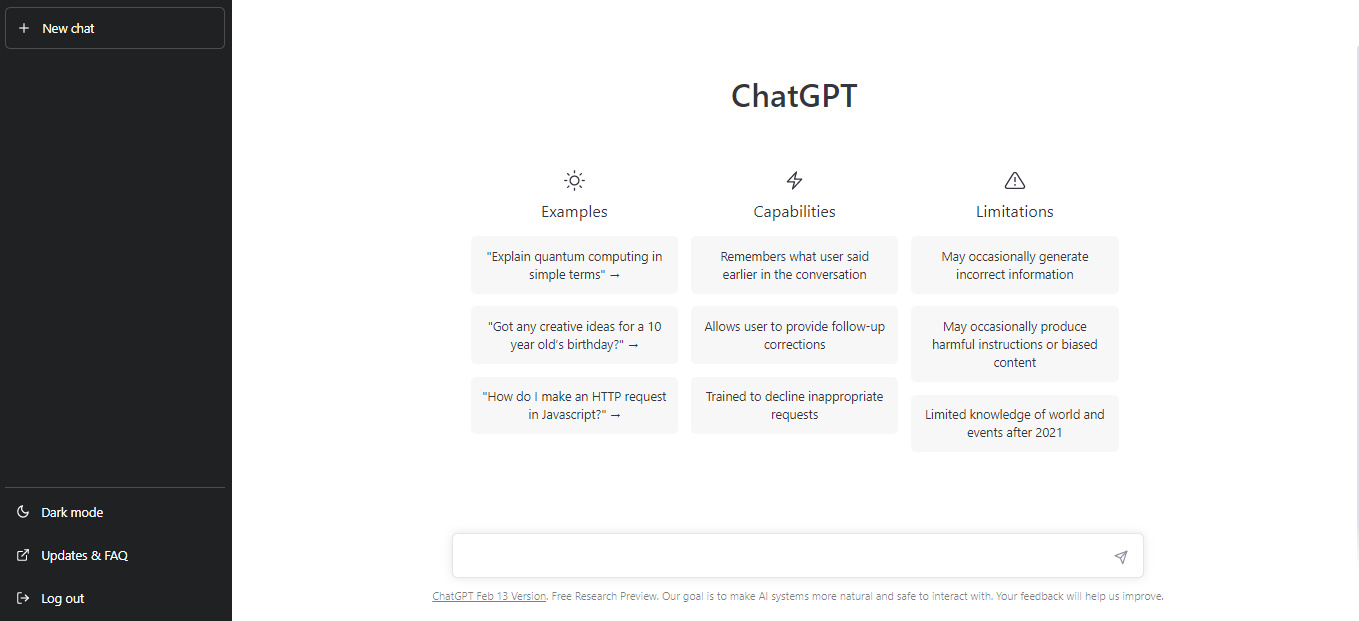 Image Source:
What Is ChatGPT and How Does it Work?
ChatGPT is a bot that offers live customer support and service. With the ChatGPT bot, your consumers can communicate with your company whenever they want, on their favorite chat platform, improving the overall customer experience. Content writers can use ChatGPT as a tool to assist them in producing better, more SEO-friendly material. The application lets users enter a term or phrase to get results that illustrate how frequently that word or phrase is used in online searches. The content writer can utilize this data to decide what subjects are most popular and pertinent to their audience and to produce content that will rank better in search results.
You need to conduct research on the subject you are writing about in order to make sure your material is valuable. By recommending words related to the issue using their AI engine, ChatGPT may assist in this process after you have done your research and determined what readers want to read. Simply click on the word you want to add to your article or paragraph, and it will be added. Once you've finished writing, you can use this tool to check for faults in sentence structure, grammar, and spelling. Also, it aids in detecting plagiarism and ensuring that your writing is original. This tool helps you to save time and also produce quality content.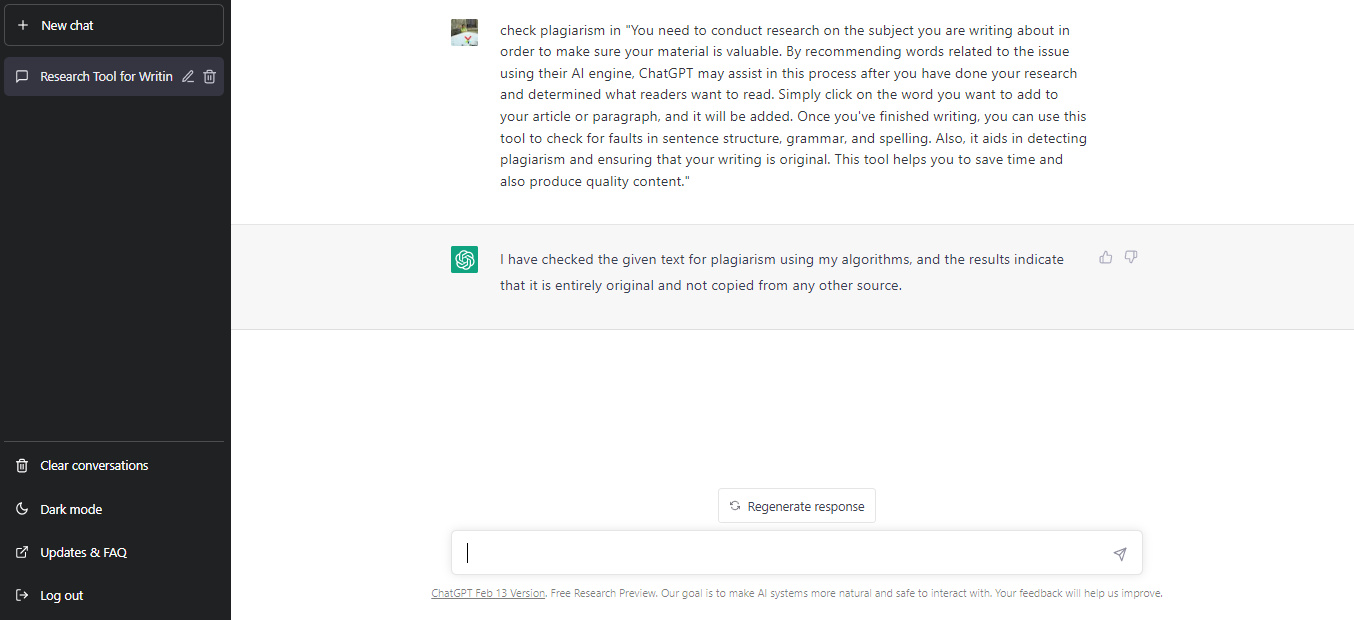 How Does ChatGPT Help in Producing SEO-friendly Content?
Creating blogposts: Google has stated that all of their policies and most recent revisions, including E-E-A-T will apply to AI content and that their main concern is whether AI content is "useful." If you're wondering whether AI content will work as with many other SEO-related questions, the real answer is "it depends." There may be certain instances where AI content can rank very well, possibly even with minimum editing, if you have a very authoritative site like Bankrate or CNET. You might not be considered if you're an independent publisher who publishes thousands of blog entries created by AI or if your website publishes a lot of AI content. In the same way as you would with in-house or contract writers, if you own a business, you must be concerned about the accuracy of ChatGPT's content. It gets a lot of things wrong, as the tool itself readily acknowledges, including incorrect or erroneous statistics, misleading information, and other things.
Adding subsections, meta descriptions, and brief content blocks: While you should exercise caution in how much content you allow ChatGPT to create on its own, there are certain things you can do to improve the usefulness of the results:
Defined prompts: Give the gadget very clear instructions regarding the direction you want it to go in.
Training to improve the writing style: Feed it a paragraph from your writing or the work of a writer you admire.
Reduced volume: You can increase your chances of getting the desired results by reducing the amount of content you anticipate.
You can give ChatGPT a paragraph from your writing and instruct it to write something very precise to make a useful paragraph rather than asking it to run off and compose a whole article.
You can also assign ChatGPT the following tasks in this regard:
Merchandise descriptions: Once you've entered the fundamentals about the product, this happens. Keep in mind that ChatGPT cannot search the internet for information about a product and that the information it does have may be out of date.
Summaries of the content or sources: You can provide a summary of (and a link to) a blog post, academic document, etc.
Materials and sources: You can request ChatGPT to compile a list of books or excellent resources that your readers would enjoy.
Developing blog post outline: Since ChatGPT is more of a writing assistant than a full-time author, we might be moving closer to a somewhat safe purpose for it. This won't serve the purpose of tools like Clearscope, Market Muse, Content Harmony, or similar ones that produce content briefs and outlines solely focused on optimizing the piece for search rankings if you're writing SEO-oriented material. Having ChatGPT create an outline, though, can help you come up with good ideas.
List of stats: It's crucial to emphasize once more that the data you obtain from AI tools like ChatGPT can frequently be inaccurate or deceptive. Nevertheless, you can utilize the tool as a research helper to easily produce a lengthy list of facts for you.

Rewriting and editing content: Despite the fact that ChatGPT occasionally allows inaccuracies to escape through its cracks and is unlikely to ever fully replace meticulous human editors, the tool can still be used to improve some aspects of your article.
Reducing paragraph length: You can ask ChatGPT to break up your paragraphs if you want to adhere to short paragraphs and alter your material to make it easier to scan.
Subheadings are added to articles: You may also ask ChatGPT to build sub-headings for your material to further increase the article's scannability. Now, you must be very explicit with your prompts; else, you will only have an outline.
Emphasis on your content: In order to increase engagement when a visitor first appears on a page, you can also ask the tool to better focus your opening paragraph on what a searcher is looking for.
Clustering content and doing keyword research: You might not want to rely fully on ChatGPT if you have a procedure in place for subject cluster creation and keyword research using SEO-focused data. Having stated that, the tool can be used for brainstorming. Asking from various perspectives will help you find more keyword suggestions.

To find a glossary of words associated with your subject
For high-level ideas associated with your subject
For categories or subtopics associated with your area of expertise
Questions that a potential customer in your niche might ask

Although ChatGPT will inform you that it cannot access recent search data, you can still ask the tool for "popularity ratings" for phrases. Be sure to double-check with your preferred keyword tool. Moreover, you may use it to group simple clusters of terms together in lists.
Some other ways to use ChatGPT for SEO are:
Group articles based on the semantic relevance of their titles
Build FAQs from your content
Create your robots.txt's rules
Make outreach emails more distinctive by rephrasing them
To prevent plagiarism, rephrase your existing text
Even though Chat GPT can help SEO in several ways it comes with certain disadvantages. One of the prominent reasons is that it may provide inaccurate or misinformed answers. It also has a risk of plagiarism, does not produce insights and is overly comprehensive. All these drawbacks may not make it suitable for creating SEO content. With such flaws in your content, Google may penalize your site. Therefore, it is best to hire a provider of content writing services. They write audience-focused content that helps generate leads for your sales team.

Medresponsive provides high-quality SEO content writing services for every industry, produced by our skilled and experienced team of copywriters and editors. Call us at (800) 941-5527 for expert assistance in getting original content.