Even without a website, local SEO can make your company stand out and increase foot traffic to your location by generating online leads. These leads are likely to have a high conversion rate because they come from people who are specifically looking for the goods or services your company provides in their locality. Searches with a local focus are becoming more common, with four out of five users now using search engines to locate local information. Additionally, a staggering 70% of users visit physical stores as a result of search engine result information. Local SEO also influences consumer choice in your favor. The more knowledge they have about your company before they visit, the more credible you appear to them. That's why businesses are now investing in local SEO companies to implement effective local SEO strategies.
AI in SEO
Today, powerful tools like ChatGPT are transforming the world of SEO and local marketing, thanks to rapid breakthroughs in AI and machine learning. ChatGPT, with its capacity to comprehend natural language and produce responses remarkably similar to those of actual humans, is demonstrating how it can completely alter the way search engines operate. Generative Pre-trained Transformer, also known as ChatGPT, is an AI tool created by OpenAI. This tool can produce human-like responses to text-based queries because it was trained on vast amounts of text data.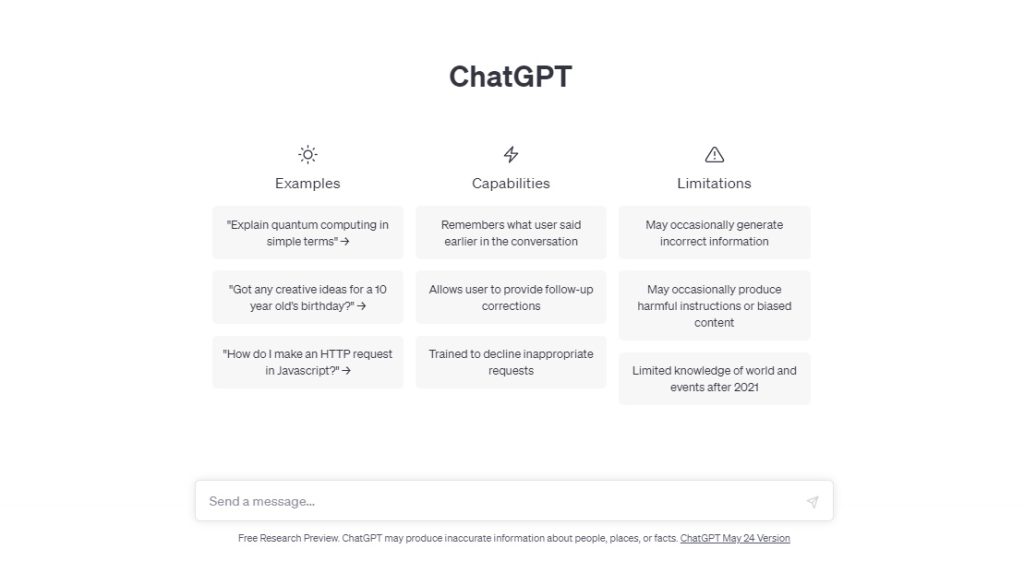 Image Source:
ChatGPT to Optimize Local SEO
Local SEO involves enhancing your internet presence to attract local clients and climb search engine results pages. ChatGPT is a potent AI-based solution that makes it simple and quick to optimize for local SEO. You can increase your customer base, become more visible, and expand your business with its aid. Natural language processing (NLP) technology is used by ChatGPT to assess web content and offer pertinent suggestions for improving it for local SEO optimization. This entails identifying the keywords that local customers are most likely to search for, examining the websites of rival businesses, and making recommendations for ways to enhance website performance. It helps if your website is properly designed so that it ranks highly in search engine results pages (SERPs) and businesses may maximize their local exposure and draw in new clients from neighboring places.
Here are six ways how ChatGPT can be used to optimize your website for local SEO:
To optimize Google Business Profile (GBP): Google Business Profile provides greater visibility, the ability to appear on maps when customers search for nearby businesses, and a platform to gather reviews.
Here are some tips from ChatGPT on how to maximize the visibility of your GMB profile.
Define categories: You can start by defining the categories that best describe your company, using prompts on the ChatGPT platform. You can also ask it to generate a list of your local competitors based on your industry and reveal the GMB categories under which those companies are classified. While the data provided by ChatGPT may not be entirely accurate, it can still list you as a legitimate competitor, and you can manually check their GMB categories on your own.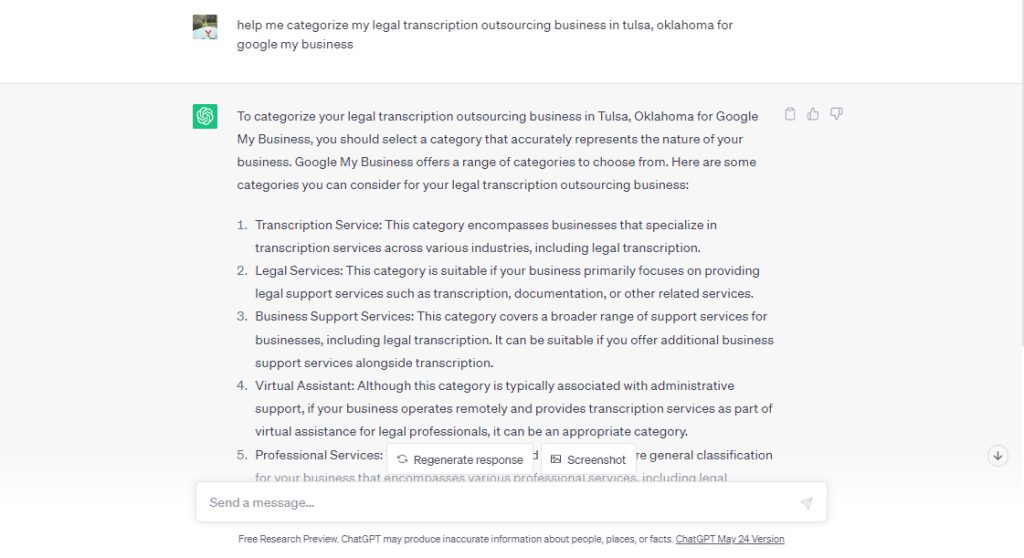 FAQs: ChatGPT can assist you in responding to frequently asked questions (FAQs). You can ask the tool to generate a list of potential inquiries from customers about your company, even if you're new to local SEO. With the AI-generated material, you can formulate concise inquiries that your clients might have. If you're concerned about word choice, you can even ask ChatGPT to come up with the answers for you. These FAQs can be posted in the form of a video on your GMB profile as part of your digital marketing initiative.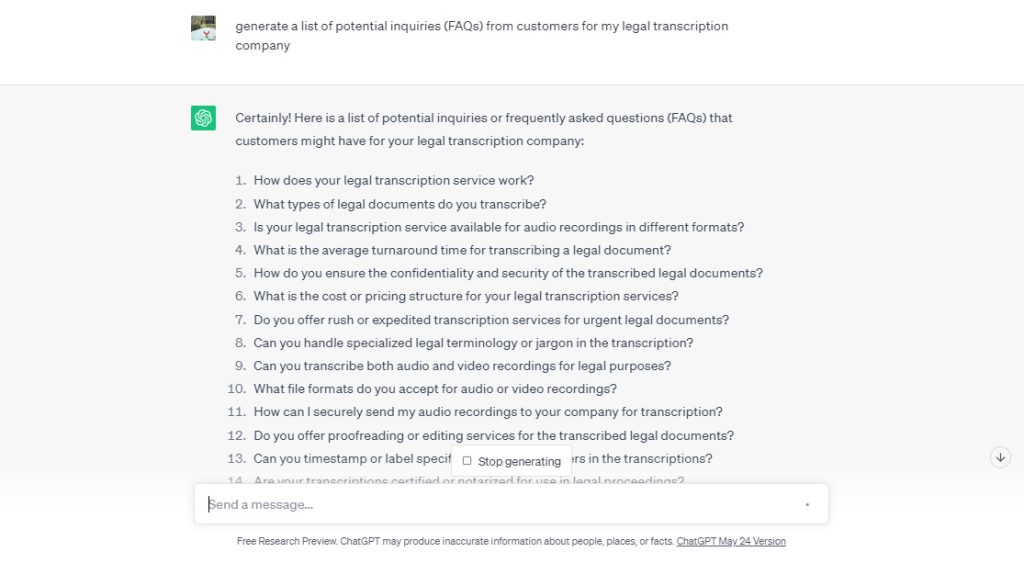 Ads and posts: ChatGPT can help you create ads for your online marketing campaigns. When describing the promotion you want to present, be detailed and mention that you're searching for a Google My Business ad spot. ChatGPT's expert copywriter will quickly grab the attention of your audience with the tone and style you decide is appropriate for your brand.
Keyword Research: Keyword research is a challenging task, but ChatGPT SEO can be helpful. You only need a general understanding of a few keywords that bring in business for you. By asking ChatGPT to suggest related keywords, you can start to see an SEO plan emerge. The program can even inform you which phrases are more likely to rank in search result pages based on competition. By using keywords relevant to your business and industry, you increase your chances of appearing at the top of a Google search.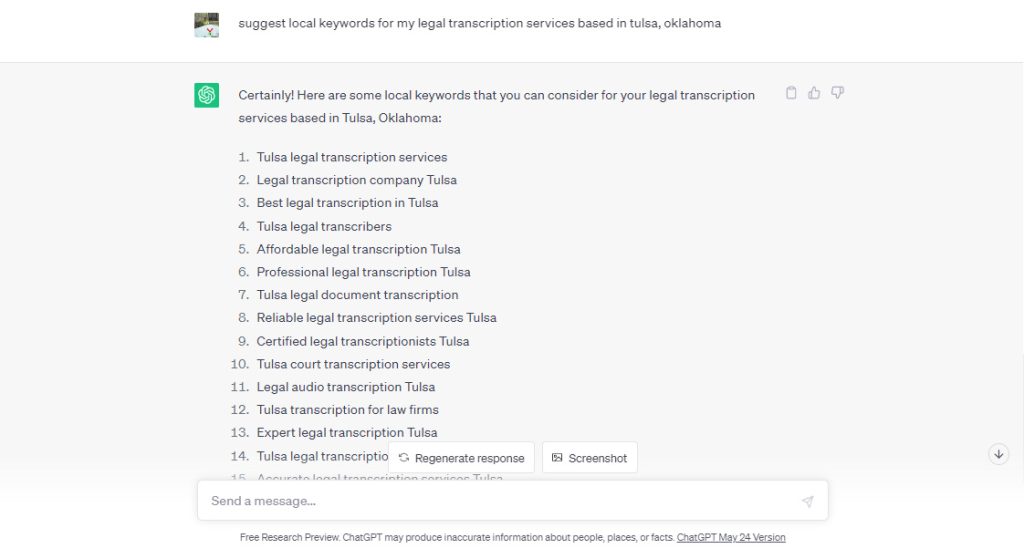 Link building for local enterprises: Link building is crucial for showing up in local search results. With ChatGPT's assistance, you can learn how to launch a successful link-building plan and where to focus your efforts. You can ask it to suggest the best websites for local information in your area, such as local newspapers or industry-specific websites. ChatGPT can help you create pitches for guest posts on these websites, using your instructions to generate a compelling proposal. You can also ask ChatGPT for title suggestions for these guest posts.
Building a landing page using local keywords: To appear in local searches for companies similar to yours, it's important to establish a landing page that clearly states your location and the services you provide. With ChatGPT's help, you can receive assistance with the sales copy and even the code of your landing page, ensuring it aligns with your preferences and branding.
Responses to comments, reviews, social media and more: ChatGPT can assist you in responding to comments, reviews, and social media interactions. If you lack confidence in writing responses yourself, ChatGPT can generate smart responses to reviews, comments, or questions. You can personalize these responses further by adding your own touches if needed.
Request reviews: Positive reviews greatly enhance your online presence when someone searches for a local company like yours. ChatGPT can help you improve your chances of receiving reviews by creating a script for you to use when requesting consumer feedback. Be detailed in specifying what you want the script to include, and encourage favorable ratings by providing a URL for participants to leave reviews.
Are you looking to take your local SEO game to the next level and dominate your online presence?
Contact us at (800) 941-5527!
ChatGPT is a fantastic tool for assisting with local SEO campaigns. By utilizing ChatGPT for local SEO, businesses can improve their user experience, encourage consumer interaction, and maintain a competitive advantage in the ever-changing digital landscape. To successfully integrate AI into your SEO campaign, get in touch with a reliable local SEO company.