Can Chatbot SEO improve your website's search rankings? Chatbots not only enhance the customer service experience of enterprises, but also influence the SEO of the enterprise's website. The idea of using chatbots for SEO is to automate much of the human work so there is no need for a huge staff in place handling customer interaction and queries.
As technology is growing at an unprecedented pace, businesses are looking out for innovative methods or technologies to enhance business prospects, improve customer experience and stay competitive. Chatbots have become one of the fastest growing business communication channels that add a new dynamic to online customer service.
The right use and setup of chatbots can also improve engagement and increase the ranking of a website. An organic SEO company can help businesses understand the concept of chatbot SEO and how it can help in improving user engagement.
Role of Chatbot SEO in Improving Search Rankings
Nowadays, SEO is not just about stuffing keywords and getting spammy backlinks from less than reputable sources. Successful SEO is all about complex and continual technical and content adjustments that need constant attention. Besides offering quick support and enhancing user engagement, chatbots can prove to be useful for SEO.
In simple terms, a chatbot is a question answering and content distributing system that can be leveraged to improve a user's interaction with a website. Regarded as a highly sophisticated technology, chatbots help a business website grow, and streamline engagement with website visitors and customers.
When it comes to easing things for a business, chatbots carry a ton of implications. For instance, consider a customer who requires tracking the shipping information about any specific product (they placed days ago); in the absence of a bot he may have a hard time figuring out where to look for that information. However, a chatbot can redirect the customer to a relevant page and guide him where to look for specific information.
In short, it creates room for a more engaging and user-friendly customer experience. This also makes customers spend more time on a specific page and leave satisfied. In addition, when analyzing a website's relevance, Google gives huge importance on the average time people spend on a page, the average pages they visit, and the time taken to complete the action. Chatbots can help in all these areas, provide customer support and elevate user experience.
Chatbot SEO and Content Success
Here discussed are some of the ways in which chatbot SEO can help with digital marketing and content success –
Boosts Customer Engagement – Abundant traffic flow to a website is not enough to guarantee higher sales or profits. Rather, engaging them and convincing them to convert is an important aspect. AI chatbots are great communication tools that will help to propel a website to greater heights. They engage customers better than contact forms and other website features. This in turn can help SEO by enhancing customer engagement and changing it to customer experience.
Improves User Experience – Signals of good user experience and engagement are not only an SEO ranking factor but it also directly correlates with conversion rate. Interacting with a bot is simple, particularly if the interaction is happening on mobile.
Personalizes the Website – A chatbot can be used to understand the users' needs. By analyzing the user-bot interactions, relevant adjustments can be made to the website. In fact, a more personalized website can make users spend significantly more time on the website.
Improves Dwell Time – Dwell time is the amount of time a user spends on a search result after a click. It is how long a user spends on a website after they have found it on Google. The longer a visitor remains engaged with the chatbot, the better dwell times it leads to. A chatbot will keep people chatting on your website and thus increasing the time spent. They will also direct visitors to check products on other pages of a website, consequently increasing customer dwell time.
Helps Users Find Information – Chatbots help users find the information they need and provide a quick resolution to their requests, or lead them to the right product or service page. Having a chatbot will mean that they can get an answer to their searches or questions even if they have landed on a page that doesn't immediately answer their initial query. The bot acts as an intelligent and user-friendly search box and helps reduce bounce rate by asking a few questions, and delivering the content the visitors are searching for.
Lead Generation – Chatbots can be programmed to gather personal data from a visitor. However, this feature of chatbots must be applied with caution. For instance, if the very first thing a chatbot does is to request personal information about a visitor, it will turn many prospects off. On the other hand, if the request for information is done after an engaging exchange and assistance with the visitor, this approach will be welcomed in many cases. In fact, generating leads with a chatbot means the automated expansion of a company's prospect database.
Top Ten Chatbot Tools for Your Business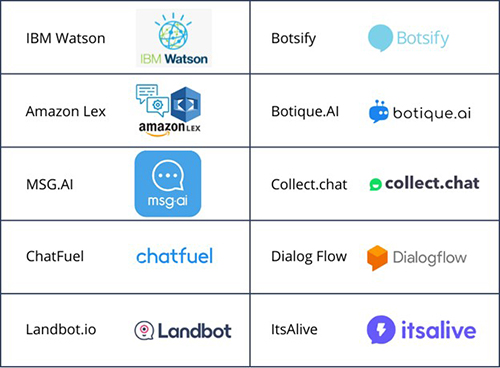 Here discussed are the some good chatbots for businesses –
IBM Watson – Regarded as a solid chatbot tool, IBM's Watson chatbot tool uses artificial intelligence technology to drive business functions. Like many other chatbots, you set the tool up by defining intents and entities. Then, you give examples for each of these. After deployment, IBM Watson takes the examples it gets from real life users and attempts to utilize those using the established entities and intents.
Amazon Lex – This tool uses Amazon's well-known Alexa's deep learning capabilities to build chatbots that can be used for any application for any business. This tool has speech recognition natural language capabilities and can work for both voice and text. Users can use the Amazon Lex console to create and deploy speech or text chatbots directly to new or existing chat applications, web apps, and mobile apps.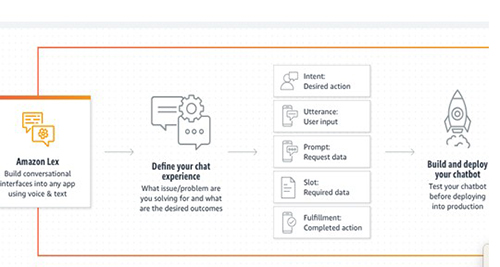 Image Source:
AI – This is an artificial intelligence solution that allows businesses to automatically provide users with the answers and information they need via website, messenger apps, mobile, and email. This tool engages users throughout their queries by providing details on pricing, recommending products, and otherwise nurturing the customer through the sales funnel.
ChatFuel – This tool allows business owners to create chatbots to interact with their customers on Facebook. This means customers can receive immediate responses and businesses don't have to constantly monitor their social media feed. Users can build their own or purchase development services directly from Chatfuel.
io – This tool helps create your own chatbot from scratch or use one of its many templates. This tool can be easily integrated with a variety of apps including Slack, Facebook, and Twitter. Once the chatbot gets created, it is quite simple to install the HTML snippet on your website.
Botsify – This tool allows users without technology experience to design chatbots. It comes with templates that can be effectively used for specific industries. This tool can easily capture user responses and save them to a unique format. Users have an option to develop their own unique templates, without using the already inbuilt template. The chatbot tool integrates with both messenger and Alexa.
AI – Botique.AI specializes in AI chatbots and conversational machine learning digital agents. These bots use both Natural language understanding and Natural language processing algorithms for customer assistance. They can be easily customized and allow users to set and track metrics through their analytics tool. Top benefits of this tool include – easy keyword suggestions, alternative question suggestions and analyses, and multi-language support. In fact, this tool works on multiple channels like web, Email, SMS, and Facebook messenger.
chat – By using a simple, drag and drop interface, this tool allows users to build chatbots for their websites. These tools are used to answer basic customer queries, and collect data for sales and marketing purposes.
Dialog Flow – Owned by Google, Dialog Flow develops natural language technologies. Its conversational interfaces work with several devices like – smart speakers, automobiles, phones, and mobile devices. This tool has integration capabilities with Alexa, Facebook Messenger, and Google Assistant. It uses NLU modules to interact with clients using natural, conversational language.
ItsAlive – This is an easy-to-use tool that allows users to develop a Facebook chatbot. It utilizes keyword detection, and then responds with relevant content when followers use those keywords. This tool requires no development experience and provides users with the opportunity to engage with their existing Facebook followers automatically.
Embracing the emerging, advanced technologies can help businesses function efficiently and achieve a higher level of growth. In fact, AI-powered chatbots are being used by many businesses (large and small) across diverse industries to change the contours of customer communication. They are highly solution-oriented and when deployed intelligently, they might be just one unique feature that can add a new dimension to a business. This technology helps maintain customer service efforts and build customer engagement. These bots are also keen on building a company's SEO efforts.
A reliable digital marketing services company in New York can help businesses implement the right chatbot tool that works well for them and meets their unique and specific requirements. Using the right chatbot seo tools can not only help increase SEO ranking, but also facilitate the performance of various business processes.