Marketing forms the heart of any industry and the healthcare domain is no exception to this. This is simply because an increasing number of people (both existing and prospective patients) seek the healthcare information they need online. Recent reports indicate that 80 percent of internet users (which equates to 93 million Americans) look up health-related topics on the internet. Digital marketing for healthcare can be a challenging process. Building a strong online presence is crucial for healthcare practices to grow their practice. Email marketing is one of the top, preferred digital marketing strategies for healthcare practices looking to extend their services and build their brand. As emails have a global reach, healthcare practices can reach a wider group of audience quickly.
Key Benefits of Email Marketing
The healthcare industry today is predominantly digitally dominated and a large group of customers use email for one reason or the other. Email is also an effective communication tool because as many as 95% of healthcare professionals make use of it for communicating with one another.
According to reports from McKinsey, email marketing is 40 times more effective in attracting new patients when compared to Twitter and Facebook combined. This is an effective strategy for marketers who are looking to enhance patient engagement, increase the rate of retention, and increase their return on investment. In fact, more appointments are set by patients who visit a healthcare practice via email marketing. It is an easy and convenient way to keep patients informed about any change or addition in services. Patients and the medical practitioners can stay well connected to one another.
Top Actionable Email Marketing Strategies
When implementing healthcare digital marketing, email marketing continues to be an important strategy than ever. According to research reports, patients prefer getting emails from the healthcare practices they are connected to. About 95 percent of healthcare professionals make use of it for communicating with one another. Creating a successful email marketing campaign requires more than just collecting patient email addresses and sending them periodic updates. However, to succeed with this marketing platform, it is just not enough to quickly draft an email message and hit the send button. A well-planned strategy and high-quality implementation tactics are important to connect effectively and consistently with a target audience.
Let us consider some key email marketing practices or strategies to improve or grow your healthcare practice in the long run –
Prioritize Security Aspect First – Even though a vast majority of people use email and signup to various newsletters, you cannot simply assume that they are ready to hear from you. Make sure to get your patients' explicit permission before sending them marketing emails. Asking permission before sending emails reassures your patients that you respect their privacy. One of the major differences between healthcare and other domains is the increased importance of privacy. Always keep in mind that patients may be worried about the type of data that healthcare providers possess and may inadvertently disclose. In a survey of healthcare employees, almost 63 percent of employees said that their organization has experienced a data breach. Therefore, the key to long-term email marketing effectiveness in healthcare domain is trust. Check whether all your systems are secure which includes access to personal details as well as access to your marketing platforms. Also, use email marketing tools that are HIPAA compliant.
Create a Compelling Subject line – With reports suggesting that an average office worker receives 121 emails per day, it is imperative to make your email stand out from the rest of the crowd. Since the subject line is the first thing your subscribers see when your email lands in their inbox, it is important to have a compelling subject line. At the same time, it should appeal to the recipient to trigger an open. The email content should be concise and structured that the reader understands what to do next.
Set a Schedule for Email Campaigns – Setting a specific schedule for your email campaign is vital because your potential clients will know when they will be receiving information. Never ever spam your patient's inbox by sending impromptu emails. Sending too many marketing emails is one the top mistakes that healthcare practices make. Most patients report that receiving emails from their physicians or healthcare facilities frequently is one of the biggest reasons that force them to unsubscribe. Sending too many emails or one-time offers may help in the short run, but in the long-term, you will end up losing valuable patients. Set a regular schedule – once a day, twice a week, or fortnightly – as this will help your patients know when to expect your email. The best timings to send emails will be between 10-11 am. Make sure the emails are sent keeping in mind the time zone of your specific audience as this can help you get improved results.
Build Opt-in Lists – While building opt-in lists by buying databases or swapping information with other practices may be an easy method, it is best to avoid such practices. The best strategy will be to make your own list through the opt-in option – where consumers explicitly agree to receive email communications. Even though this strategy can be time-consuming, the quality of these lists will be better. You will have people who actually want to receive the information. This is a more sustainable approach as this involves lesser un-subscriptions and more brand engagement over time. After creating an opt-in list, it is also important to protect the data carefully by not sharing it with other practices.
Segment Your Email List for Targeted Campaigns – It is estimated that about 51 percent of healthcare marketers rank segmentation as the most effective marketing tactic. To ensure every email campaign reaches the right patient inboxes and arouse positive responses, it is important to segment your email list. The more segmented an email list is, the more relevant will be the messaging, and the more likely the recipient will take action. Based on various demographics like patient gender, age, treatment type, health concern etc, healthcare practices can divide the patient email addresses lists into different subgroups for better targeting. The respective customer personas in the subgroups offer opportunities to fine-tune targeting, focus content and increase engagement. Correctly defined subgroups enable you to connect with new group of audience members whom you couldn't reach through earlier attempts. This will help you send fewer emails and be rewarded with better sales results. Every bit of personalization incorporated can help your potential clients understand that you care about their well-being, and will make them more comfortable trusting your healthcare practice.
Benefit from Opt-outs – Never discard opt-outs as "lost causes" and allow it to move on to others. Instead, use opt-outs to critique campaigns and deliverable details including targeting, frequency, content, touch point features, offerings, and other variables. It is estimated that a large group of audience segments are opting out merely to reduce clutter. Opt-outs allow healthcare practices to re-focus on their campaign strategy. They also stress the importance of designing other unique ways for your audience to stay engaged with you through social media, website follow-ups and other sign-up opportunities which may initially start with an email but continue on other digital avenues.
Embrace Automation – With advances in technology, it is now possible to automate the process of sending emails as per audience preferences of time, subject and other related variables. Most of the email services allow you to configure emails in a way that one thing leads to another. Each patient is offered a personal experience based on the actions they take. This in turn will help practices focus their attention on other important aspects of business and let these email services do the marketing.
Think Mobile First – Reports suggest that more than half (53 percent) of email messages are now opened on mobile devices. Incorporate mobile-friendly campaigns into your healthcare email marketing strategy to achieve better results. Make sure your design is responsive and your content is easily viewed or scrolled on mobiles. Strengthen your email marketing campaign with trigger email features. For example, this mobile-optimized email from iFit Nourish is well designed.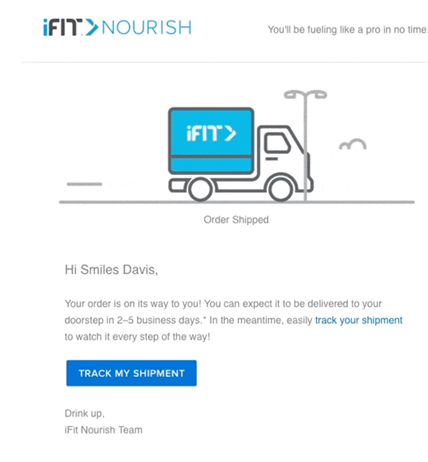 Link source – http://blog.marginmedia.com.au/our-blog/email-marketing-best-practices-in-the-medical-and-healthcare-industry
Create newsletters with relevant content – Healthcare practices can reinforce their credibility and earn better patient trust by sharing informative and benefit-driven content that is specifically relevant to their audience. Share or send e-mail newsletters that discuss the latest health news, patient treatment options, wellness tips, new product or service developments and general information on health-related matters. In most cases, customers are more likely to open and read your emails when it offers a solution to their needs.
Use Attractive Email Templates – While designing an email campaign, make sure whether the templates you use are attractive. An attractive email template can persuade the audiences to read and share the emails. For instance, hospitals and other healthcare systems can use an engaging template to display in different job portals while recruiting nurses or other nursing assistants. This will help build more brand awareness.
Offer Online Registration for Hospital Emails – One of the best ways to build email addresses for your contact list is to provide a sign-up form on your healthcare website. Make sure the online registration form is easy to complete by including as few fields as possible. Encourage visitors to sign up for different types of emails in the forms of monthly newsletter, hospital updates or information about any specific events that your practice may be hosting.
Give Subscribers Something in Return – When you ask patients to fill out an email form, be sure to offer them something in return. In most cases, patients may like to know why they are sharing the contact information. Therefore, be sure to mention what your emails include, whether that's free guides about preventative care or simply a monthly healthcare email newsletter. In addition, provide links to information on your website, encouraging recipients to follow your social media accounts, and share your message.
A/B Test Messages – To derive the best results from a hospital's email marketing campaign, it is important to A/B test the email content. Focus on testing the subject line to analyze what promotes the highest open rate. For example, you can test whether a subject line in the form of a question attracts a higher open rate than a subject line in the form of a single statement. A/B test also allows you to examine email elements like number of images, inclusion of links, or different headings.
Make emails sharable – Always send content that is worth sharing. Include a shareable link in your emails so that patients can easily forward your emails to their friends. Add Facebook and Twitter links to your emails so that people can share your email content on different social networking sites, which in turn will facilitate brand promotion.
Leverage social media for email signups – Your followers on prominent social media platforms may be either current patients or potential patients who want to hear from you. You can add them on your email list as well. This can be done by including links on your profile pages that go to landing pages on Instagram, Pinterest, Twitter and any other social media profiles. Posting a link to a landing page is the easiest and most effective way to connect social and email. For instance, The Joint chiropractic adds a link to their Instagram description.
Link Source – https://www.mailerlite.com/email-marketing-by-industry/healthcare-providers
Offer special promotions – After sending a few emails that establish your services, it is perfectly fine to send a promotional message to improve sales. The promo messaging must include a unique image to attract the reader and a clear CTA (call to action).
Link Source – https://www.mailerlite.com/email-marketing-by-industry/healthcare-providers
Request a Referral – After building a positive relationship and trust with a patient, it is quite normal to ask for a review or even a referral. Positive reviews from real people are valuable, especially in the field of healthcare. When you ask people for referrals, you are trying for new patient acquisitions which in turn can improve revenue and build your brand.
Link Source – https://www.mailerlite.com/email-marketing-by-industry/healthcare-providers
To understand some key email marketing practices or strategies – to improve or grow your healthcare practice in the long run – watch this video!
Email marketing for hospitals and health care practices is the perfect tool for engaging and interacting with existing as well as prospective patients. Even though other marketing strategies work great in combination with email marketing, nothing allows you to target more audience groups than emails, especially when 39 percent of Americans check their emails one to three times per day. Effective execution of the above-mentioned email marketing strategies will help your healthcare practice strengthen your healthcare and social media optimization efforts.