SEO is a vital factor for business websites to ensure visibility, traffic, and ranking. During the holiday season, you have to publish content optimized for that particular period. For instance, if you have a website selling gifts, you can publish articles with titles like '5 Amazing Christmas Gift Ideas for Your Parents'. In healthcare, it is not that simple. The demand for healthcare services does not magically increase over the holidays. Many people put off their appointments or procedures until after the holidays. Even so, to improve your healthcare website SEO, you have to publish content optimized for that particular season. This year, the holiday is different, and people prefer shopping and obtaining healthcare solutions by avoiding maximum physical contact. For instance, if yours is a plastic surgery practice, publishing content like "Latest painless hands-free body-contouring methods that help you recover fast" or anything like that can improve your website traffic as well as conversion rates. So, your audience who need this treatment will be recharged and ready to work on their health again.
To improve the site visibility and traffic during this period, the following tips can help:
Update relevant keywords: There are a number of tools that can help you create a list of relevant keywords to target. Google's keyword planner lets you segment keywords by month. During the holiday season, you need to identify high-volume keywords. Tools such as Moz Keyword Planner, Neil Patel's UberSuggest, SEMrush, and Ahrefs Keyword Explorer are the other tools that can help to find relevant keywords. As the holiday season comes with increased traffic, it is crucial that websites focus more on relevant keywords. So, check your current rankings and traffic first and integrate holiday-related keywords that fit in with your content.
Use correct internal linking structure: Rather than ranking websites as a whole, search engines rank individual pages in SERPs, so internal linking should be a vital part of your SEO strategy. Your e-commerce website may have hundreds of pages; all of it needs to get traffic apart from the home page, and here internal linking becomes important. To transfer some traffic from the homepage to your product page, you can link your homepage to that product page, you can also link blogs or informative content to the relevant product page.
Launch new products: The holiday season is an excellent time to introduce new products. If you are aware of the potential best sellers for the future holiday season, ensure that you have started writing content about these products now. The more you write about the new products in advance, the chances are more that the sales pages for these products will rank when it matters. Ensure all pages you made upfront are linked to that one main page that you will establish when the product is launched and available to buy.
Add structured data: Adding structured data, also called schema markup, communicates to search engines what your data means. When you add or change the product pages to fit the season, you should not forget to optimize them. It is because, when rich snippets are displayed in Google search results, the additional data you add is usually pulled from structured data. So, check whether you have added structured data to your product pages, because the rich snippets for the products on the results page, including ratings and prices, can give you an edge over your competitors.Image Source: https://www.trustyou.com/wp-content/uploads/2015/05/Meininger-Rich-Snippet.png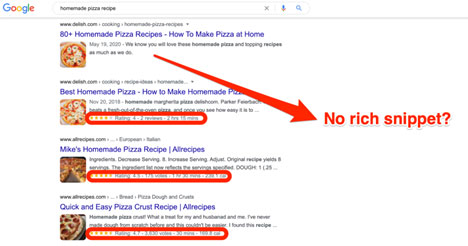 Image source: https://cdn.searchenginejournal.com/wp-content/uploads/2020/09/why-your-rich-snippets-arent-showing-5f686c4fb49d3-1520×800.png
Optimize for speed and mobile: It is important to check and optimize your website speed and for mobile. Today, these are the recommendations you commonly get from an SEO expert. Mobile, website speed in mobile, and website speed in general are becoming more important and it matters in everyone's life. When preparing your website for this holiday season, it is best to re-check your mobile website and the site speed, and if needed you have to update or improve it. It is crucial for your business, otherwise, you may be losing out on many potential buyers. To begin with, you can check Google's Core Web Vitals and use these to improve your website.
Promote on Social Media: According to a survey mentioned in an article in makewebetter.com, 50% of companies that ignore social media marketing struggle to get good ranking for their website. Having a good social media marketing plan helps you attract maximum target audience. Make sure to optimize your social media posts and be consistent in posting. It allows you to engage with potential buyers, increase the website ranking, and boost conversion rates.
SEO is vital for websites to increase their visibility and traffic all the time. During the holiday season, it is essential to focus more on publishing content for that particular period and optimize them using the right SEO techniques to improve ranking. Medical SEO experts can help you implement the right SEO strategies for your website to achieve better visibility, traffic, and ranking during the holiday season.