A successful website must have important components like attractive design, user-friendly navigation, and pertinent content. However, one aspect that many visitors frequently assess is loading speed. A visitor's first impression of a website is influenced by its speed. Therefore it is important to check your website using the website speed test tools and ensure that it loads well and quickly. Companies providing organic SEO services are knowledgeable about using these tools to optimize webpage loading time.
It is critical to recognize that today's target market, customers, and buyers are constantly online. This implies that people will use their desktop, laptop, tablet, or smartphone to obtain information online. Additionally, this digital consumer has a short attention span. Websites that are slow to load or are not suited for mobile devices are not given a second opportunity. Make sure you pay attention to your website's loading time if you don't want to risk losing half of your target market.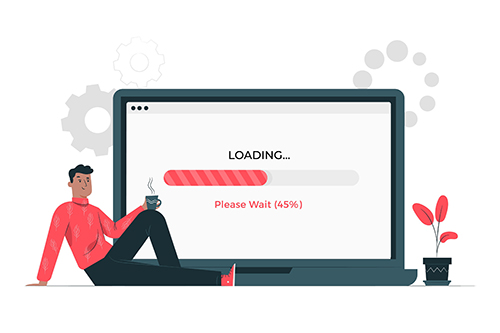 Importance of Website Speed Test Tools
A website speed test tool helps identify and evaluate the elements of a site that contribute to longer loading times. The entire load time, the load times from various server locations, the HTTP headers, etc. are all examined. The speed at which a website loads has a significant impact on the volume of visits to the site. The likelihood that visitors will leave a website increases with the speed at which it loads.Your website's speed can make or destroy your website. As a result, performance testing tools are receiving attention from web developers, marketers, and IT departments. Enhancing the speed at which your website loads can have a significant impact on how well it performs overall. Your performance in almost every area, from user experience to search engine optimization, is impacted by page speed. In actuality, the majority of website visitors won't stay on a page longer than four seconds before moving on. Furthermore, there is no escaping the fact that a speedier website would function more effectively. But it might be challenging to know where to begin. Today, website developers and marketers utilize a wide range of free website performance test tools to amp up website loading time.
Five Website Speed Test Tools
Google PageSpeed Insights: This tool is not actually a true tool for assessing page speed and does not offer much advice on how to solve issues. However, there are a few reasons why using this Google-created tool is still worthwhile:

The outcomes of Google could be more significant than those of other tools. That's because Google, where you're attempting to acquire traction, actually creates the search ranks. It's a good idea to consider the data carefully if a Google tool detects problems with the performance of your website.
Using this tool is really simple. You may see results from both the desktop and mobile versions of your website by simply typing the address into the search bar and waiting a short while. You can see whether your website is functioning well or not rather quickly because all the results are nicely color-coded.


Image Source:
Pingdom: One of the top services for business performance monitoring is Pingdom. It offers minute-by-minute uptime notifications and site performance monitoring. With SMS or email notifications, the tool provides comprehensive insight into page speed and performance objectives.

Pingdom currently offers four test locations from which customers can determine the speed of their webpage. In general, you should pick the testing site that is nearest to the geographic user base of your website.
With a letter grade breakdown of performance insights and a precise list of concerns to fix, the results are remarkably simple to interpret.
The data is organized in a way that makes it simple to go deeper, and the waterfall is one of the simpler to understand among webpage performance testing tools.


Image Source:
GTmetrix: This is another popular tool for evaluating web page speed. It provides free page performance analysis without charging or even requiring registration. To view the findings, simply go to the website, copy the URL of the page you want to examine, and click Analyze. Create a free account or subscribe to the paid version if you require more thorough monitoring.

The user interface as a whole is simple and inspires confidence.
You are provided with page speed information in context (your fully loaded time is compared to the overall internet average of 6.7 seconds, for example). Knowing how you're performing in comparison to the rest of the internet might be helpful at times.
Scores are broken down by type, so even if you don't know a lot about web development, you can still figure out whether problems are mainly caused by your CSS, Javascript (learn about minifying your CSS and JavaScript files here), or server environment, for example.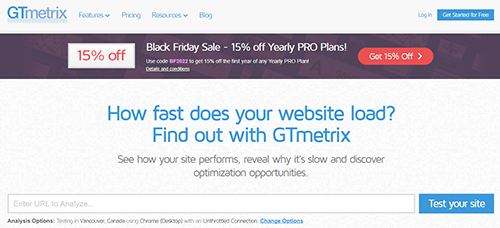 Image Source:
WebPageTest: WebPageTest is a free testing tool that performs speed tests from various places on the planet. To produce specific results, it considers the user's browser, device, connection speed, and cache state. It provides both simple and complex testing, a visual comparison, and traceroute analysis.

Every time they run a WebPageTest, users can customize the settings.
WebPageTest can be configured to use a wide range of locales and web browser choices using all of these parameters. WebPageTest can help you know if your website is slow on Google Chrome yet lighting fast on Firefox.
Users can also request numerous runs of WebPageTest. This can help you determine whether the page speed of your website is performing consistently.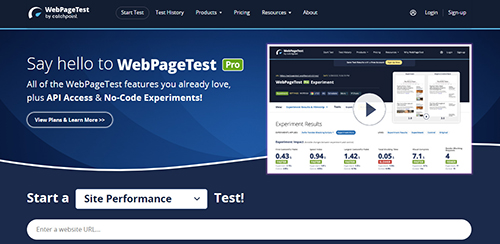 Image Source:
Site 24×7: Your page speed is frequently influenced by a lot more than just the HTML, Javascript, and CSS you've used on the front end. In many circumstances, the server environment or your host may directly affect how quickly your page loads. The Site 24 x 7 Webpage Analyzer tool is made especially to:

As it relates to webpage speed, assess the server environment's performance.
Integrate with a variety of different tools used by system administrators.
Display what loads on your website and when in an easy-to-read waterfall graph.


Image Source:
You can increase the performance of your website to benefit both visitors and search engines by using the best website speed test tools. The likelihood that visitors will leave a website increases with the speed at which it loads. The importance of website performance assessments has grown in both marketing and online development and website creators are supposed to recognize that it is preferable for visitors to load websites quickly which hasn't been the case always.

Reach out to a MedResponsive for organic
SEO services
to optimize website loading time and performance. Contact our SEO experts today! Call (800) 941-5527!