In today's competitive digital landscape, creating a compelling blog is just the first step toward online success. To truly stand out and reach a broader audience, understanding the intricacies of Search Engine Optimization (SEO) is essential. SEO is a great tool for marketers that can significantly impact the visibility and success of your blog. The basic goal of doing blog SEO is to make sure that your website is found by people who are looking for your type of business or service. Blogging helps improve SEO quality by positioning a website in the top position so that searchers can get relevant answers to their queries. An organic SEO company can help design unique strategies to optimize blog posts and improve the overall website visibility on search engines.
How Does Blogging Help SEO?
Blogging helps in effectively connecting with your target audiences and promoting your products and services. By optimizing your blog posts with appropriate keywords, you enable search engines to recognize your website, increase traffic, and achieve higher rankings on the search engine results page (SERP). Understanding the critical ranking factors and their impact on a new blog is essential to achieve higher search engine rankings.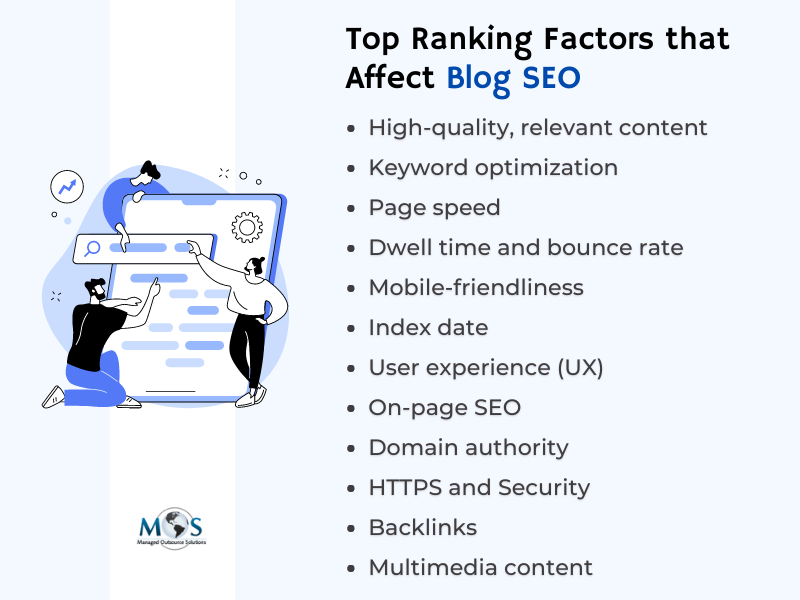 High-quality, relevant content – Google prioritizes content that is relevant, comprehensive, and provides value to users. Focus on creating informative, well-researched, and engaging blog posts.
Keyword optimization – Use relevant keywords and phrases naturally in your blog posts, titles, headings, and meta tags. Avoid keyword stuffing as it can lead to penalties.
Page speed – Optimize your blog's performance by compressing images, leveraging browser caching, and using content delivery networks (CDNs).
Dwell time and bounce rate – Dwell time (the time a user spends on a page) and bounce rate (the percentage of users who leave after viewing one page) can be indicators of content relevance and quality.
Mobile-friendliness – With mobile-first indexing, having a responsive and mobile-friendly blog is crucial for SEO. Ensure that your blog works well on various devices and screen sizes.
Index date – Also known as web crawl date, index date is the time you updated your content on a particular website. It is essential to update your website's index date whenever you make changes to its content.
User experience (UX) -Organize your content with clear headings, easy-to-navigate menus, and readable fonts that are easy for users. Reduce intrusive ads and pop-ups that could hinder user experience.
On-page SEO – Optimize your blog's meta title, meta description, and URL structure. Use descriptive and compelling titles to improve click-through rates.
Domain authority – Build domain authority over time by consistently producing high-quality content, as this can impact rankings.
HTTPS and Security – HTTPS encryption is a ranking factor that provides a secure connection between your blog and users' browsers, enhancing trust and security.
Backlinks – Aim to get high quality backlinks from authoritative sources as this can significantly impact your blog's SEO.
Multimedia content – Including images, videos, and other multimedia elements can enhance user engagement and make your blog content more appealing.
Optimizing blog SEO can make a huge impact on the success of your website. It is important to analyze whether the way the content is used in a blog helps build a connection with your target audiences. Quality content is very effective in increasing the rankings of your website on various search engines.For improved positioning in organic search engine rankings, consider relying on the expert services of a professional search engine optimization company.
Achieve high rankings in search engines!