A major metric of search engine optimization (SEO), keywords help drive business value by determining the traffic of the website as well as conversion and revenue. Over the years, the type and level of data that we get in Google Analytics and aggregated search console reporting have witnessed tremendous changes. However, one thing that remains constant for SEO and PPC is the prime focus on the specific keywords and terms that drive traffic. Let us check out the role of keywords in SEO.
Even though there is still an emphasis on quality content, services and products, all these aspects heavily rely on keyword optimization and SEO.
Strong keyword research lays the right foundation for a good SEO campaign, as this would help businesses to develop content around the right keywords the target audience groups happen to search. A reputable search engine optimization company can assist business firms in keyword research and implement keywords in a professional and effective manner, all based on competition as well as search intent.
The Power and Significance of Keywords in SEO
There are several important aspects to consider when planning to budget for keyword marketing. Nowadays, context-focused SEO isn't about one single term or the top 10 terms; it is much more focused on relevant topics.
Building topical relevance helps create rank for top-level generic terms, long-tail keywords, and even queries that are more natural for being served up in voice search. One big distinction in all of the types of terms and topics and ways to focus on keywords and optimization or ad targeting is branded versus non-branded.
While performing research, there are chances that you come across both branded and non-branded keywords for your company's website and like many marketers you may be wondering which are better for your SEO campaigns. In fact, there is a difference between these two types of keywords and the ways they should be placed in the content.
Both branded and non-branded keywords should have a place in your company's overall internet marketing strategy. Now, let's get into the details about branded vs. non-branded keywords in seo, ways to handle these keywords, and how they can help your business.
Branded and Non-branded Keywords in SEO – Understand the Difference
In simple terms, a branded keyword is a keyword that contains a company's brand name or a variation of the brand's name in it. For instance, if someone uses that keyword to search, something related to your brand would pop up in the search results, including the website, products and social media accounts.
Users searching for branded keywords demonstrate a clear interest in the company and in most cases, they may be already familiar with the products and services offered. On the other hand, non-branded keywords relate to a specific company brand but do not reference a brand name or part of it (including any misspellings). These could include – products or services a company sells or offers and the topic a company has authority and expertise in.
Branded Versus Non-branded Keywords in SEO – Which Yield Better Results?
As mentioned above, there are differences between branded and non-branded keywords, but they are both important tools of an SEO strategy. Branded keywords help more users to find your business directly. On the other hand, non-branded keywords help you gain visibility online through organic search efforts. Anyone can search for a non-branded keyword, but other search results from other companies will come up. However, if someone searches with a branded keyword that has a company's name in it, the brand and website will pop up first.
One of the common questions that often get discussed among marketers creating PPC campaigns is – whether branded or non-branded keywords yield better results. As each keyword has a specific cost associated with it, both branded and non-branded keywords are important in terms of SEO and PPC campaigns. These keywords tend to demonstrate different search intent and create more reach among users at different stages of the buying process.
Here discussed are some benefits of both branded and non-branded keywords based on certain key points –
Improve Brand Visibility – Non-branded – If the basic aim is to reach more customers, then it is important to target keywords that a lot of people search. Targeting keywords with high search volume increases the number of people who will view these ads. In short, non-branded keywords are the best option when it comes to improving visibility in search engine results, increasing brand awareness, and bringing new visitors to your site.
Competition Level – Branded – The total number of advertisers who bid on a specific keyword determines the level of competition in a keyword planner. The more competitive a keyword is, the more difficult it will be to display a company's products and services. Generally, non-branded keywords are more competitive, as they are unique to a specific company. There could be possibility that a number of other companies will be trying to advertise products and services similar to the ones offered. Therefore, your company's brand name needs to be unique.
Cost – Branded – The cost-per-click (CPC) of branded keywords tends to be low, due to low competition. Therefore, if staying within a set budget is one of the primary concerns with PPC, branded keywords will be the best option for ads with low CPC.
Conversions – Branded – Targeting keywords with high conversion rates may help generate better sales and revenue for a company. Typically, ads for branded keywords (in the context of PPC), have higher conversion rates than ads for non-branded keywords. Therefore, if separate branded and non-branded campaigns are created, the final results will be better for the branded ads.
Creating a Balance between Branded and Non-Branded Keywords – Tips
As mentioned above, both branded and non-branded keywords have their own merits and demerits. Striking a balance while incorporating these keywords can contribute to the success of an online marketing strategy.
Here discussed are some important tips on how and where to use both these keywords for successful SEO –
Establish Organic Rankings for Branded Keywords – Generally, branded keywords are quite easy to rank, particularly if the company has a unique name. On the other hand, if the branded keywords are not ranking, it is important to optimize the homepage and company pages for the brand name. This would make it easy for users to search for and find the company name. As branded keywords have higher conversion rates, a higher ranking is valuable for your business. For instance, the results of a search for a company's name when using branded keywords would be like this –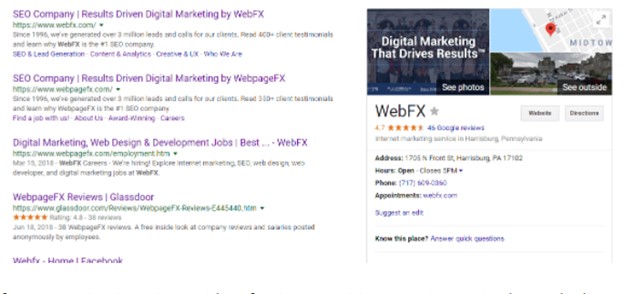 Highlight SEO efforts on Non-branded Keywords – Focus on ongoing SEO efforts for non-branded keywords. Increasing organic rankings for non-branded keywords can help improve online visibility. Although creating and optimizing pages that rank well involves much more of an initial time investment than creating a PPC campaign, those pages can continue to bring traffic to a website for years (with no ongoing costs). On the other hand, PPC advertising campaigns only generate results as long as you pay for them. In the case of non-branded keywords, the cost of running long-term campaigns can be quite high.
Create Separate PPC Campaigns (for branded and non-branded keywords) – Create separate campaigns for both branded and non-branded keywords. For instance, it is possible to create separate non-branded campaigns for each of the different product types. As both have different merits, the results of these campaigns will significantly vary on the type of keywords used. For example, a campaign using only branded keywords will have a higher number of impressions, CPC and conversion rate when compared with a campaign with only non-branded keywords. In short, keeping separate campaigns help analyze the significance and success of each of these campaigns in a definite manner.
Use RLSA for Non-branded Keywords – RLSA – Remarketing Lists for Search Ads. RLSA is a great way to focus ads on those users that are most likely to convert. RLSA involves targeting only those audiences who have previously visited your business website. With RLSA, it is possible to clearly target only those audience groups who are already familiar with a specific brand. It is possible to tailor these ad campaigns to individual users by highlighting those products they previously viewed on the website. This approach can prove to be advantageous, as unless the competitors are using the same strategy, the ad campaign can turn out to be more specific to the interests of users thereby increasing the chances that they will click on it instead of the competitors.
Keywords are the backbone of SEO. Without keywords, optimization of content is not possible. An effective digital marketing strategy requires a combination of both branded and non-branded keywords for all the channels. However, determining where and how to incorporate them can be challenging. An experienced company outsourcing SEO services can be helpful at this point. They can help boost the ranking of your website by following the latest trends and strategies.
As more and more business firms and companies today are relying upon digital promotions, especially after the pandemic, the demand for digital marketing is increasing day by day and the relevance of keywords will also increase accordingly in the coming years.