Wouldn't it be interesting and useful to know what your target audience on YouTube is searching for on the platform? A few months ago, YouTube rolled out Search Insights, a new tool designed to surface valuable keyword data and tell content creators what their specific audience is searching for. Companies providing social media marketing services keep track of trends to help their clients enhance their digital marketing efforts.
YouTube is building and rolling out new features frequently to help content creators who use them to grow their businesses and make a living. Recently, YouTube announced that they are rolling out the Search Insights tool to all channels by the end of April.
Search Insights tool was rolled out to select users as an experiment in November 2021. Designed to reveal valuable keyword data, it provides a range of new data points to help refine your YouTube strategy, based on what people are looking for in the platform. Let's take a look at the features of YouTube Search Insights, how it works, and how it can help creators generate more successful content.
How YouTube Search Insights Works
The Search Insights tool shows the creator data based on searches across all of YouTube, as well as just their viewers' searches. It includes information on what people are searching for in the app, both in relation to a creator's channel and content specifically, and for more general search queries.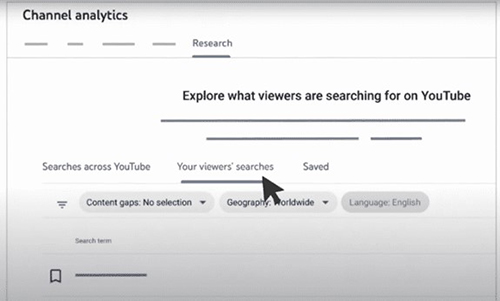 The tool assists with content planning by providing data that can be used to create more relevant content. Creators can get data on what the broader YouTube audience is searching for by looking up keywords to see the estimated search volume.
The platform also displays a content gap filter (bucketed by search volume (high, medium and low), which shows search terms that don't return a high volume of matches – searches for which searchers were unable to find a video. By highlighting these searches, this filter can help creators focus on creating content that aligns with searches that are not currently being served by the videos available in the app, which could present new opportunities for their efforts.
Brands and creators can use Search Insights to improve their content planning and make sure that they are creating videos that are relevant to their audience, as well as what YouTube users are searching for.
Find the Existing "GAP" in Your Content
Identifying your content gap is a major opportunity to provide your audience with content they're not getting enough of. Depending on a particular niche, a creator may be able to create a whole content plan around targeted keywords that have content gaps.
The YouTube Search Insights tool could be a very handy tool for marketers – similar to Google's Search Console and Google Trends – as it provides more insight into what's driving a YouTube channel's traffic, and how a creator can optimize its content efforts to align with the latest trends and searches. The data in Search Insights is based on what users searched for in the past 28 days.
Why YouTube Search Insights is Essential for Businesses?
By gaining access to keyword data that can reach targeted audiences, businesses can increase the visibility of their brands. This can be gauged to know the specific preferences of the prospects and the customers. The data from YouTube Search Insights help businesses to focus on the sectors that require more content planning and post relevant videos accordingly.
How to Access YouTube Search Insights
Log into the YouTube Studio
Click on "Analytics" that appears in the left-hand navigation menu
Go to the Research tab and click "Your viewers' searches"
From there you can access data about what your audience is searching for and data about what the general YouTube audience is searching for – the list of top keywords searched by your viewers and viewers similar to yours.
By clicking on " Searches across YouTube", you will get a screen where you can look up search data for general topics and for specific keywords, where the results can be filtered to show content gaps only if that's what you're primarily interested in.
The company hasn't significantly altered Search Insights since it was rolled out to select users a few months ago. YouTube Search Insights, will be available to all channels by the end of April 2022. It will only provide aggregated data from the past 28 days on English language search terms from the U.S., UK, Canada, Australia and India. In future, the company plans to roll this tool out to more languages and regions.
Experience organic SEO companies keep track of the latest features launched by social media platforms to understand how they can impact their clients' digital marketing campaigns.
As a search engine optimization company, providing social media optimization services, MedResponsive can personalize your campaign to match your brand and message. Reach out to us for a free consultation — we can help you take your digital marketing campaign to the next level!