As a professional SEO company knows, to ensure effective content writing for your business website, you need to pay attention to details such as deciding whether to optimize for the singular or plural version of keywords.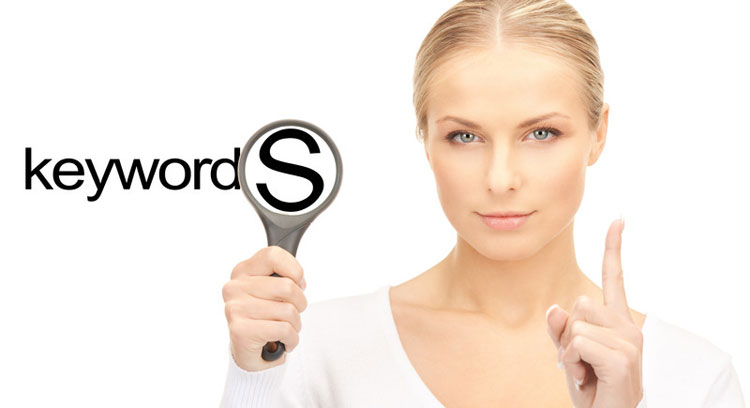 Differences in Search Results for Singular and Plural Keywords
Have you ever wondered why singular and plural keyword searches turn up different results? If you've been doing a great deal of SEO for your business by yourself, you'd have been puzzled by the fact that just adding an "s" to your search phrase sometimes gives you markedly different results. This is something Google's John Mueller touched upon recently. While logical thinking may make you feel that it would be better to optimize for both the singular and plural versions of the targeted keyword, Mueller gives the opposite advice – focus on any one version.
Google's Identification of User Intent
Mueller remarked, it's all about user intent. There could be varied search intents behind people searching with singular and plural terms. Google's algorithms detect that, and that's why the results end up differently. Entering singular and plural versions of the same word doesn't necessarily mean the user intends to search for the same thing. That's why Google does not always consider singular and plural versions of the same word as synonyms. Mueller believes that Google detecting different user intent for the singular and plural versions corresponds with the actual difference in user intent, though sometimes the user intent may not be as Google detects.
"Apple" and "Apples"
For example, a user searching for "apple" could be taken to search for the tech giant Apple and information about its iPhones, Mac systems, iPads, iTunes, etc. And indeed, that's what the results deliver.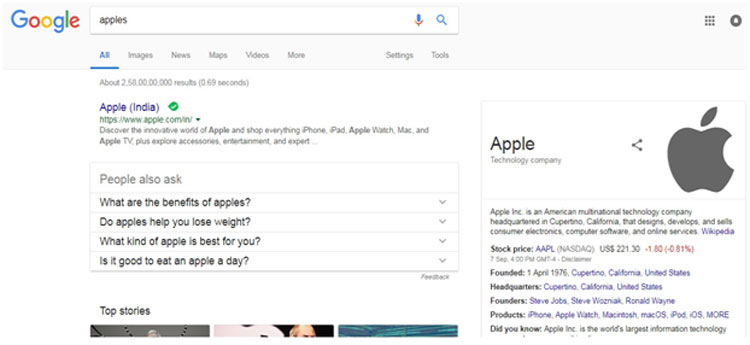 Any information about the fruit or stores to buy it from doesn't figure in the results at all. On the other hand, a user searching for "apples" could be searching for the fruit to buy rather than the iPhones, Mac or iPads. Interestingly, this time the first search result turns out to be exactly the same as that for the previous "apple" search, but this is followed by the "People also ask" search page information about the fruit and its health benefits, followed by the "Top stories" news results about the tech giant, and informative results about the fruit.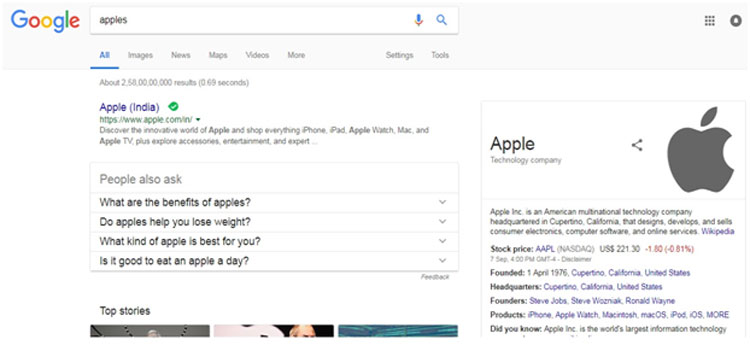 In this case, while the results were different there were many similarities. Let's look at some other results.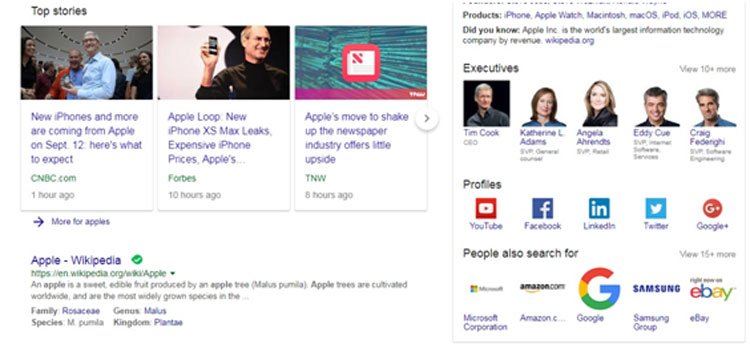 "Teddy Bear" and "Teddy Bears"
Search Engine Land quotes the example of "teddy bear". Searching for "teddy bear" returns a result catering to the informational intent of the user followed by commercial results. It's a Wikipedia page about teddy bears. From the second result onwards you have commercial intent results.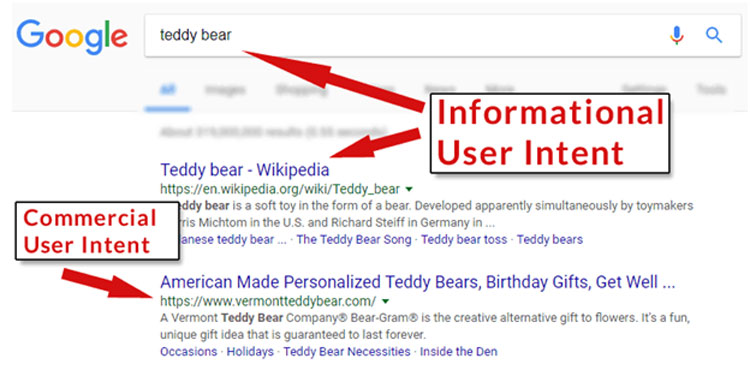 Google considers the informational user intent more important since that has been determined to be what most users normally intend when they search for the singular "teddy bear".
However, when users search for "teddy bears", the commercial intent results come up first, with the Wikipedia result ranked much lower, in the 6th or 7th region.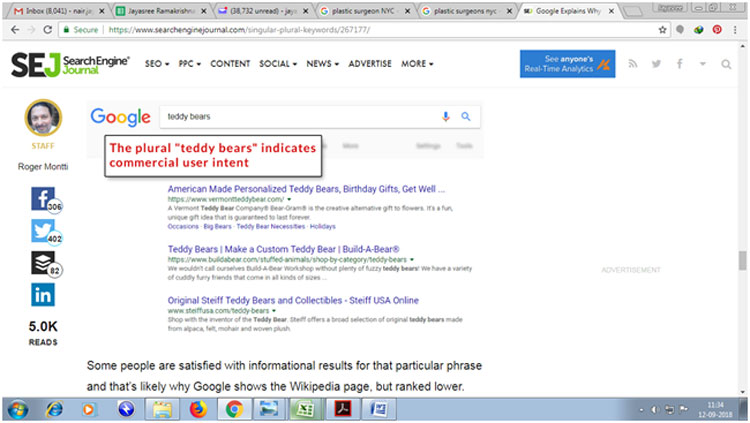 Mueller recommends site owners to check if the singular or plural versions of the search terms would be more relevant to their business or practice and optimize the content accordingly rather than punctuating the pages with synonyms, which would resemble spamming. The user intent is what matters, and in many cases the results aren't markedly different between singular and plural keyword searches.
There may be obvious difference in meaning between the singular and plural version of a word such as: blind and blinds; cosmetic and cosmetics; or air and airs among others. When you type in a keyword, Google looks for the intended meaning and context and returns the best possible results.
The Team Hallam blog discusses the use of singular and plural variations of the keyword and the different results returned by Google. They highlight the analysis done by Hitwise, a leading audience insights tool for companies worldwide that compared the top 10 key phrases containing the word "laptop" excluding branded terms. They found that the use of the singular or plural versions could indicate different buying behaviors.
The singular version was more frequently used when looking for laptop accessories such as batteries, cases, and bags
The plural version contained stronger buying signals such as "laptops UK" or "pink laptops"
The singular version also contained plural qualifiers such as "laptop computers."
Analyzing which phrases led to searchers going to a shopping website, Hitwise says that the plural version generally drove more visitors to e-commerce stores or buying sites. Google Trends data shows a different picture. The Google Trends data comparing "laptop" and "laptops" in search volumes, shows that a large number of users are searching for variations of the singular compared to the plural versions.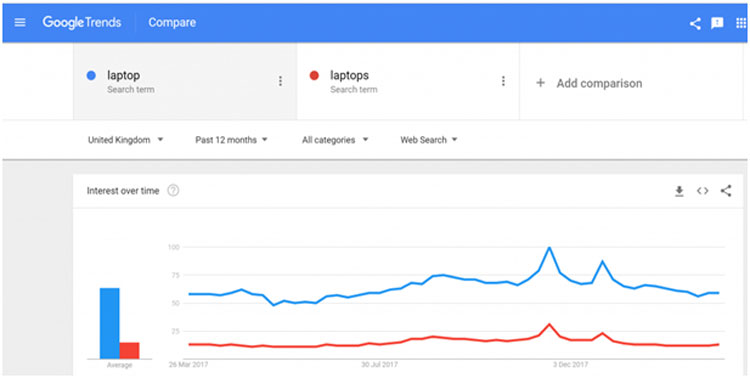 (Source: https://www.hallaminternet.com/plural-vs-singular-keywords/)
The above figure shows long tail keyword searches, where users are searching for thousands of variations of keywords such as "lightweight laptop" or "fingerprint recognition laptop." In addition, there are strong buying signal type phrases such as "best laptop."
The Team Hallam blog suggests that the main consideration when researching and selecting keywords is to keep the user at the center of your thinking and planning. You need to understand the intention of their search, what they mean, and how Google is trying to best meet their needs. Their advice is to undertake research and let the numbers help guide your thinking.
Compare the search volume of specific phrases, for e.g. "laptops uk" vs. "laptop uk" and develop your content and linking strategy accordingly
It is important not to overlook the broader key phrases that encompass the high-quality detailed searches your prospects may be using
Advanced content writing services offered by an experienced Long Island SEO company can cater to your requirements.