To rank well in search results and draw in more people, you need to do more than just produce and share high-quality content. There are various approaches to blog optimization. You can concentrate on the promotional elements, like social sharing, or the technical elements, like load time. You can also concentrate on on-page SEO, which includes things like keywords, meta descriptions, links, and images. Utilizing content writing services can help you generate quality content that resonates with your audience. Optimizing your blog using theYoast SEO plugin can help improve your chances of ranking higher in Google and other leading search engines.
By leveraging the features within the Yoast SEO sidebar, you can ensure that your content has all the essential elements necessary for ranking in search results. These settings assist you in crafting clear and engaging text, optimizing the utilization of key phrases, incorporating relevant internal links, and priming your post for social media sharing. While there are many other factors to consider when preparing a post for ranking, enhanced optimization significantly boosts its likelihood of appearing at the top of search results.
How to Optimize your Blog using Yoast SEO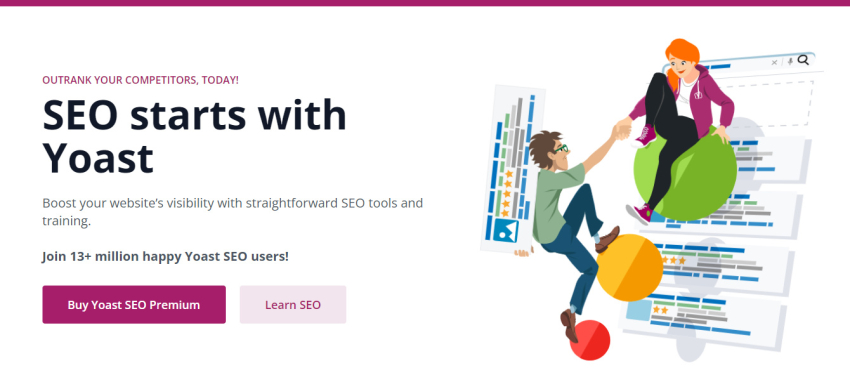 Perform appropriate keyword research: Suppose you want to create a blog article about something that concerns you or your company and you want totake that action. However, you also want your blog article to rank in the search engines to make sure you reach your audience. Researching keywords can help with this. Keyword research can help you the terms your target market uses to search for the goods, services, or knowledge you provide. In addition to helping you develop content that ranks well, keyword research can help you compile a list of keywords or keyphrases that are pertinent to your business.
Proper planning: You might want to start writing as soon as possible now that you've decided on the phrase or term you want to focus on. However, it's crucial to understand that proper planning is necessary to improve readability and SEO while also helping you write faster in future. Spend time considering what you want to say and who your audience is. It will be much simpler to choose your approach and writing style once you've established the goal of your blog post and identified your target audience. Search engines can give your ideas to develop outstanding content that will appeal to your target audience.

Preparing the structure of your article before you begin to write will also pays off. Well-structured content makes it easier for readers and search engines to understand its key idea. Additionally, when you decide on your format, it is easier to begin writing. Make a list of the topics that you wish to cover in your post. Your structure will then start to take shape as you group related themes together. The sequence of your themes is now up to you — you can choose to present them chronologically, didactically, or in any other manner that best suits your blog post.
Begin writing: It's time to start writing once you've finished the first two tasks on your blog post checklist. During this stage, don't worry too much about difficult sentences or errors because doing so could interrupt your writing flow. You can correct them later on. Don't focus too much on your introduction or opening paragraph, either. It's often easier to write the introduction after the main body has been written. If starting with your second paragraph is easier, do so. Just make a list of the terms or phrases you wish to cover when writing the opening paragraph.
Review your content for readability and check the bullets: Once you've produced your first draft, it's time to fix any mistakes and awkward sentences. You should spend some time carefully reading and rereading your blog article and making any necessary changes to further optimize it. An optimized blog post is easy to read. The Yoast SEO readability score is a quick way to verify this. You will receive feedback on how easy your text is to read. This will allow you to determine, for instance, whether your content has too many lengthy phrases or too much passive voice. Addressing these issues can improve your blog post's readability. With the introduction of Yoast SEO 14.4, it is now possible to monitor your content's ranking directly from the Document sidebar in the block editor and update it. Simply click on the arrow next to your readability or SEO bullets to receive feedback on what you can still do to improve them if you're unsure why they're red or orange. This will enable you to make adjustments straight away without interrupting your writing process.
Examine your SEO bullets: Optimizing your blog post for your focus keyword or keyphrase is important for your well-written, readable blog post to rank in the search engines. This is where Yoast SEO analysis is useful. When you fill in your keyword in the focus keyphrase field, Yoast SEO analysis will provide feedback on how SEO-friendly your article is.
Do a Google and social media post preview: The Yoast sidebar offers a preview of your post's appearance on Facebook, Twitter, and Google. You can customize these previews by choosing the corresponding tab within the sidebar. When you select "Google preview" in the Yoast SEO sidebar, you're presented with a glimpse of how your post will appear in search results. You have the flexibility to update this preview, allowing you to see how your post will be displayed to search engine users. It's important to note that this preview serves as a suggestion to Google; in certain cases, Google may opt for your provided meta description or SEO title.

Likewise, the sidebar provides insights into how your page will appear when shared on Facebook or Twitter, mirroring the Google preview. By selecting the Facebook or Twitter preview option, you can visualize your post's appearance and make adjustments to the image, title, and description. Crafting the right post can enhance the click-through rate to your link, so take your time to fine-tune these details.
Publish your post: The final step on our blog post checklist is hitting the "Publish" button. If you're feeling a bit apprehensive about unveiling your post to the world, fear not – the Yoast plugin has got you covered. Once you click "Publish," the program will furnish you with a comprehensive summary of your readability and SEO ratings. This allows you to make any last-minute adjustments with confidence before eagerly hitting that button.

After publishing your post, you'll be greeted with a screen containing the link to your freshly created blog article. The plugin even offers you the option to instantly share your content on social media, seamlessly integrating it into your publishing routine.
Main Features of Yoast SEO
Here are some of the main features of Yoast SEO plugin you can use to optimize your content.
Focus key phrase: Setting the focus key phrase for your content in the Yoast SEO sidebar is the first thing you can do. This will enable the plugin to perform a thorough SEO analysis of your content and provide you with feedback on the key phrases you are using.
Readability analysis: You may check the readability of your texts with Yoast SEO's readability analysis tool. There are several of the parameters for the analysis. Every section of the analysis includes clickable links that lead to pertinent, helpful articles on yoast.com that can assist you with the problem. The best thing is that the feature is accessible in a variety of languages. Three categories make up the feedback: problems, improvements, and positive outcomes. The Problems section contains the issues that need to be resolved the most immediately. It is advisable to think about any improvements you can make as well.
SEO analysis: This is aboutthe main elements you need to include in your post in order to rank. The SEO analysis bullet will be gray if you don't specify a key phrase. Include the focus key phrase to get the most out of it and ensure that you rank.
Suggestions for internal linking (Yoast SEO Premium): Yoast SEO Premium has a function called internal linking suggestions. You can quickly examine all of your connected posts and link them together with this feature. By doing this, you strengthen the structure of your website and make it easier for users and search engines to find your information.
Google Preview: The first thing that catches people's attention on a search results page is the snippet. Crafting an engaging title and offering a useful meta description can significantly boost the chances of your snippet being clicked. Thankfully, the Yoast SEO Google Preview puts you in charge of your snippet's appearance. You can assess how your snippet looks in both desktop and mobile results through the preview, granting you even greater control over how your content is presented.
When you write a blog or article, you want people to read it and take the desired action. Even if you are passionate about writing and can produce quality content, people won't be able to read your content if it is not visible online. Using Yoast SEO plugin to check the readability and SEO of your content can optimize your content and help it rank higher in top search engines.
Propel your content to the top of search results with our SEO services!
SEO is an ongoing process, so regularly monitor and adjust your content to stay ahead in the competitive world of blogging. Consider enlisting the support of a trusted content writing service to optimize your content, enhance your search engine ranking, drive organic traffic, and boost your conversion rates. Make a smart move for sustained online success!