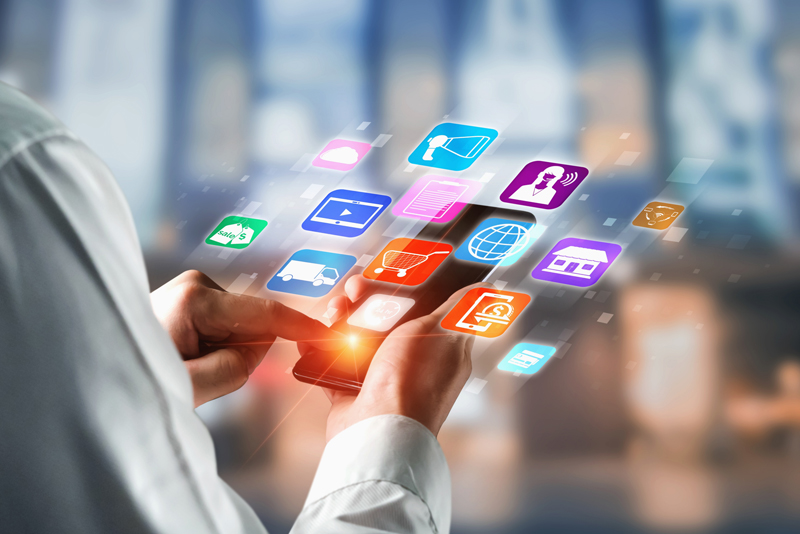 Healthcare mobile apps help doctors access the healthcare data of their patients and communicate with them without compromising data security. Healthcare mobile app development companies develop mobile apps by applying digital technologies that help healthcare professionals to provide good and timely care for their patients. With reliable apps, providers can make rapid decisions with a reduced error rate. They also enable physicians to give suitable medications in a timely manner. This improves the overall experience of patients and enhances patient satisfaction.
Here are some top healthcare mobile apps that are used in healthcare.
Visual DX: It is one of the best healthcare apps of 2020.The app is available for desktop, tablets, and smartphone apps for Android and iOS. Here you can go for image verification by accessing the largest database of medical images of different kinds of diseases. The app has a stock of more than 35,000 images of patients of different ages, skin types, and other diagnostics categories. Available categories include hair, eyes, mouth, nails and so on. It also includes medical categories such as dermatology, pathology, radiology, ophthalmology, infectious disease, and emergency medicine. The app is used by medical professionals, and it claims to have increased diagnostics accuracy by 120%.
ClotMD: This app connects patients that need anticoagulation medication with their healthcare providers. It works on any computer or mobile device and provides real-time communication between patients and providers.

Other features of the app are:

Manage INR levels
Testing Schedules
Dosing Calculations
Built-in diet library
Track the results of your patients and share the history with any physician
Real-time alerts are offered regarding the test schedule and other appointments

Doximity: It helps users access the largest medical professional network that consists of more than 70% of physicians as members. Doximity was developed by the same team that built the medical app Epocrates. You can search for physicians with the help of filters such as location, hospital affiliation, clinical interests, language, etc. Some key features are:

It provides access to the largest directory of medical professionals
Users can send their HIPAA-compliant faxes from anywhere
Can annotate your healthcare documents directly in the app

ACT.md: It consists of several tools that help healthcare providers to access the complete information regarding a patient's requirements and manage them suitably. By understanding each patient's needs, healthcare professionals can serve them with different parameters and work simultaneously with other medical experts across the healthcare sector.

Some key features are:

It has personalized healthcare plans
Health tasks and custom reminders
Contains contact information of healthcare team
HIPAA-compliant message transmission among the healthcare team members

Medici: Medici is a mobile healthcare app that lets patients call, text, and even video chat with their doctor and other healthcare specialists right from their smartphone. This app helps patients talk with their doctor without making an appointment; the advantages are, it reduces additional cost and helps avoid the discomfort of going to a hospital for a check-up. With the help of the app, you can ask questions and get health advice. You can get lab results, medications, and referrals.
Ping MD: This app is available for both Apple and Android phones. It is a platform that enables chat facility between the patients and doctors. It makes consultation easy and fast. The other features are:

Doctors can discuss medical issues with their patients and colleagues
Eliminates the risk of disclosing private messages to the public
The discussion between the patient and doctor is transferrable to the patient's medical record
For e-visitations and e-consultations, doctors can bill their patients

Hello MD: In this app, doctors can set their consultation fees. It does not provide immediate healthcare; it finds specialists for appointment booking. Patients with very special health conditions can find specialists like neurologists and radiologists. Once a specialist is located, an appointment is set up within 24 hours. The consultation takes place through video call. Before consultation, doctors fix their fees and patients pay it via credit card. The app is web-based and accessible through mobile devices.
Live Health Online: This app is available for both Android and Apple mobile device users and is available only in a few states. The consultation is through video call. Doctors write prescriptions after the consultation and patients make their payment using their insurance plan. If their policy does not cover online visits, then patients pay the consultation fee.
Medscape: It is the number one medical platform for clinicians in the U.S. Healthcare professionals can access tons of medical information from the app. It is very helpful for them because it gives access to educational tools that they need. Other features include:

Helps caregivers look up medications and dosages
Drug interaction check is done to prevent any adverse combination of drugs
Helps to find important information on patients
The app includes medical calculators and image collection platforms
It is available to users of Kindle Fire

Microsoft HealthVault: It is a free health mobile app where individuals can keep their medical records. Storing personal medical records makes it easy to share them with the health professionals and family. It is safe and up-to-date in storing medical records. For people with chronic conditions, it is very helpful to trail their health metrics. You can input manual data and for automatic data input, patients connect the app to health trackers. The app is also accessible through the web.
Calculate: This app is helpful for clinical calculations. It provides medical decision support tools from experts. More than 150 medical calculators are present in this app. It has access to full PDF files on support tools. You can find the information about the latest medical research in the app.
DoctorOnDemand: This allows patients to consult doctors through video chatting. E-visitations and E-consultations are possible for this app. Doctors write prescriptions for patients depending on their condition. You can also book appointments with pediatricians, consultants, and psychologists.
The use of healthcare apps has increased tremendously. Digitizing your healthcare business has become very important in this digital era. Digitization plays a vital role in improving the health and wellness of people through innovations such as healthcare apps, and more people and physicians starting to use them. Healthcare mobile app development companies develop useful apps that help to deliver good care to patients at home, reduce other expenses, save time, avoid the discomfort of going to the hospital, and a lot more benefits. Reliable healthcare apps make things easier and more efficient for both healthcare professionals and patients.