For any business, branding is essential. Using effective content marketing methods, any company may create a priceless way to engage with its customers. There is no better method to accomplish this goal than through producing web content that is of the best quality, reliable, and optimized. A well-written piece of content can help you establish a solid reputation in your industry and communicate the uniqueness of your company. You can keep clients engaged on your platform for longer so that more and more of them read your material, such as blogs, articles, and other forms of content. Therefore, companies can invest in content writing services to create informative and useful content for their brands to increase traffic and ranking.
Importance of Good Content Writing for Businesses
Content is used on your landing pages, intermediate pages, sales pages, and post-sales pages. It also appears in advertisements and other marketing materials. For your business to thrive and expand, good content is essential. It aids in establishing your brand. It is not merely a collection of fancy phrases put together to sell your brand to the audience. It is a channel of communication between your company and your audience. If your content is able to hold the readers' attention, it indicates that they will stick around to see what else you have to offer that will entice them to purchase or show interest in your products or services.
Tools to Write Content
Planning, building, and rewriting web pages while maintaining the integrity of the material are all aspects of writing content for the web. Different web content formats are a tried-and-true strategy for businesses to boost their brand equity and reputation. Listed below are some good tools for content creation that firms can employ this year.
Grammarly: It is one of the most effective content editing tools for enhancing your work. It has strong features that instantly and automatically verify your writing for spelling, grammatical, and punctuation issues. Additionally, it includes a Chrome extension that automatically detects and fixes grammatical errors while you type on any website, including Gmail, Facebook, Twitter, Slack, and others. Although Grammarly is available for free, the premium edition gives you access to more sophisticated features such as word selection, tone changes, fluency, vibrant sentence variation, and more. You can also utilize their robust plagiarism detection technology to ensure that all of the information you create is original and that you won't be accused of plagiarizing.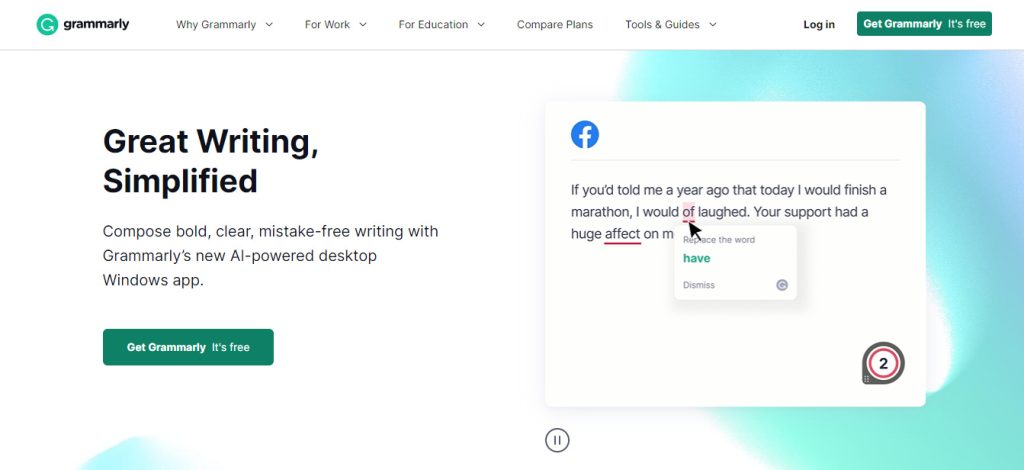 Image Source:
SE Ranking Content Marketing tool: This is an (AI)-powered tool that will help you at every step of the content creation process, from selecting topics that have potential traffic to drafting summaries and crafting articles with good optimization. You can dramatically raise both the content score of new and old articles by adhering to the text structure and keyword usage suggestions. To ensure that your writing is appealing to readers as well as search engines, the tool examines its quality and readability in addition to comparing it to competing SERP articles. The tool is helpful when you are experiencing a shortage of creativity. Apart from these features, it also has a paraphrasing feature using AI.


Image Source:
SEMrush Writing Assistant (SWA): It helps produce excellent, distinctive, and SEO-optimized content that performs well in Google search results. To use the SWA tool, you must link it to any Google Docs or WordPress document. Once connected, SWA will analyze all the top-ranked websites and provide you with all the SEO-related optimization tips. By doing this, you can make sure that your writing style stays close to what readers would anticipate from those high-ranking results. It's comparable to having a skilled editor right in your browser. By scanning the full content, it also provides you with more useful metrics such as the readability score, SEO score, tone of voice, and originality score.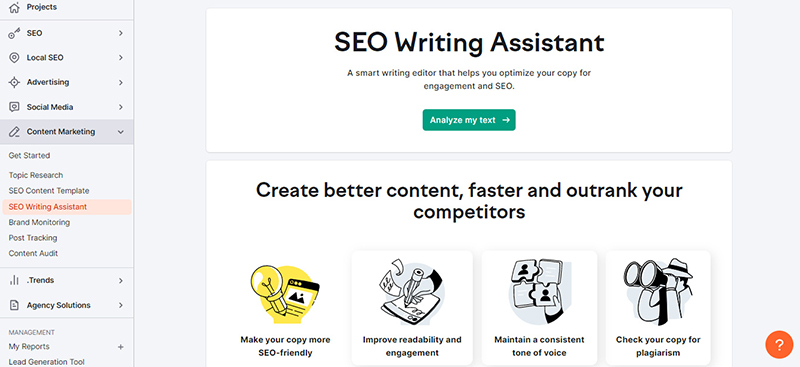 Image Source:
ProWritingAid: For flawless content creation, ProWritingAid is a fantastic tool. You can write better content in less time with the aid of an AI-powered writing assistant, which provides real-time editing solutions. It evaluates your article for grammar, spelling, style, and other writing issues, just as Grammarly does. Additionally, it offers information on your sentence variety, your use of passive voice, and your readability score. ProWritingAid can be used as a desktop application or combined with Open Office, Google Docs, Scrivener, and Microsoft Word. Additionally, they provide writing-checking browser extensions for Chrome, Firefox, and Safari that work with practically any website on the internet.


Image Source:
Frase: Without having any technical knowledge of SEO, Frase makes it simple to write articles that are optimized for search engines and perform well in search engine results. Every time you produce a content piece, it gets a score from their potent algorithm, which also provides comparisons to your organic rivals so you can see what needs to be improved in order to achieve more visibility. Other crucial tools provided by Frase include keyword research and suggestions, an AI-generated content brief, and an answer engine that enables you to build your content around the solutions your target audience is searching for.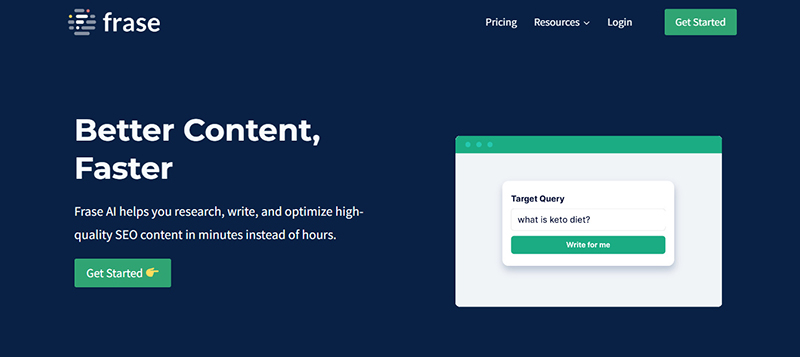 Image Source:
Rankmath SEO: The free Rank Math plugin for WordPress can assist you in enhancing the SEO of your website. Google Search Console and Analytics integration, keyword tracking, 404 not found page monitoring, intelligent redirection, and internal linking suggestions are some of its standout features. It simplifies the process of writing SEO-optimized content. This tool, which adheres to Google's 200+ ranking algorithm, provides you with additional writing recommendations in order to raise your SEO rankings for chosen keywords. The target keyword is added to the post title and meta description, and the photos have alternate text. It examines your content automatically to see whether it is long enough and also provides a SEO score to assess how well the content is search engine optimized.


Image Source:
Thesaurus: Thesaurus is one of the most well-known and reliable productivity tools provided by Dictionary.com. It is one of the first online content writing tools that has been in use for more than two decades and is utilized by writers from diverse backgrounds. It provides writing and grammar hints to improve the quality of your material. This tool also helps writers increase their vocabulary and create a far more natural writing style.


Image Source:
Hemmingway Editor: Hemmingway Editor is an innovative editing tool that will help you stay on top of your game. This tool can handle it all, from finding typical writing faults and grammatical mistakes to optimizing your SEO content creation. This tool can help you streamline your content production process and evaluate the readability of your blog posts. To quickly add the suggestions to the content, you can switch between the writing and editing modes. When you are done writing, you may immediately publish your blog post on WordPress or Medium.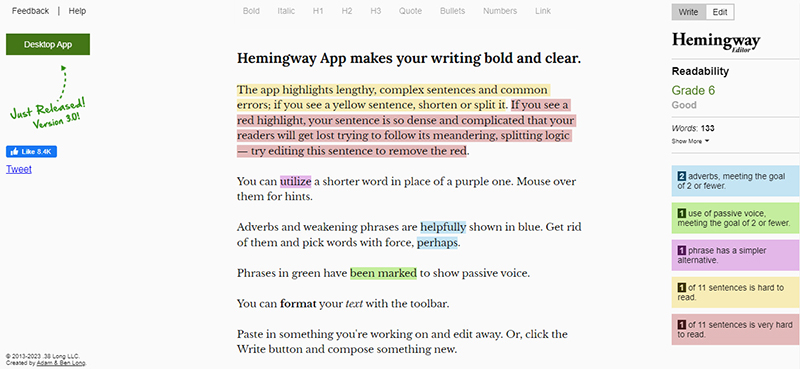 Image Source:
750 words: The excellent article writing tool 750 Words makes it easy to begin and continue a regular writing routine. For writers, bloggers, journalists, students, or anyone else who wishes to write more frequently, it's the ideal tool. Having an app to aid with your own writing projects might be quite helpful if you're having trouble writing professionally. Use the writing software 750 Words or keep a daily record of your thoughts. Also, you need not worry about privacy because only you can access the content you are making.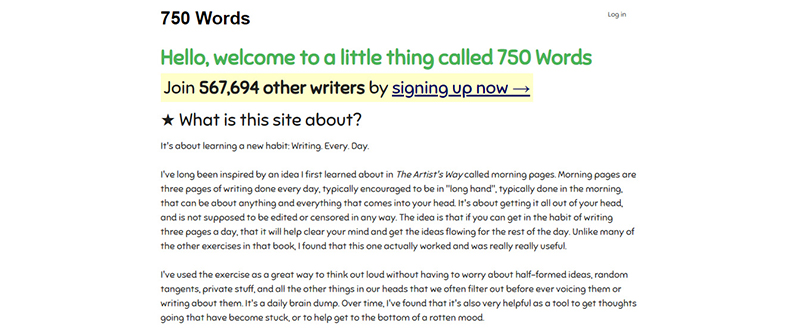 Image Source:
Copyscape: Quality may sometimes be compromised when outsourcing content. It can be challenging to determine whether the information you receive is actually original and not a copy from another website. Copying from other websites is against Google's Webmaster rules, and Google will penalize you for it. Therefore, it's imperative to review the content before publishing. Unfortunately, personally going through each item doesn't produce as precise a result and takes more time. Fortunately, you can quickly and easily check any document or website for plagiarism with the Copyscape program. There are various ways to scan a document, including pasting text or a URL or even uploading a file. Also, they have a database of over 10 billion online pages, so you will be informed if they discover anything that matches your text.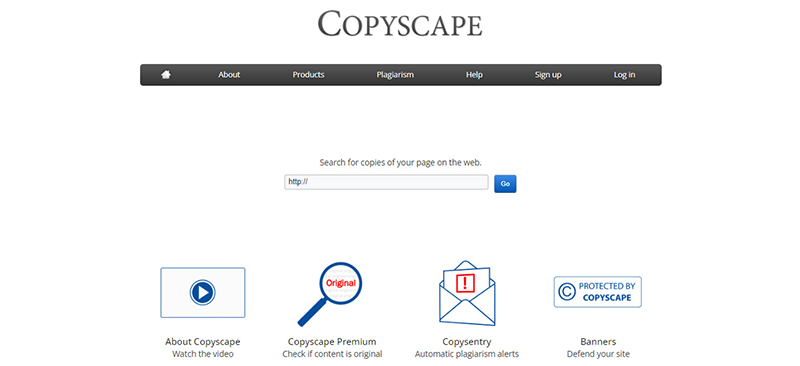 Image Source:
Excellent content is a valuable resource. It has the power to give your potential customers satisfying experiences that will entice them to buy more from you. It's your key to grabbing their attention and consistently enhancing a favorable brand perception. So, to create informative and relevant content, you can use the above-mentioned tools or alternatively reach out to a reliable content writing services provider that can generate customized, optimized content, of good quality and which helps build brand reputation.
MedResponsive is a leading digital marketing agency in the United States that provides SEO strategies, content writing services, and other value-added solutions to help your business prosper online and build a strong brand. Call (800) 941-5527 to arrange a FREE appointment with our senior solutions manager.