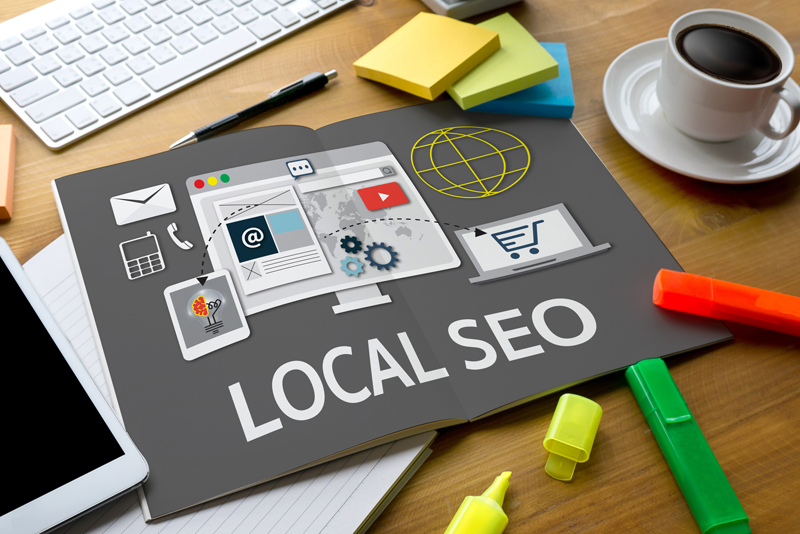 In today's competitive world, most people rely on local search to find information on new products and services they need in a convenient location and healthcare is no exception in this regard. Reports suggest that about 77 percent of online healthcare seekers start at search engines. Healthcare is typically considered a local industry with most patients preferring a local physician (so that they do not have to travel). This in turn makes it critical for medical practitioners to make sure that their website shows up in local searches. Regardless of the size of your medical practice, focusing on local SEO is the key to attracting new patients and growing your revenue. Incorporating healthcare local SEO strategies not only increases your visibility within the targeted market but also builds your brand image.
Why Local SEO Matters for Medical Practices?
The number of people searching for health-related information online continues to grow at a staggering rate. In fact, a study conducted by Pew Internet & American Life Project reports that about 80 percent of internet users (93 million Americans) have searched for a health-related topic online. This figure includes people searching for information about a particular physician or medical practice.
Local SEO has a geographical component. With local SEO, search engines rank and favor websites that have relevant and trusted locations. SEO for physicians or healthcare practices need to be structured around the specific business location. For instance, Google's algorithm for FIND <THINGS> NEAR ME has completely changed the face of internet searches. These location-based SEO techniques can be put into place to help a medical practice when these searches are conducted. Rank is a crucial aspect as patients are more likely to call for an appointment with the medical practice that appears on the first page of the search engine results pages (SERPs) – especially the local 3-pack near the top of the Google search results. In fact, nearly 80% of internet users never even consider the second page of the SERPs.
For instance, people who happen to make a search using the expression "Smartlipo in Manhattan" are more likely to consider the first page of the search results –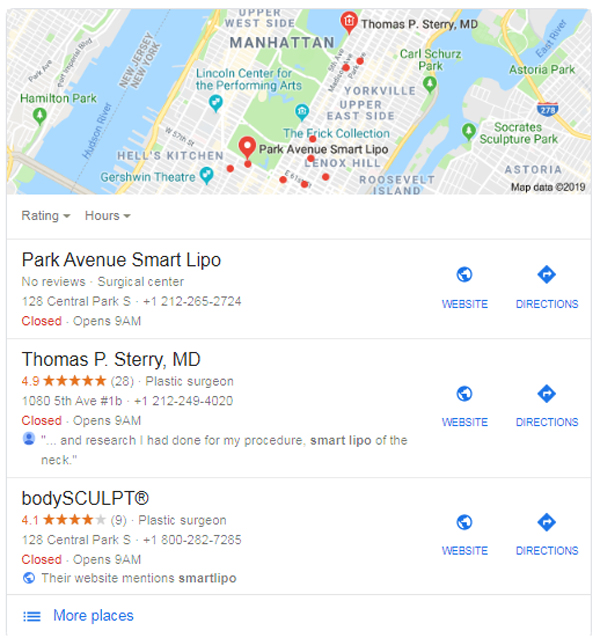 An effective local search strategy will play a key role in helping patients evaluate alternatives and make an informed decision on where to receive the best care. Here listed are ten local SEO tips to increase Google traffic – 
Update your Google listing – Creating or updating your Google My Business (GMB) listing is one of the best practices to strengthen your medical SEO campaign. GMB is a free tool for managing your online presence across Google and includes Google Search, Google reviews and Google Maps. GMB includes important information like your business' address, phone number, and hours of operation when someone searches for your practice on Google.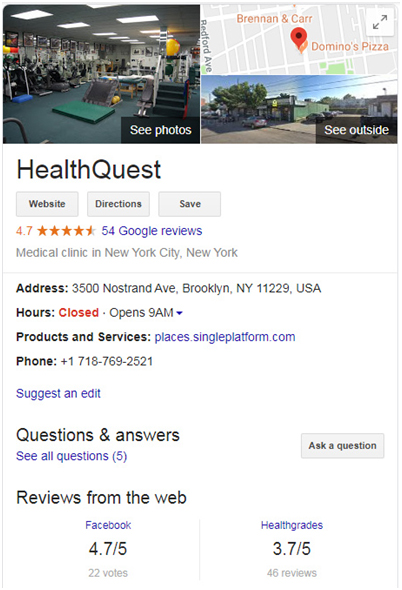 However, setting one GMB page is simple and can be easily accessed. However, before you create a new one, make sure to search for your medical brand name and check whether any duplicate listing already exists. If you notice multiple listings for your medical practice, take time to remove and consolidate them into one clear profile. When setting up the GMB listing, make sure to follow a few things to boost local SEO –
Show your hours of operation.
List your business under 5 relevant categories.
Include main focus keywords and city in your business description.
Include exterior and interior images of your clinic.
Fill out your main services.
Ensure your name, address, and phone number match your contact info on the website.
Updating the contact information related to your medical website will help patients to contact you easily. Inconsistency in these details can confuse prospective patients and also have a negative impact on the ranking.
Generate positive patient reviews – A constant flow of positive patient reviews is an essential element in establishing the quality and trustworthiness of any medical practice. In fact, review quality and speed help to improve Google's overall ranking algorithms. Reports from Bright Local's (2017 Local Consumer Review Survey) suggest that 85 percent of customers believe online reviews as much as personal recommendations. In fact, most patients use online reviews while looking out for a new physician. Reviews are often the first impression potential patients have about your practice, so they can directly impact patient numbers. Encourage patients to share their valuable experiences on your online service review profile. This can be done via a follow-up call or email after an appointment. In addition, you can place links and call-to-action on your website and encourage visitors to review your practice. Some of the most popular review sites for medical professionals are Health grades, Yellow pages, Yelp, Yahoo Local and Google+ Local.
Post informative content on your website – Having informative content is crucial for any website. Quality content with relevant keywords and separate pages for areas of specialization will increase the number of web pages indexed by search engines and boost page rankings. Make sure that you post unique content on each of your pages to avoid getting penalized for duplicate content.
Separate location pages for each office – If your medical practice has multiple offices at different locations, then it is important that each office has its own distinct location page. This will ensure flow of web traffic from each specific area. Make sure that the contact details are given correctly on separate page.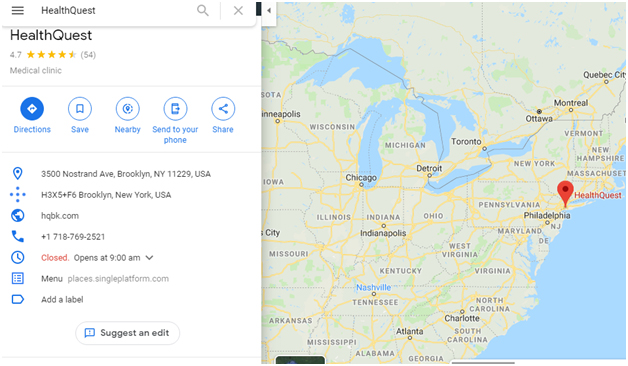 Build Citations – A citation is an online mention of your clinic or website. These mentions often include your business name, address and phone number (NAP). It is important to make sure your NAP is consistent across all your online directory listings. Citations matter because they directly impact local search. For instance, when someone searches for a physician online, Google will display local results first. In addition, your website will be more visible to thousands of potential patients that use online directories. General directories like Yelp, Yellowpages, Bing Places and Superpages are specialized directories for medical practices.
Optimize pages for keywords – Finding the right local keywords is most important part of any SEO strategy. Focusing on local keyword is more useful for medical practitioners. The local keyword comprises medical search term and name of the place. Start your keyword research with tools like Google's Keyword Planner, LSI Graph to get some idea about your keyword and user behavior. Use these tools to search for keywords with relatively high monthly search volumes, keyword variations with synonyms and related phrases and relevant long tail keywords to include in the page's content. If possible, regularly create new content, inserting keywords that refer to your particular practice, its location, and your services. For instance, publish local news stories, how-to articles, location guides and behind-the-scenes stories.
Optimize voice search – Voice search has grown rapidly in these years with the advent of several new platforms like Google Home, Amazon Echo/Alexa, Google Assistant, Siri/iPhone and more. In local SEO, it is important to optimize for how people ask questions when they speak into devices, as opposed to how they type out their searches. When compared to doing regular searches, people may use long-tail keywords when doing voice-searches. Hence, it is quite important to adjust healthcare SEO content in order to fit correctly in to the conversational tone of someone speaking. It is important to consider the user intent when optimizing for voice, as these searches are most often performed when the user needs a specific piece of information. For instance, if a potential patient asks – which is the top, reputable pain management center in Brooklyn, NYC – they are expecting a quick and useful answer. On the other hand, if another potential patient uses voice search to ask what are the working hours of a specific healthcare center – this information should also be readily available.
Make your site mobile friendly – Mobilegeddon has completely changed the way the websites are ranked. As most people depend on mobile devices to conduct their searches, Google has made a change to its algorithm to give a boost to mobile-friendly pages. According to Search Engine Land, about 78 percent of mobile searches result in a local purchase. Hence, a strong mobile strategy is even more important for businesses with a local presence. Make sure ensure that everything on your site looks just as good for your mobile visitors as it does for desktop visitors.
Use Schema Markup – Schema markup is a type of semantic vocabulary that is added to your website to make it easier for search engines to understand what your website is all about. Using this tool makes it easy for potential patients to view additional information in search results, such as business hours and star ratings. When your medical website appears as a rich snippet, it can have a dramatic impact on click-through rates to your website.
Create a social media presence – Many medical practices now depend on social media platforms like Facebook, Twitter, LinkedIn and Instagram to reach out to potential patients. Medical professionals can tie their business to local events and the community in order to make themselves the appealing local choice. Make sure to update your social media pages regularly with accurate NAP details. You can ask patients to review your services on social media platforms and different healthcare mobile apps. Having a presence on social media will enhance local visibility and make it easier for patients to locate you.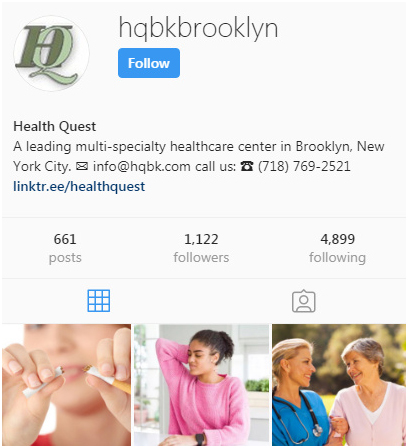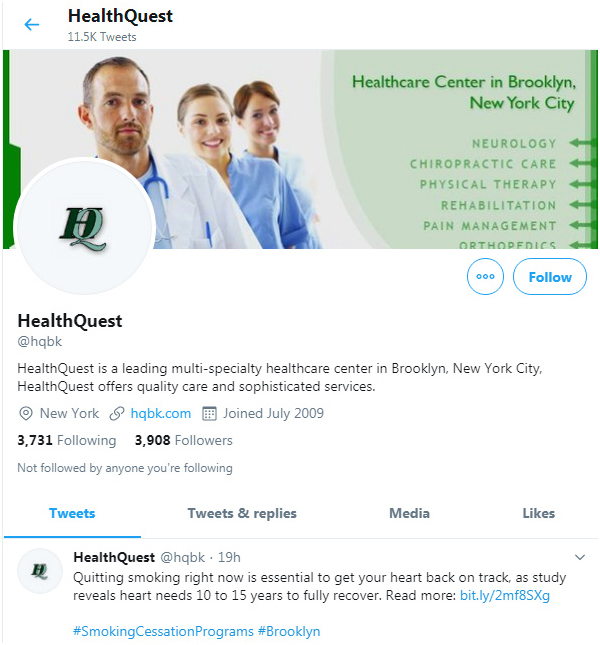 Medical SEO has become indispensable in today's digital healthcare landscape. As people will always be searching for local healthcare practitioners to find what they need, you will need to localize content to your target audience while keeping an eye on competitors. A local focus allows you to concentrate on indexing well in the area where it matters the most. By focusing on healthcare local SEO services, you can ensure that your practice is appearing in front of the locals who are most likely to become your patients.
SEO is an ongoing process, and not a quick-fix solution. However, the goal is to create a seamless and valuable experience for your patients. Relying on the services of a reputable medical website marketing company can provide customized local SEO services to ensure that your site is visible to the right audience.