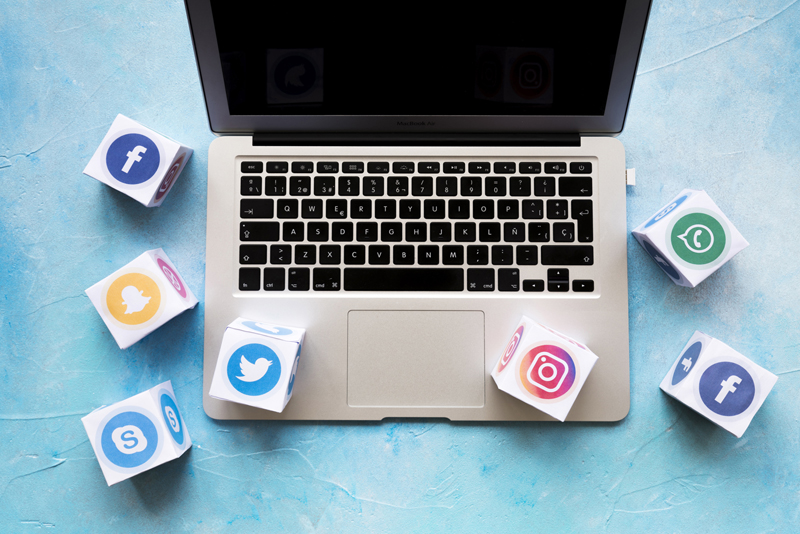 Since the COVID-19 pandemic is having a significant impact on daily business and consumer behavior, and business activity has taken a significant plunge during the past few months. Businesses are having hard time sustaining themselves. Even as the crisis develops, it's important to stay calm, safe and explore all options for your business. Social media marketing such as Facebook and Instagram advertising is a key option to explore during the pandemic. With people are staying home and checking their social media, you could make this a productive time for your business by marketing your business on popular social media platforms. Digital marketing for hospitals also focuses on utilizing social media platforms to help healthcare providers expand their reach to targeted consumers.
Why is social media marketing important in a crisis like COVID-19? According to AdRoll, the data points that describe the importance of social media in the current scenario are as following:
Facebook saw a 70% increase in usage of all of its apps in March. People are turning to these apps to stay entertained, connected, and informed while they're spending more time at home (emarketer).
Businesses are still using email and social media to build their brand and engage customers, though they have cut spending in many areas.
People are turning to different channels for different content. For instance, TikTok and Snapchat are sources of fun and entertaining distraction during this time, and saw significant spurt in engagement.
All these points make it clear that now is a convenient time for marketers to increase their social media connection to build relationships with new and existing customers. Social media marketing can help small business owners and advertisers find opportunities that will help them build personalized and lasting relationships with their audiences from a safe distance. According to Small Biz Trends, "there's a sharp rise in demand for online content, because, in the quest of killing time, seeking information, and calming ourselves, more and more people are turning to online content."
With platforms such as Facebook and Instagram, social media has the ability to offer mass instantaneous communication. According to Forbes, a Main Street America survey reported that some 7.5 million small businesses are at risk of permanently closing over the next five months if the pandemic continues to wreak havoc on public health and the economy. Facebook and Instagram are responding to this by lending small businesses a helping hand and making it easier for small businesses to tide over the crisis.
Facebook has launched a business resource hub to help small businesses affected by the outbreak of COVID-19. The company has created the Facebook Small Business Grants Program, which aims to provide financial support in the form of cash grants and ad credits to eligible small businesses.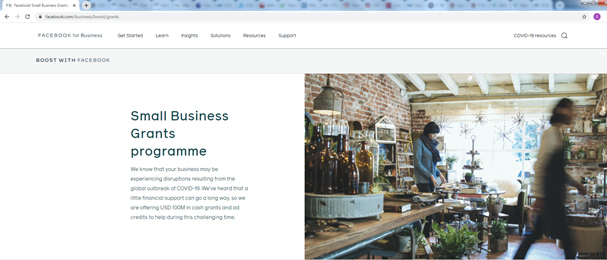 Image Source: https://www.facebook.com/business/boost/grants
Similarly, Instagram is also making it easier for small businesses by featuring feature gift cards, online food orders and fundraisers in their profiles. Businesses can use new stickers in their Stories to lead users to a website to purchase the gift cards or complete food orders. This is the latest in Facebook's series of measures to help businesses spread the word to customers and followers about how to support them during the COVID-19 pandemic.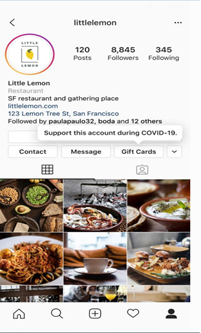 Image Source:
https://www.forbes.com/sites/rebeccabellan/2020/04/16/instagram-adds-new-feature-to-support-small-businesses-during-covid-19/#44ddc7722325
Depending on your product or services, you can make the best decision to advertise your business on different social media platforms. Even if you have to pull back, you should leave your content amplification aspect of the strategy on to reach as many people as you can. However, though it's a good time to advertise, the conversions are not likely to appear as they usually would. This means that your campaign may not generate bottom-line results. However, keeping your awareness campaign going via social media would offer other benefits due to the following reasons:
Digital attention is at an all-time high
Give you an edge when your competitors may paused their campaigns during this pandemic
Helps build brand awareness
You have the opportunity to serve people now, and win business later
Look at your engagers in Facebook, Instagram, all your website visitors, and your email list and build simple audiences to spread your organic content. Focus on top of funnel and middle of funnel – just make sure you're staying top of mind with people and sharing good, relevant, and non-self-serving content (mpactbnd.com).
Here are some strategies for running Facebook and Instagram ads effectively during the pandemic:
Stay reliable and pull out your high-performing ads: When new ads are submitted or edited, they will undergo a new review policy. Facebook recently warned advertisers that due to recent staffing changes there will likely be some delays and errors as they increase their reliance on automated systems to review new ads and commerce listings. So to avoid disruption to your ad, Facebook's Director of Product Managemet Rob Leathern recommends that brands extend the delivery period of their best performing ads:


Image Source:
https://www.wordstream.com/blog/ws/2020/03/25/covid-19-facebook-advertising

Collaborate with Influencers: Influencers are social media personalities. They can influence the buying decisions – even in these tough times. So to run your ads in social media platforms, reach out to them, and step up your online marketing.
Build brand awareness with your online audience: With more consumers at home, it's likely see more consumers browsing online to pass the time and this is the perfect time where people will be looking for content to consume. So if you're able to, plan out your ads in advance and create attractable content for it. The content should revolve around the value of your product or service provides, and how it will benefit them when they're ready to purchase and/or want to plan for the future.

Be sure to also keep your audiences engaged with the latest news about your business. For small and local businesses, it's very important to highlight how they can help their audience during these times with business activities like:

Shopping online during a promotional sale
Purchasing gift cards
Writing positive reviews online
Shopping online and/or via phone
If available, ordering delivery/curbside pickup

Try Facebook and Instagram Live: Getting online and in touch with your customers and prospects on Facebook and Instagram Live can shift your business strategy. As people who are self-isolating or practicing social distancing will be seeking opportunities to connect with more people face to face and with live video, you can connect with your audience in a more direct, genuine way. Moreover, effective video marketing can result in higher conversions as Facebook and Instagram Live videos receive 3x higher engagement than pre-recorded videos.

Try to engage with your customers and give answers for the questions in real-time. Offer them online check-ins, webinars, online demos, and more to keep your audiences up to date with the latest your business has to offer.

Focus on Growing your Accounts, Not on Conversions: As consumer spending is limited to the very essentials during the crisis, expecting your online marketing to boost sales right now would be unfair. Instead, build your online following and put out content that's needed.
Test new ad creative and audiences: If you have been thinking about testing a new ad creative to see if your audience engages better with specific imagery and messaging, this may be the best time to do it. You can test out a new creative on a variety of audiences to gather information that will make your future campaigns more effective. Here are a few things you can try testing:

Audience targeting, demographic, interest-based, or custom audiences.
Ad copy, including headlines and CTAs.
Landing pages, including copy, design, and messaging.
Ad creative, like images vs. videos.
Overall, in this social distancing period, view this crisis in a positive and empathetic angle. Get creative and explore new ways of expanding your business reach via Facebook and Instagram. Have realistic goals and make effective social media choices on the basis of your objectives, target audience, and the main messages you want to get across. This can be best done with the support of reliable SEO company. Consider the situation your audience is facing, what they need, and where your business can help, and build thoughtful, respectful campaigns and offers which will help your business make it through the crisis. Tell your audience that you are all in this together and that you will overcome this crisis together.