FMCG or Fast-Moving Consumer Goods industry products are designed to be sold quickly and at low prices, so that there are low-profit margins and high volumes of sales. When compared to other industries, the FMCG industry needs to apply more shrewdness into their digital marketing strategies to get more customers and promote specific brands. They can do this by employing a digital marketing agency which comprises seasoned specialists knowledgeable in various marketing tactics. The rapid growth of social media marketing has urged several industries to incorporate novel digital marketing ideas to attract audiences and the FMCG sector is no exception in this regard. Reliable companies provide affordable SEO services for small business.
Ready to take your FMCG brand to the next level?
Benefits of Digital Marketing for FMCG Brands
Earlier, these products were promoted through mediums such as door-to-door salesman, radio advertisements, newspapers and banners. A growing number of consumers now prefer shopping online for FMCG products rather than visiting a physical store.
A strong full-funnel digital marketing strategy is indispensable for FMCG brands today, as it allows marketers to capture the consumer at the final buying stage, and also establish a relationship with them right from the start, something that was not possible before. This requires marketers to focus on a holistic FMCG digital strategy to influence customers, and to personally engage them. Reports from Google and Bain and Co show that about $11 billion, or two-thirds of the total sales in beauty and hygiene products will be influenced by online marketing. Coca Cola was one of the first brands that put customization and personalization to the forefront of their digital campaigns. This created a strong bond between the brand and their customers.
A strong digital marketing strategy offers many benefits to FMCG brands –
Helps distinguish your brand – As the FMCG sector is marked by a variety of similar products, it offers consumers the opportunity to choose from a wide range of products. Having a clear-cut and definite marketing strategy helps create a unique brand identity. This helps consumers form a strong opinion about the brand, which in a way influences their purchase decisions.
Brand visibility – By creating a strong online presence, brands can attract new customers and retain existing ones. Creating a unique and specific brand space within digital channels is important for FMCG brands. This means the brand name needs to be prominent when a user searches for the same in social media channels such as Google, Facebook, YouTube, Instagram, Twitter and LinkedIn. For this, brands have to secure their assets such as domain names or social media handles. However, securing a top position in Google's organic rankings requires more than simply the appropriate domain name.
An innovative way to display your brand – Virtual shelf display is an important approach in FMCG marketing. It helps reach out to the target audience in an effective manner, thereby making your marketing strategy more cost-effective. Just like physical shelves, digital marketing also allows you to position products contextually. By using tools like AdWords Smart Display, products can be easily showcased while allowing consumers to easily browse similar categories. For instance, if you are a skincare brand, you can easily display your ads next to beauty blogs your consumers are browsing.
Targeted marketing – Digital marketing allows FMCG brands to target their marketing efforts to specific demographics and geographies. Brands can use data analytics to identify their ideal customer and create customized campaigns that appeal to them.
Cost-effective – Compared to traditional marketing channels, digital marketing is often more cost-effective. Brands can leverage social media, email marketing, and search engine optimization (SEO) to reach their target audience without breaking the bank.
Real-time insights – Online marketing provides real-time insights into how a campaign is performing. Brands can track metrics like website traffic, engagement rates, and conversion rates to measure the success of their campaigns and make adjustments as needed.
Enhanced customer engagement – Social media and other digital platforms provide opportunities for brands to engage with their customers on a more personal level. Brands can use social media to respond to customer inquiries, share user-generated content, and build a community around their products.
Increased sales – Digital marketing can help FMCG brands increase their sales by reaching a wider audience and driving traffic to their e-commerce sites. Brands can also use targeted promotions and discounts to encourage customers to make a purchase.
Key Strategies for Successful FMCG Digital Marketing
There is no one-time strategy for FMCG marketing. Promoting or selling products at a competitive price alone is not a sustainable strategy for brands to remain competitive and relevant. A unique approach that delivers a memorable omnichannel experience is what matters the most. Perception about a specific brand is an important aspect as how a customer feels about a specific brand can directly influence sales. It is important to evoke positive emotions at every touch point.
Reflect the Brand across Each Digital Channel – The website, content and messaging and social media channels must provide a true reflection of the specific brand. The very look and feel of logos, design and media should be consistent with offline activity. When a user lands on the brand's website or encounters a social media update, they should recognize that they are viewing authoritative content from the specific brand they trust.
Identify Your Target Audience Group – Identifying the target audiences is one of the key aspects of getting the FMCG digital marketing in the right direction. Build a clear picture of the target audience group as this can help segment the marketing campaigns. After establishing the customer personas (based on behavioral data and other demographics), the next step is to identify the target audience group that is digitally active. Customer personas are important for marketers if used properly. Website platforms like "Sitecore" have customer experience features like marketing personalization and machine learning (Sitecore Cortex) that can transform relationships between brands and their customers. Personalized marketing experiences are crucial as about 58 percent of customers look for more of a kind of personalized experiences. McKinsey reports that personalization not only reduces acquisition costs by 50 percent but can increase revenues by 15 percent as well as improve marketing efficiency by up to 30 percent. Brands that fail to adopt this approach could fall behind their competitors.
Content Marketing Matters – Digital marketing trends in FMCG focus on creating user-centric content that offers unique value to customers. It is estimated that about 82 percent of people purchase a product as a result of consuming content. By developing unique and informative content, you can drive conversation among customers and build strong communities. Key content marketing strategies that work for FMCG brands include –

Channels – This is important for the success of your digital marketing strategy. Take time to review your owned, earned and paid media channels as this will help analyze what is currently working for you and what will help to achieve your overall goals.
Mediums – Digital marketing mediums like video, motion graphics, email, and audio influence the target audience throughout each touch point, and provide varied customer experiences while ensuring great SEO value.
Devices – People nowadays buy more products online with about 40 percent purchases made from mobile. Therefore, optimizing the content for all types of devices is important.
SEO-friendly Content – Incorporating SEO-friendly content for the website would help brands gain prominence in Google listings. Clever use of content is essential to establish your authority in the space. A strong SEO plan comprising strategy for content amplification is crucial as it drives consumers to your website, creating more brand awareness. Keyword-optimized content also helps answer consumer queries, which goes a long way in establishing your brand's credibility in that domain. Using valuable and relatable content is important.

Influencer Marketing – Influencer marketing is one of the most innovative ways to market your products digitally. Through the use of influencers, a brand can increase consumer awareness. The concept of influencer marketing is significant particularly for FMCG brands because consumers are more likely to trust the brand when an influencer whom they trust (may be a celebrity) recommends it to them. These celebrities who have a huge number of followers can influence or convince people to buy a particular product. For instance, Cookie Brand "Oreo" utilizes Celebrity and Mega-Influencers for their Influencer Marketing. Recently, the brand created a '#StayPlayful' campaign which featured Rapper Wiz Khalifa and his 5-year-old son Sebastian. Promoting family values alongside their products will surely resonate with the brand's younger group of customers.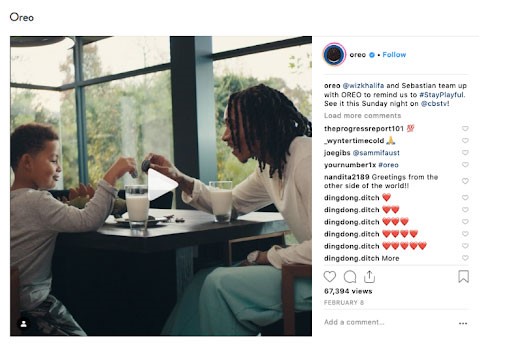 Image Source :
Instagram Stories – Instagram Stories are one of the most unconventional and fresh ideas for an online campaign. As the stories typically last for 24 hours only, there is an excitement to view them before they expire. Through the stories posted, FMCG brands can announce new product arrivals, display product images, product information and features, and much more. For instance, DOVE uses Instagram Stories to keep their customers engaged.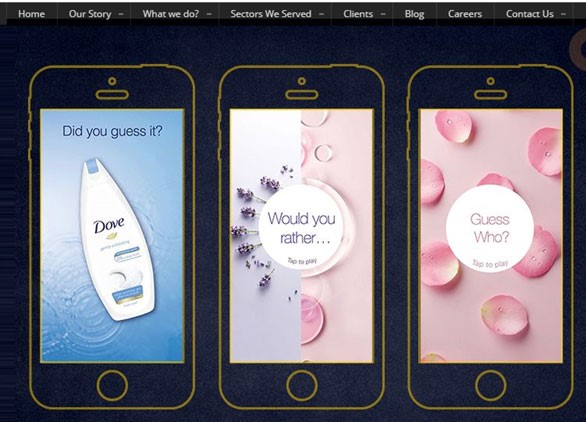 Drip Email Marketing – Drip email marketing is a unique strategy that helps personalize marketing tactics. Also known as automated emails, drip emails are a set of emails that are directly sent to customers based on a specific set of parameters. One of the most effective lead nurturing strategies, these automated emails target consumers at a number of different stages, thereby guiding them to make a purchase. This step in digital marketing for FMCG companies helps influence the consumer decision-making process. Automated emails sent when consumers abandon their shopping carts are particularly useful because it pushes the consumer to complete the purchase. For example, an email is sent to consumers when they first sign up, or when they add products to their cart (but leave without completing the purchase), or after a purchase is made and so on.
Corporate Social Responsibility – The increasing prominence of corporate social responsibility (CSR) is well understood by brands and they do not shy away from it. Showcasing CSR is one of the most effective ways to develop customer loyalty and faith. For instance, NESCAFE helps farmers by training them in irrigation, planting and land management through their online management program.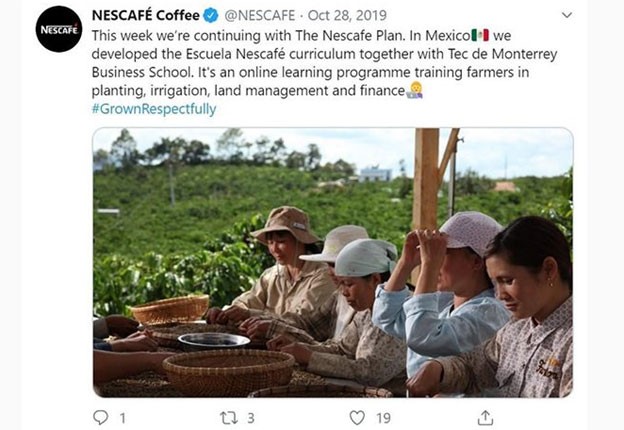 Image Source :
Effective digital marketing strategies provide a wide range of benefits for FMCG brands, including increased visibility, targeted marketing, cost-effectiveness, real-time insights, enhanced customer engagement, and increased sales. By leveraging these benefits, FMCG brands can stay ahead of the competition and grow their businesses.
Getting adapted to the new way of digital life by implementing the above-listed unique strategies can help brands stay connected with the target audience group, and keep abreast with the new digital or social marketing trends. An experienced digital marketing services company will be up-to-date with all the changing online marketing strategies for any type of business.