Search engine optimization (SEO) is an important element of any digital marketing strategy. Most digital marketing companies rely on "keyword optimization" to rank their content high in search results. The basic concept is that a higher number of keywords may help with better optimization. With an objective to increase the page rankings, most digital marketing experts tend to use the same keywords on multiple pages. Keyword cannibalization is a factor that can hamper SERP performance.
Having multiple pages about the same thing may confuse search engines and lead them to rank the "wrong" page. In fact, this strategy can backfire if website posts compete for the same keyword. Companies offering organic search engine optimization services provide several advanced optimization techniques that help websites attain high search engine visibility. Let's discuss in detail about the concept of key cannibalization, how it effects SEO, and the right strategies to address keyword cannibalization.
Understanding the Concept of Keyword Cannibalization
In simple terms, keyword cannibalization occurs when multiple pages on a website tend to target the same or similar keywords and intent, and compete against each other to hurt the website's organic performance. One of the two pages affects the other's ability to rank and as a result neither page will perform as well as it should. For example, when a person who is new to the digital marketing space want to learn more about link building and searches "link building" on Google the following are the results –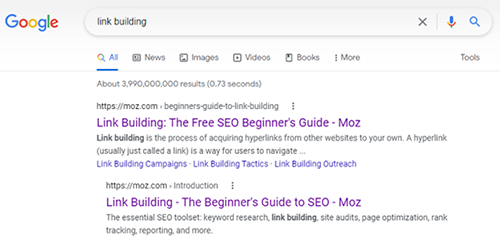 The search results are two different posts from the same website, covering almost the same subject matter. As both posts have the same keyword in the title, they will likely have the same keyword placed throughout the content, and will have similar content overall. This confuses the searchers and search engine algorithms regarding which posts are to be clicked. This in turn makes it difficult for the content to rank high and attract audience attention.
Optimizing two or more pages for the same keyword on a website doesn't mean they will rank high. However, two pages with similar keywords can harmoniously live on the same site if they have different search intent. Keyword cannibalization can cause several issues and hinder a website's performance in SERPs. Some of the more common cannibalization issues that can occur are –
Ever-changing Ranking URLs – Constantly changing ranking URLs is a common sign of keyword cannibalization and typically means Google cannot figure out which page should rank. As URLs keep on fluctuating on a frequent basis, the user's experience and path to conversion get negatively impacted, particularly when one page converts users at a much higher rate than the other.
Fluctuating Ranking Positions – Often happening excessively, the ranking fluctuation can occur due to keyword cannibalization when URLs are changing. Conflicting signals mean that the ranking position fluctuates accordingly. For example, one page has more links than another, yet there is an apparent conflict of intent and overall content quality. In such cases, the organic traffic can also fluctuate quite noticeably if one of the URLs ranks in a prominent position for a high-volume term.
The Website Could Find It Difficult to Increase in Ranking – In certain cases, even when top quality content and links get created, the website may struggle to increase in ranking. This a common problem caused by keyword cannibalization. The authority of pages is split across two or more pages, rather than one. In such cases, neither page is ranking as strongly as it could. As links are a primary ranking factor and when link authority splits across multiple URLs, this can cause even further confusion on what is ranking. If the page rank is not increasing, running a check with "Position Tracking" for cannibalization issues may help.
The Wrong URL Ranks – In certain cases, the wrong URL may rank for the target keywords. This may be a single product ranking for a keyword that you associate with a category or subcategory. Or else, this may be a piece of content different from the one that should be ranking-(may be one that was published years ago).
How to Prevent Keyword Cannibalization – Key Strategies
The key strategy to identify cannibalization issues is to locate pages that target the same keywords and fulfill similar intent. If the intent is the same, each page is unlikely to be ranking for lots of different long-tail keyword variations. So, there is usually more to gain than lose by consolidating the pages. Finding and fixing keyword cannibalization is possible, but sometimes it is better to prevent the issue than spend time and resources to fix it. Here discussed are some top strategies to prevent keyword cannibalization and improve your digital marketing plan –
Create a Targeted Keyword Strategy – One of the best ways to prevent keyword cannibalization is to improve targeted keyword strategy. This signifies optimizing different pages to target different keywords and search queries.
Therefore, instead of having five pages competing for the search query "SEO tips," you can optimize each page for a similar but separate query like "digital marketing strategy," "marketing techniques," "SEO for beginners," and so on. In this way, you can stay on topic while offering different content for various search queries relevant to the industry. Some of the paid and free tools that can be used for keyword research and planning include – Moz Keyword Explorer, Google Trends, Ubersuggest, Answer the Public, and Google Search Console.
Track Keyword Rankings and Performance – Creating a keyword strategy is not enough. After identifying the top keywords, it is important to track their performance over time. Consistently tracking keyword analytics will help understand which keywords are ranking, which ones have too much competition, which may be caught up in cannibalization, and which ones need a boost. Keyword rankings, performance, and other analytics can be tracked directly through website analytics tools. Keeping track of this data and using it to tweak keyword strategy help avoid keyword cannibalism or fix it when it happens.
Focus on Topics First – In certain cases, keyword cannibalization occurs when marketing teams become more focused on optimizing keywords than creating content around relevant topics. When focusing on keywords, there are chances that topics and content quality get compromised. Try to find topics that the prospective audience group are interested in and direct the resources in that direction. This will help build audience loyalty, attract new readers, and establish brand authority in the industry. In order to find relevant topics that a reader may be interested in –

Conduct surveys
Reach out to loyal long-time readers for ideas
Offer giveaways in exchange for audience opinions
Hold social media polls
Ask for feedback
In addition, using tools like Quora, Google's "people also ask" feature, and Reddit can help find what people within the target demographic are talking about. Upon incorporating these ideas, the quality of content will improve significantly and expand organic reach without having to rely strictly on keywords.
Perform Regular Content Audit – Performing content audits on a regular basis help analyze whether the content published is still in line with the readers' interests and digital marketing goals. The content audits performed should confirm whether the topics used in the content are relevant, the information posted is up-to-date and the statistics are correct, the keywords used are prioritized, and whether the topics and keywords best meet the marketing goals.
Create Comprehensive Pages – In certain cases, some topics can seem to be too complex to cover in a single blog post. Therefore, the content teams decide to break it down into several sub-posts. For instance, "how to make money blogging" is a complex topic, as you can find multiple posts addressing different parts of the subject. A quick Google search with the question "how to make money blogging" immediately brings in three different results. One link may discuss blogging for beginners, the second may talk about monetizing blog in 2021, and the third may address the time concerns of monetizing a blog.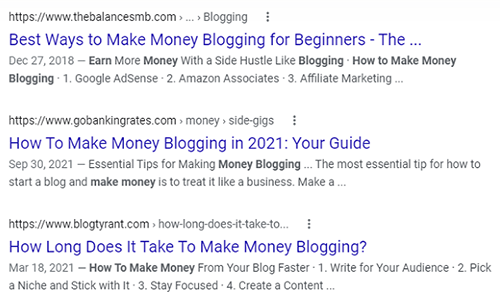 Image Source:
As most of these topics tend to address overlapping concepts, it creates a lot of unnecessary competition. In addition, as most rank for a similar search query, it creates keyword cannibalization. This can be avoided by creating one single comprehensive page addressing all the relevant subtopics. Instead of posting a separate blog post for every question the audience could potentially refer to a single page. This is quite relevant from an SEO point of view as it helps target long-tail keywords, add relevant headers, and include multiple search queries on a single page.
Reworking Internal Linking Structure – You can fix cannibalization issue by reworking the internal linking structure (especially when using exact match anchor text that points to different pages). Reworking internal links helps ensure that these are set up correctly and point to the right page (not a cannibalized version). Follow this approach in combination with cleaning up pages that compete for intent to see better success.
Merging and Consolidating Pages – When you have two or weaker, but competing pages cannibalizing one another, it is better to merge and consolidate them into a single page. This involves creating one substantial page with the help of multiple weaker ones. Generally, this is the best approach to follow when you have one clear primary page being a standout, having links pointing to it, or receiving traffic when you can't identify a primary page. This may also mean you need to freshen up the content to improve the final page. It is important to ensure that 301 redirects are put in place for any pages deleted or URLs changed to pass over any ranking signals. 301 redirects help to link all the pages that are less relevant to an authoritative page. Use 301 redirects only in situations where pages have similar content and match specific search queries.
Re-optimizing Pages – In certain cases, it is possible to inadvertently cause cannibalization at the metadata level simply by not optimizing for keyword variations. For instance, an ecommerce store website may feature a product in three different colors. Even though the product pictures are different, it is common to see product variations on unique URLs with the same title tag and H1 tag. In such cases, it is important to re-optimize each variation's page to target more clearly and resolve cannibalization issues. Simply re-optimizing posts may not be enough to fix keyword cannibalization. In such cases, consider deleting some of the overlapping content.
Earlier, stuffing relevant keywords and using the same keyword for multiple pages was considered an important strategy that helped content rank high in search results. However, with changing times, this strategy no longer works or brings the desired results. On the other hand, ranking multiple pages for the same keywords and search queries forces pages to compete against each other, thereby affecting a website's organic performance.
Now, it is better to focus on targeted keywords (for specific posts), prioritize topics over keyword stuffing, and create comprehensive landing pages in place of mini blog posts. This can potentially help improve ranking on the search engine results pages and improve the organic reach of the page.
In short, identifying instances of keyword cannibalization as early as possible can help improve the website's ranking, performance, and traffic. This is where an SEO outsourcing company in NYC can be of assistance.