Social media is an ideal platform for businesses as it helps users to develop their brand, improve brand visibility and attract more consumers through building relationships and communicating with potential customers. It increases the chances of people who might have never heard of your company recognizing your product/service more often, and this makes social media platforms ideal to improve their services. Recently, Pinterest, the trending visual content-based social media platform, announced that they are launching new ways for Creators to build their business and earn money on Pinterest.
New Ways to Build Business and Earn Revenue on Pinterest
The second largest social network online – with over one billion users worldwide – Pinterest is rolling out new ways for Creators to build their business and earn money on its platform. The new ways include:
Shoppable Idea Pins
Earn commissions through affiliate links
Partner with brands on sponsored content
This free social network – where users share their interests in the form of images and videos – provides Creators the ability to build and grow their audience in a positive environment.
Shoppable Idea Pins
With the latest launch, Pinterest makes Idea Pins – which were introduced this past May – shoppable. That is, being a massive catalog with hundreds of millions of Product Pins – uploaded by businesses, assimilated through a partnership with Shopify, and saved by Pinners – Pinterest users can now turn idea pins into shoppable pins.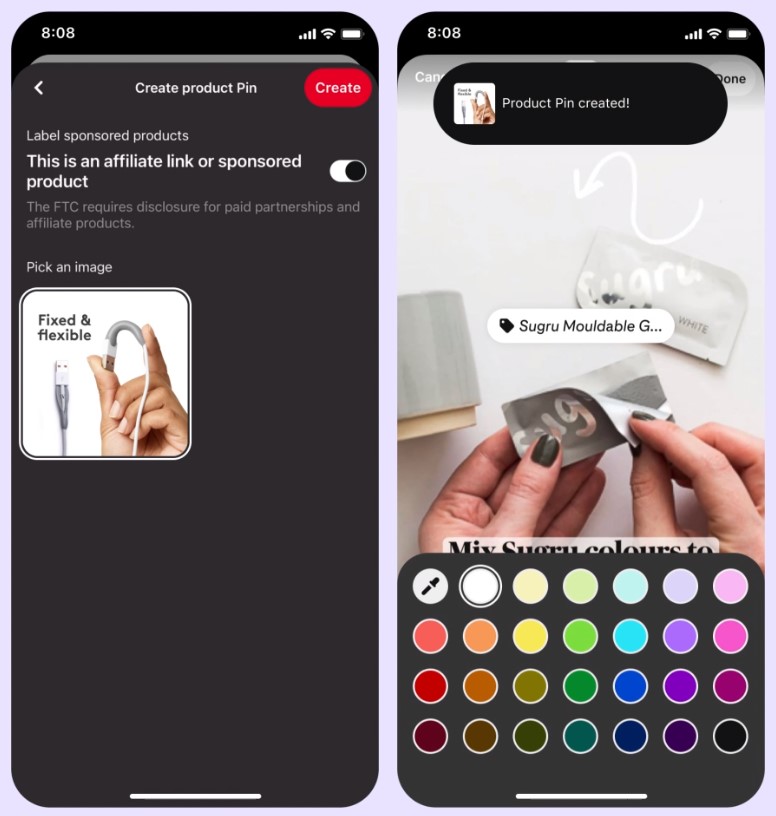 ImageSource:https://newsroom.pinterest.com/sites/pinnews/files/mp4/2021-07/Idea_Pins-Product_Tagging-Creator_View-Branded-3×2-lav-EN.mp4
Idea Pins are a Multi-page Video Format
Available to anyone with a business account in the US, UK, Australia, Canada, France, Germany, Austria and Switzerland, Idea Pins were introduced to help anyone with a business account to create inspiring content, interact with their audiences and to build more engaged communities directly on Pinterest. This multi-page video format which is an evolution of story pins behaves in a similar way, but doesn't disappear after a set period of time. It makes it easy for creators to publish high quality, long-lasting, savable content directly to its platform.
Majority of people come to Pinterest to shop, and that tendency increases with Idea Pins. According to Pinterest, Pinners are 89% more likely to exhibit shopping intent on products tagged in Idea Pins than on standalone Product Pins.
Idea Pin creation includes:
Video recording and editing for up to 20 pages of content
Voice over recording allowing creators to add their own personal voice
Music selection by Epidemic Sound
Ghost mode transition tools
Detail pages for instructions or ingredients
Interactive elements such as people tagging and stickers
Multi-draft save
Export options that allow to share content beyond Pinterest
Topic tagging
The Creator Code – Pinterest content policy that is designed to keep the platform in a positive and inspiring place
With shoppable Idea Pins, Creators can now tap into the catalog and connect that shopping intent by tagging specific products in their own Idea Pins. Pinners can now shop right from their favorite Creator's Idea Pins and go from inspiration to purchase.
For instance, Creators such as Olive+ Brown, Fall for DIY and UnconventionalSouthernBelle are already making their content shoppable and helping their audiences make inspired purchases through shoppable idea pins.
The Idea Pins product tagging tool is being launched to all business accounts in the U.S and UK. The company will make it available to international creators over the ensuing months.
Earn Commissions through Affiliate Links
Creators can now earn money on the platform through affiliate links. That is, when people buy a tagged product from an idea pin, the creator who posted it will earn a commission.
Partner with Brands on Sponsored Content
As many Creators have established partnerships with brands and want to highlight their branded content across Pinterest, the company is introducing in beta a new paid partnership tool that allows Creators to disclose their paid partnerships.
Creators with existing brand partnerships who are creating branded content will now be adding the brands directly in their idea pins. Once the brand approves the tag, the Idea Pin will include a "paid partnership" label which will make it even easier for Creators to disclose partnerships with brands and use their expertise to connect with Pinners authentically. This option is live at present for selected Creators in the United States, UK, Australia, Canada, Ireland, New Zealand, Spain, France, Italy, Germany, Switzerland, Austria, Sweden, Brazil, Mexico, Argentina, Chile, Colombia and Peru.
Being the place where Creators with inspiring and actionable ideas get discovered, the latest update empowers Creators to reach millions of shoppers on the platform and monetize their work. However, ignoring the latest ways won't help for effective social media marketing and it can affect your business. So, be very careful and stay updated while handling social media marketing. You can also hand it over to an experienced provider of social media marketing services because such reliable services stay updated with all new features and can help you implement a better, winning marketing strategy.