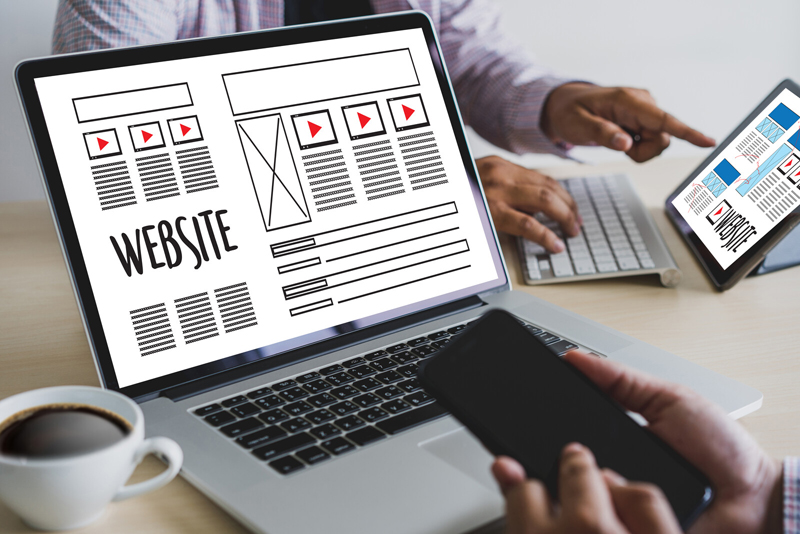 An experienced hand in medical website design and SEO, MedResponsive has proudly announced the launch of the redesigned website for MOS Medical Record Reviews.
A service by Managed Outsource Solutions, MOS Medical Record Reviews is experienced in providing medical review solutions for diverse clients including the legal community, insurance companies, physicians, and private corporations among others.
Here's what our team did to redesign this client website.
Made the Site Responsive with WordPress
Though this client's old site was responsive, it was a static HTML site. So our team designed this new one responsive built with WordPress. Unlike HTML website, WordPress will let the users to access all the underlying code to the site, making code-free content management easy.
WordPress allows creating a simple website structure for users and most WordPress templates include a homepage with a navigation bar that links to the various pages on the website. Its layout also makes it easy for a website user to look for what they need and click through to the page.
Drastic Changes in Home Page
Compared to the old site, major changes were done in the home page.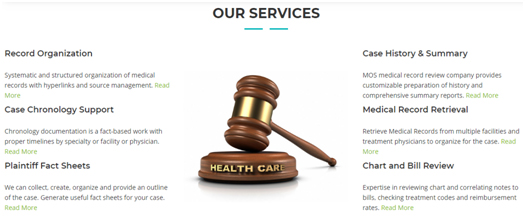 With new page layouts, all the main services provided have been highlighted in the home page.

The home page also highlights MOS' expertise in serving diverse legal entities as well as their clients.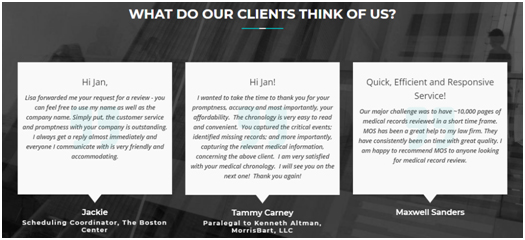 Client success stories are also highlighted. Under Success Stories, website visitors can see how diverse legal clients are benefiting from the reliable medical record review services MOS provides.
Improved Navigation

A lightweight theme was created, as that can improve navigation and page speed for this website.
Engaging website layout and user-friendly navigation structure will help readers find what they want in the website without spending much time.
This new website also offers a variety of enhancements including secure browsing (HTTPS) and improvements to speed and design.
Social Media Icons

Our web designers placed social media icons on the header and footer to improve online visibility. An Instagram feed was also embedded in the home page which will be updated with recent images. This will expand our client's social media reach.
New Sitemap
The newly redesigned sitemap has drastically improved user experience. This sitemap also organizes the site, helping users and search engine crawlers to find pages not accessible through links on other web pages.
Case Studies Section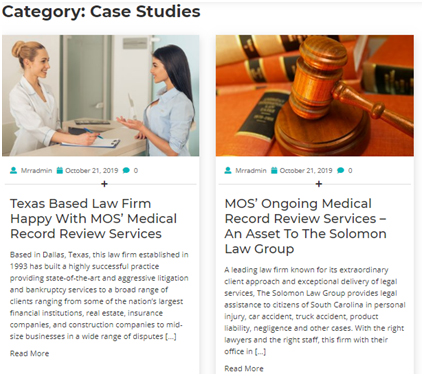 We have added clear case study pages, which will instill more trust regarding our solutions in our potential clients. Case studies also help users meet our past clients, learn their issues and the solutions provided.
Quick Contact Form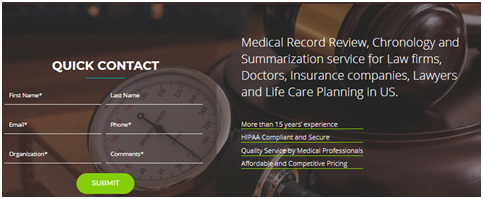 Along with a dedicated Contact Us page, a quick contact form was added for the readers to reach the company as soon as possible.
Podcast Section
A podcast page was added, which includes a series of informative podcasts from MOS' management team. Podcasting allows the company to communicate with their captive audience, and thereby establish authority in the medical review industry.
Reworked Old Pages with Fresh Content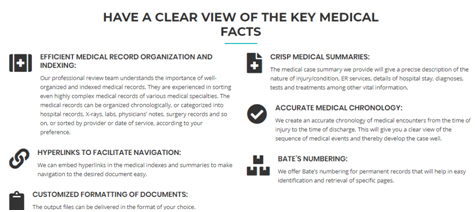 Each page was reworked by our copywriters to include information-rich content with clear visual cues and graphics. The content is written in plain language, which is easier to understand and evaluate.
Our development team has tested the site's browser compatibility and device compatibility. Website readers can also benefit from customized Content Management System, user-friendly pages and social media integration. Along with medical website design services, we are also providing MOS with medical SEO solutions that can highlight their website in the major search engines.