Just like customers in any other industry, patients are also relying on search engines to choose healthcare providers and services. If your medical practice isn't optimized for local search, you could be missing out on your potential patients. A local SEO strategy is a key component of medical website marketing, which helps your healthcare practice to be easily found by patients and thus get faster access to care.
Google requires healthcare websites to follow more stringent quality standards, as they fall under YMYL sites (Your Money Your Life) category. Here are some tips your practice can consider to attract local audience.
Stay Active on Social Media and Patient Review Sites
Social media is a powerful tool to grow your practice. Just creating an account on all social media platforms will not be enough, as most patients seek information about you here. Active presence will build trust in potential as well as current patients. Also, post engaging content such as your patient's experience with your practice with their permission, educational information and more.
Patients often look for online reviews to learn more about a healthcare provider and the practice. According to the 2017 BrightLocal study, almost 90% of people who search online are influenced by positive online reviews as much as personal recommendations. Stay active on healthcare industry- related review sites such as Healthgrades, Vitals, RateMDs, and others.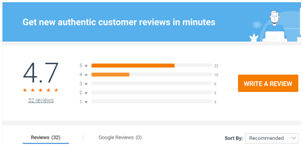 source:https://reviews.birdeye.com/park-avenue-smart-lipo-148167347212042
Also in your website, make sure there is a space where patients can review you. Add buttons like "Give Your Feedback" or "Review Us". This will encourage regular patient reviews.
Add location pages on website

Even if you serve in multiple locations, include those location pages in your website. Make sure that these location pages have a simple URL, includes your practice's name, address, and phone number, and a unique description about your services in the "About Us" section. A Google Map in the page helps your patients find your location fast. Also check for any broken links, outdated pages, or loading speed issues in your mobile-friendly website, which may result in increased bounce rates and lower rankings in local search results.
Consider Voice Search Results and Local Ads
Local Services ads help you connect with people who search on Google for the services you offer. Your ads will show up for patients in your area. Now Local Services Ads operate on the desktop and in mobile results. A recent Search Engine Land article has clarified that local ranking in Google Home voice search results is based solely on organic relevancy- it's not paid advertising.
Make sure to optimize your content and website with location based keywords such as "Chiropractor in Brooklyn", because if a patient searches for "Chiropractor" via voice search, Google Assistant provides options to confirm their location. In such a case, if location is not added your website will not be highlighted in Google search results. Tools like Google Keyword Planner or others can provide suggestions on new keywords to target. Also use Google My Business insights to find keywords patients are already using to find your location and optimize those keywords. Try to choose non-brand keywords of less competition and use them in the title as well as Meta tags.
Update your Google My Business page (GMB)
Make sure that your Google My Business pages are up to date with accurate details such as NAP details – your practice's name, address, and phone number, correct visiting hours and clinic hours and images of your facility and staff. Ensure those images are sized between 10KB and 5MB and have a minimum resolution of 720px x 720px.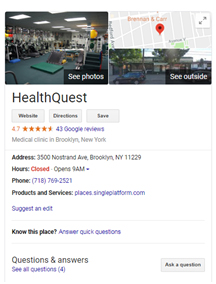 Also, manage and respond to patient reviews in GMB pages next to your listing in Google Maps and your business' Knowledge Panel in search results, as positive reviews can have a positive effect on potential patients when researching your services. GMB also provides bulk insights reports on how patients find your listings such as Total searches, Direct searches and Discovery searches.
Medical practices can consider benefiting from healthcare local SEO services provided by an experienced SEO company that strives to provide tangible results including high ROI. Make sure the team you are partnering with is also familiar with the localized Pay per Click (PPC) campaigns.