Are you looking for innovative company branding efforts that help connect with the target audience groups?
The concept of giving certain amount of marketing control to customers seems to be alarming to certain companies. In fact, disappointed or dissatisfied customers can badmouth a company as they simply don't approve their return policy. Finding the right advertising brand and creating brand affinity can help customers choose over competitors. A well-defined "User Generated Content (UGC)", is a far more accepted and trusted tool that a business can leverage to enhance its marketing and outreach efforts.
Incorporating quality and interactive content can improve business reach, engage and convert customers by addressing their unique business challenges and needs. It also helps showcase their level of expertise within the industry and make people aware of the value offered to customers. A professional digital marketing services company will use its individual expertise and experience to generate right and valuable content, build relationship with customers by offering them valuable information related to products or services. Experts also keep track of the latest trends in content marketing to deliver quality solutions.
What is User-Generated Content (UGC)?
Also known as consumer-generated content, UGC is original, brand-specific content created by customers and published on social media or other channels. Much more than customer reviews, UGC encompasses a variety of activities and comes in many forms, including images, videos, reviews, live streams, blog posts, YouTube content, social media content, a testimonial, or even a podcast. Before getting in to details about UGC, here are some key statistics that can be considered –
90 percent of consumers say that UGC holds more influence over their buying decisions than other content, such as promotional emails and search engine results.
92 percent of consumers will trust a recommendation from another person over branded content.
48 percent of customers say that user-generated content is a great way for them to discover new products.
84 percent of consumers say they trust online reviews as much as in-person recommendations.
Regardless of their size, brands can use user-generated content to drive awareness, increase conversions and social engagement, expand their reach, and cost-effectively grow their business. User-generated content come from different sources like – employees, customers, brand loyalists, advocates, or fans and UGC creators (someone who creates sponsored content).


Image Source:
What is the Significance of User-Generated Content?
Used across all stages of the buyer's journey, UGC can help influence engagement and increase conversions. The customer-generic content can be used across social media and other channels, such as email, landing pages, or checkout pages. Here discussed are some key points about the importance of UGC –
Takes Authenticity to the Next Level – As fierce competition exists among brands for grabbing audience attention, buyers are more selective about the brands they interact with and purchase from. Reports suggest that 60 percent of marketers agree that authenticity and quality are equally important elements of successful content. In fact, there is no other content type that is more authentic than UGC from customers. Never fake user-generated posts or campaign as audiences will quickly discover the false sentiment, which could seriously damage the brand reputation. Instead, always ensure that UGC comes from one of three cohorts – customers, brand loyalists, or employees.
Acts as a Trust Signal – Reports suggest that 93 percent of marketers agree that consumers trust content created by customers more than content created by brands. This signifies that UGC is the perfect format for businesses to level up their trust score and brands need to work harder to establish trust among customers. Besides the authenticity of user-generated content, this kind of material shows that other people use your products. Audiences turn to UGC as a trust signal in the same way they would ask their friends, family, or professional network for an opinion.
Increase Conversions and Influence Purchasing Decisions – It is estimated that there is a 29 percent increase in web conversions when websites features user-generated content. User-generated content is incredibly influential in the final stages of the buyer's journey, where planning to to convert the audience and influence them into making a purchase. UGC acts as authentic social proof that the product is worthy of buying. A common example is Amazon, where anyone can post a review of a product on its page-and a lot of other eCommerce sites do this.
Adaptable and Flexible – UGC can be used off social in other marketing campaigns, making the strategy an omnichannel approach. UGC images can be added in an abandon cart email to help push the prospective buyer to make a purchase or add user-generated content to key landing pages to help increase conversion rates. For example, Calvin Klein created a landing page just for UGC content. By showing real examples of customers styling their Calvins, shoppers see other consumers endorsing the brand and showcasing how the products look on actual humans instead of overly styled models.
Works Well with Social Commerce – The future of online shopping is social commerce. The main draw of social commerce is that it allows audiences to convert natively within a social media app, rather than going off-network to complete a purchase. UGC and social commerce work well together as UGC is influential in driving conversions. Nearly 80 percent of people say that UGC impacts their decision to purchase, making user-generated content and social commerce to work together.
How to Build User-Generated Content – Tips
No matter their size, brands use user-generated content to build awareness, increase conversions and social engagement, expand their reach, and cost-effectively grow their business in the long run. Although it is increasingly popular and highly effective medium, it is extremely important to maximize the user-generated content as more and more companies are using UGC-based advertising. Here discussed are some important tips on how to build user-generated content –
Always Request Permission – Always ask consent to share content before republishing or using a customer's content. When you ask permission, you show that you appreciate their content and get them excited about sharing their post with your audience. It may also help avoid copyright issues. People may use branded hashtags without necessarily knowing they are being tagged to a user-generated content campaign. Re-sharing that content without explicit permission can impact brand goodwill.
Get Reviews with Images and Videos – People who regularly check reviews with customer photos and videos are one of the highest-converting segments of visitors. In most cases, incentivizing customers like – a simple discount or gift card can help provide reviews. Make sure that the reviews are true, honest, legitimate and relatable.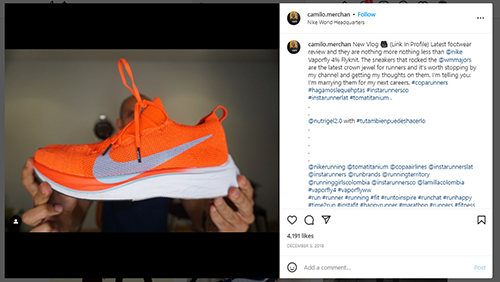 Image Source:
Give Credit to the Original Creator – Make sure to give credit to the original creator when sharing user-generated content via social media channels. Providing proper credit is an excellent way to recognize the work of content creators and helps make sure they stay excited about using and posting about the brand. This includes tagging them directly in the post and indicating whether you are using their visuals, words, or both. In addition, it also makes it easy for fans and followers to verify that the content truly was created by someone outside the firm.
Be Clear About the Content – UGC creators want to share their content meaning they want you to tell them what kind of content you are most likely to share. It is estimated that 16 percent of brands offer clear guidelines on what kind of user-generated content they want fans to create and share. But, more than half of consumers want brands to tell them exactly what to do when it comes to UGC. Therefore, being specific makes it easy for people to share content that fits your needs.
Create Dedicated Pages for UGC – Businesses can leverage free tools such as YouTube, TikTok and Instagram to create unique channels or pages for their users to easily post user-generated content such as videos, testimonials and images. Using a content marketing engine that can then automatically distribute these across multiple social media channels can help increase the effectiveness of the content.
Build a Customer Loyalty Program – Brands can leverage user-generated content to build a customer loyalty or appreciation program. This includes giving away free swag to customers who have shared repeat buys of their favorite product or offering a discount for a future purchase to customers who have shared an honest review. This helps in creating a strong feeling among customers that the brands they engage with really value them and their opinion.
Engage with a #Hashtag Campaign – Starting a hashtag campaign (especially if you are promoting a brand on social media channel) is an excellent way to engage with customers. Start the hashtag campaign by asking customers to share images of your brand as this can create a real buzz by challenging your community with a contest-based approach. This tactic encourages people to promote your brand through word of mouth advertising and shows them that you are receptive which in turn will help build trust.
Add Customers Social Media Posts – Social media is bursting with user-generated content. If your brand has got a community following on Instagram, Twitter, Snapchat, or Facebook, use and share their images and posts of product to promote your brand. This is a powerful and authentic approach, showing real people in action with your product, and all you have to do is share it. Use an image that showcases your brand in your advertising campaigns.
User-generated content (UGC) is a very valuable tool for marketers, especially as customers love to hear from their peers. By leveraging UGC, most companies can expect to see an increase in brand awareness, site visits, sales, and more. However, following the above-mentioned guidelines can help ensure UGC reaches its full potential without creating liability for the company. Creating a good UGC content strategy requires a significant amount of time, effort and resources. Organic SEO companies can help you develop quality content strategies that can attract target audiences and boost brand image.
One of the professional SEO companies in the US, MedResponsive is focused on delivering customized SEO services that help businesses improve their online presence and increase revenue.

Call (800) 941-5527 and schedule a FREE consultation with our senior solutions manager