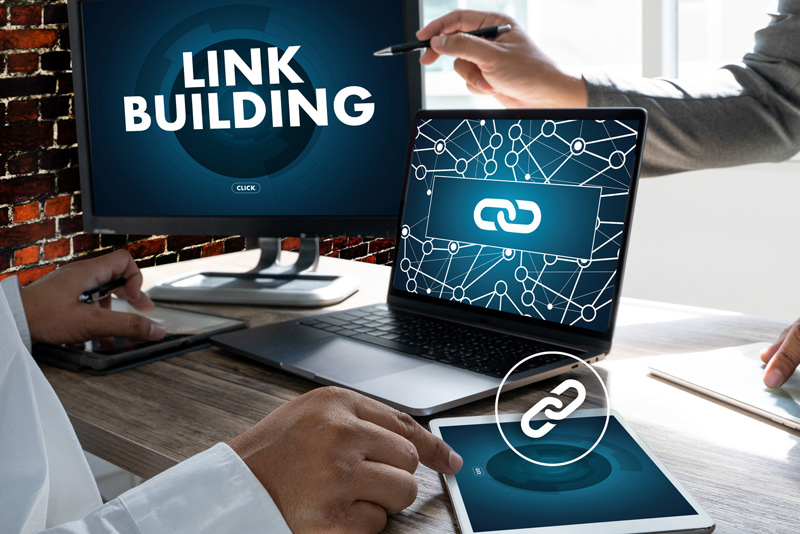 Are you an SEO agency engaged in providing search engine optimization for your client websites in a practical and affordable way? Link building is one such service you need to provide your clients who may not have the knowledge or resources to do it on their own. If you are focused on ensuring superior quality services to your clients but do not have sufficient in-house resources to meet your objectives, consider outsourcing link building companies like us.
With Search engine optimization (SEO) being a balancing act, you need a wide range of tools to support the overall optimization goals of a website. Building high-quality back links is one of those tools used to improve a website's online presence. In fact, search engines pay attention to the authority and relevancy of a website through backlinks. White label SEO link building is a unique and practical way to build links and increase the domain authority of a website.
However, before implementing this unique SEO link building technique, it is vital to analyze and understand the importance of this technique and its overall impact on the SEO health of a website.
What Is White Label SEO Link Building in the First Place & How Can It Help?
In simple terms, white label link building is a process wherein an SEO service provider builds backlinks for other SEO agencies. The SEO service sends an unbranded report – known as a "White Label Report" to the agency. Of which that agency can then brand it as their own.
By opting in for white label link building services, The white-label service provider will provide full ownership of the links built to the SEO agency.
One of the notable benefits of this unique link building technique is that it offers SEO agencies a unique and affordable platform. This enables businesses like yours to expand their business without making huge investment; thereby accomplishing client requirements without missing a step. An SEO agency that is having difficulties to expand its services, and is struggling to attain high quality links, may benefit in the following ways –
Deliver High-Quality Back Links – When it comes to SEO, a clear distinction between white-hat and black-hat practices is essential. A reputable white-label link building partner needs to make sure that the practices they undertake to build links are 100 percent white-hat. Using tactics like, niche relevant email to guest posting outreach methods are just a few ways of building high-quality, authoritative content links.
Cost-Effective – In-house SEO experts are very costly to maintain. Hiring the services of a reputable SEO company you'll have the added bonus of having experts delivering quality work as per your request while saving on costs in the long run.
Meeting Deadlines – Outsourcing link-building services to a white-label agency ensures that your work deadlines are effectively met in time. Reputable SEO agencies may have a dedicated team of experts specialized in offering organic search engine optimization services that help in outreaching and acquiring links from niche-specific bloggers with utmost relevancy.
Satisfy Clients and Build your Brand – One of the key benefits associated with this link-building technique is that your brand name gets mentioned in every report you get from them. This will help build brand awareness and take brand portfolio or reputation to the next level with satisfied clients. Satisfied clients will share positive reviews, making it easy to attract more clients thereby growing the business in the long run.
Outsourcing White-label Link Building – Finding the Right Partner Is Crucial
Obviously, this part is critical. The prominent role of link building in today's business environment cannot be overlooked. Earning the right links can literally build or break a website. But convincing clients to invest their resources in a method that can appear quite elusive can be a real challenge. Therefore, if a company is not planning to build links for their website themselves, it is incredibly important to partner with a SEO service provider who is not just competent, but also ethical in their approach. Reputable SEO service providers always try to blend highly customizable link building service to provide high-value SEO results to multiple clients.
One of the implicit benefits of outsourcing white label link building is that the clients do not know who is actually building their links. Building quality links for a website requires selecting a reputable and trustworthy outsourcing agency. The complete link building process followed by the SEO agency will clearly get reflected in the final results which in a way may affect their brand reputation. There are several reliable and professional SEO and digital marketing agencies out there, but that doesn't mean that link building is the main focus of their expertise, as no one can be expert in every aspect of online marketing. Here discussed are some key points to focus on before hiring a white-label SEO link building service –
Seek Help from "Google" – Start by heading to Google to search for an agency that can help with the task of link building. Simply start with specific keywords like – "white-label SEO link building agency or company" or "white label link building services" by adding an adjective like "best". For instance, if you are looking for an SEO company or provider in a specific country or city, say for example in Long Island – you can begin your search by using terms like –"White label SEO link building company in Long Island". Adding a location tag to your search may help further filter out the search engine results.
As Google always provides genuine results, the websites that are ranking on page one for these keywords obviously know how SEO works. In addition, they may have used the best tactics to rank their own website for the top positions and this will give you a good indication that they know what it takes to build high-quality links. Once a complete list of the potential outsourcing partners becomes visible, it is possible to choose one that can be trusted.
Analyze the Link-Building Process – An important way to analyze whether an SEO agency can be trusted is to follow the link building process. In most cases, agencies may have listed the link building process in their websites as this would determine the trustworthiness and transparency in their link building process. Agencies that do not disclose the process they follow are more likely to be following unethical practices. Therefore, it is better to strike off those agency names from the prospective list and proceed to the next one. Preferably, it is important to exclude the white-label link building agencies that use link building practices like – paid link insertions, private blog networks (PBNs), publishing links in spammy blog comments, and curating low-quality or spun content for guest posting.
Review Previous Customer Testimonials – Reviewing the feedback of previous customers is an excellent strategy to assess the trustworthiness of an SEO agency. This may generally comprise testimonials that they have listed on their website as well as the reviews they have on other forums and directories. In addition, you can request the contact details of their previous clients and if possible reach out to them directly to know how they rate their experience of working with the agency.
Check the Links Previously Built – Going through the website portfolio of the selected SEO agency in detail is another important way to make sure whether they are trustworthy. Look for case studies on their website or other related blogs. Analyzing their portfolio to evaluate the links they have built for their own website and analyzing how they made it to the top ranks is a good tactic. A reliable and trustworthy, white–label, white–hat linking building agency will have ample links supporting their website content. Track their competitors and compare their link profile as this would definitely give a clear idea about their level of competence and help narrow down your level of research.
Check the Current Link Building Tasks– If all the above-mentioned steps are correctly being followed, you can create a neat list of the top reputable link building SEO agencies. However, this alone won't bring in the desired results as it is important to check their current link building tasks. After hiring a reputable SEO agency for building links, it is important to monitor the links they are building for their clients. Reliable SEO agencies offer a user-friendly dashboard or submit a complete white-label report that can be used to analyze the quality of the links they are building.
Even though link building is a prominent factor in SEO ranking, it's also complex and a time-consuming task. If done correctly, finding a quality white label solution for your digital marketing campaigns can be a worthwhile partnership.
Quality white label link building services offered by a reputable SEO company in US can help improve website visibility and ensure client satisfaction.
Taking chances when hiring white label link building SEO agencies is not a viable strategy as the agency you hire ultimately represents your brand. Therefore, choose the quality of work that'll deliver, the best service for your clients.