Amazon is one of the finest ways for sellers to generate sales quickly and increase brand awareness because it is the third most popular advertising platform after Facebook and Google. As a result, companies are now using the service of a digital marketing services company to incorporate Amazon PPC campaign into their marketing strategy.
What Is Amazon PPC and How Does It Work?
Pay-per-click (PPC) advertising on Amazon's advertising platform is known as Amazon PPC. In contrast to traditional advertising, PPC only charges advertisers when a user clicks on their ad. Sellers can utilize Amazon Advertising to increase sales, brand recognition, visits to Amazon Stores, and other things.

Source: advertising.amazon.com
Pay-per-click (PPC) advertising on Amazon is all about spending money to distinguish your brand from those of your rivals on the biggest online marketplace in the world. It is sometimes viewed as a temporary or pay-to-play method of getting your goods in front of the consumers. However, if you invest money in Amazon PPC with a long-term strategy, it may also help your organic placements in addition to gaining more clicks and sales from other merchants. Here is how it works:
A customer looks up a "frying pan" on Amazon.
All relevant adverts for the term "frying pan" are compiled by Amazon.
The auction is won by the ad with the highest bid.
Amazon shows the winning advertisement.
Consumer clicks on the winning advertisement.
The second-highest bid is placed by the winning advertiser.
Many vendors are interested in Amazon because of its second-price auction model. With a second price auction, the winning bidder doesn't pay their winning bid. Instead, they pay the bid of the second-highest bidder.
Ads That You Can Use for Amazon PPC
Sponsored products
Amazon ads for promoting a single product are called Sponsored Products. Advertisers target consumers with these advertising by using keywords. To attract customers looking for a new frying pan, a seller might, for instance, target the keywords "frying pan" and "stainless steel frying pan."
Those listed below are eligible to use sponsored products:
Experienced vendors
Vendors
Book retailers
Kindle Direct Publishing (KDP) authors
Agencies
In order to qualify as a Sponsored Product, products must also fulfil a number of standards. They need to fall within one of the advertising categories and be qualified for the Buy Box. Adult, used, refurbished, and closed category products are the only categories that are prohibited from using Sponsored Products. It if found in the following locations on Amazon:
Top of search results
Alongside search results
Within search results
Product pages
Sponsored Brand
Up to three products and an Amazon Store are promoted by sponsored brands. Advertisers utilize keywords for Sponsored Brands to target customers, just like they do for Sponsored Products.

Sponsored Brands can increase product sales and brand recognition among consumers who are considering their purchase options. Sponsored Brands may be utilized by the following parties:
Expert sellers participating in the Amazon Brand Registry programme
Vendors
Book vendors
Agencies
The following product categories cannot be advertised through Sponsored Brands and must be brand-new products:
Adult
Used
Refurbished
Additionally, Sponsored Brands are unable to advertise goods in closed categories.
The following places on Amazon can display Sponsored Brands:
At the top of the search results
In addition to search results
Findings from a search
Both desktop and mobile devices can display these advertising.
Sponsored Display
A single product is promoted by Sponsored Display. Advertisers can target consumers using an Amazon PPC ad based on their buying behaviors, such as purchases or products viewed. In Sponsored Display, no keywords are used. Instead, it uses automation and machine intelligence to increase sales of the marketed goods.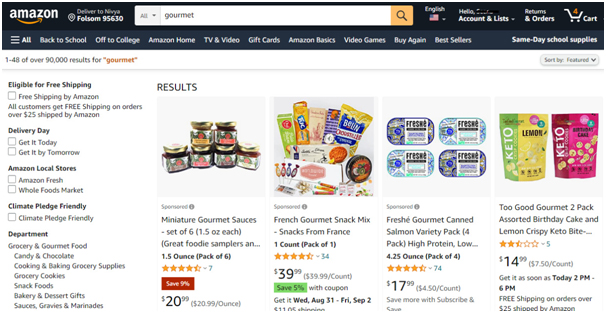 Those listed below are eligible to use Sponsored Display:
Professional sellers who have signed up with Amazon Brand Registry
Vendors
Agencies
Sponsored Display ads cannot promote items that Amazon has banned, such as:
Adult goods
Alcohol
Prescription medicines and equipment
Weapons such as airsoft guns, fireworks, and pepper spray
Sponsored Display advertisements may be seen in the following places:
Unauthorized websites and apps
Product-specific or related pages
Your chosen targeting will determine where your Sponsored Display adverts appear. For instance, your advertising will show up on product detail or related pages on Amazon if you choose to target "Interests." This is so that you can target individuals who have expressed an interest in product categories related to the one you're promoting by using the "Interests" feature.
How to Start Your PPC Campaign
Select the products you want to promote: Prior to anything else, choose the products you'll be promoting. You will probably choose a few different things to advertise, whether you're making a Sponsored Products, Sponsored Brands, or Sponsored Display. If you are starting a Sponsored Brands campaign, consider how your items will complement one another to increase clicks and revenue. You can choose your products based on a few variables, such as: Sales of the product, ranking, and popularity.
To increase brand awareness, you might, for instance, promote a hot selling product in a Sponsored Brand ad. You may also use Sponsored Products to advertise a brand-new, low-ranking item from your business.
Keyword research: If you're putting together a manual campaign, do your keyword research after choosing your products. You can choose to build manual or automated campaigns when you advertise on Amazon. With automated campaigns, Amazon automatically gathers keywords for your ad to target based on your product. In contrast, you must specify the keywords for manual marketing.
Amazon advises starting with automated campaigns before switching to manual ones. Use a program like Keywords Everywhere or Sonar to find keywords worth targeting if you wish to conduct your own keyword research and compilation. You can use these tools to find out the monthly search volume, average CPC, and search competition for Amazon. Make sure the keywords you choose match your product and the search intent while doing keyword research. For instance, if someone searches for "non stick frying pan and you sell stainless steel frying pans, you shouldn't use that keyword as a target.
Improve your product listings: You should optimize your product listings regardless of whether you want to use automatic or manual marketing. Making the most of your advertising campaign budget is possible with search engine optimization (SEO) for your product listings. Don't neglect this step because it will aid your efforts to rank better in Amazon's organic search results. Incorporate the keywords you gathered in the previous phase into your product's title, description and features.
You should also verify your product photos and copy in addition to these product components. Make sure your product has high-quality pictures that show it both on its own and in use. The advantages and applications of your product should also be emphasized in your content, along with any pertinent details like whether your product is covered by a warranty.You can start creating your Amazon PPC campaign as soon as you've finished optimizing your product listing.
Start your first campaign by taking the following preliminary actions:
Log in to your Amazon account.
Select "Advertising" from the menu.
Choose "Create campaign"
Following that, you can select one of three ads: Sponsored Items, Brands, or Exhibition
Let's develop Sponsored Products campaign for this walkthrough.
Following your selection of an ad type, Amazon will ask you for the following details:
Name of your campaign
Date of beginning your campaign
Your deadline (optional)
Your ad spending limit each day
Create a campaign name that adheres to a particular format for the greatest outcomes in order to keep your campaigns structured. For instance, you may use the following format: [Product Category] [Duration] [Goal].
Making a structure from the beginning will keep your ads organized and simple for people to use. Amazon is liberal when it comes to your daily budget, which is the most you will ever spend on your campaign. You will probably choose a bigger daily budget even if the company mandates a minimum budget of $1 per day for Sponsored Products (and Sponsored Brands). However, you are always free to modify your daily spending plan.
Amazon will ask you to select your targeting setting after you have finished the initial campaign setup. Selecting targets can be done manually or automatically:
Automatic targeting: Amazon targets your adverts based on the information about your products.
Manual targeting: Amazon delivers your advertisements based on the bids and keywords you provide.
Automatic targeting is something that Amazon does advise when beginning a new ad campaign. This is so that you can start a manual campaign by using the keyword data that Amazon will gradually provide you with regarding which keywords perform best. Whatever choice you make, Amazon will ask you to carry out the following tasks:
Add any more ad groups, such as those for Products A and B.
Decide which products to promote
Create a default offer for all products that you can later change.
If you choose automatic targeting, Amazon will examine your campaign before launching it. Go to the next stage if manual targeting was your choice.
You can use up to 1000 keywords per ad group when using manual targeting for Amazon PPC; strive for at least 30 in your campaign. You can manually enter keywords or upload a.csv file containing your entire keyword list. Amazon will recommend keywords for you to add if you manually input keywords. Additionally, you have the following choices for keyword targeting:
Broad
Phrase
Exact
Negative phrase
Negative exact match
You can develop a cost-effective marketing campaign by comprehending the various keyword match types. Using the data from your campaigns, you should change your targeted keywords on a regular basis so that you may find new negative keywords to target.
Plan your keyword bids: Your default bids can be updated once your keywords have been entered. You can find the most cost-effective bid for your various keywords by using your earlier keyword research. For instance, you might raise your default bid for one keyword before raising it for another. In either case, be sure to set your bid using data. You shouldn't squander money, making assumptions. You have complete control over how much you bid on keywords, just like your daily budget.
To keep track of how well your ads are performing, check them frequently. Even better, Amazon will offer bid suggestions. With this proactive approach to Amazon PPC, you may recognize opportunities to adjust your bids in order to enhance the performance and ROI of your campaign (ROI).
You can submit your ads to Amazon once you've finished adding your keyword bids. Amazon will often approve your campaign and ads within a few hours. However, once it does, your advertisements will be launched, and you can then begin evaluating their performance. Amazon will notify you and provide advice for resolving any issues it finds with your ads. Even though you've already placed your advertising, don't forget to regularly monitor them. When your campaign first starts, log in daily to check on how it's doing. This forceful technique can assist you in making quick adjustments to your plan, such as modifications to your keyword targeting, bidding, or daily budget. You can check your campaign less regularly as it gets older.
All of these steps aid in your understanding of PPC advertising and your ability to create fresh, effective campaigns. The nicest part about PPC is that you have control over both the success of your goods and your seller rank. You can reach out to a digital marketing services company to execute a successful Amazon PPC campaign and maximize sales and ROI.