Do you have a website with old blog posts? Then, look at your analytics to determine which pages get the most traffic from search engines. Some older postings may receive more traffic than fresh posts. Check the older posts to see if they still have relevant information or if they could benefit from a content refresh. This allows you to increase existing traffic while also providing vital information to potential consumers.
The process of upgrading content appears straightforward enough, yet it can be time-consuming if the text has to be rewritten. It may take a huge amount of time to study and update the content. It is here that AI tools become helpful because they can be used effectively to refresh your content without any hassles. Providers of AI content marketing services can assist you in updating your content.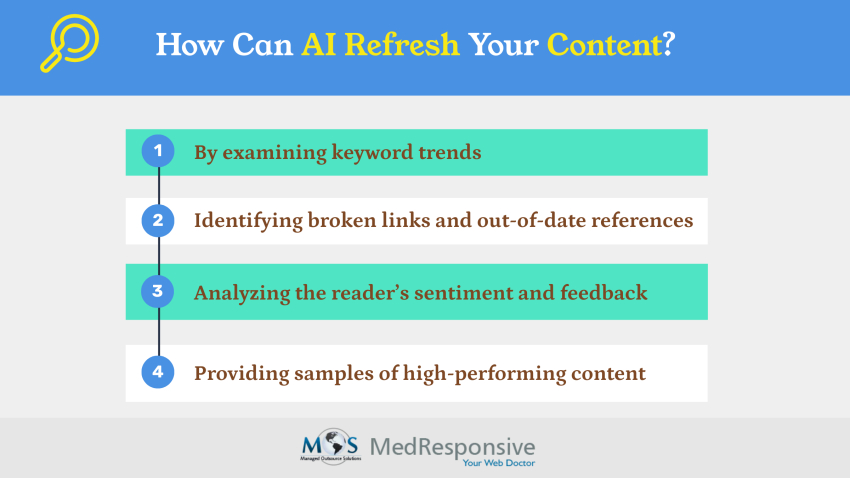 What Do You Mean by Refreshed Content and Why Is it Important?
The term "content refresh" refers to the process of updating, altering, and optimizing current content in order to maintain or improve its performance. Everything from blogs, thought-leadership posts, and landing pages to guidebooks, knowledge bases, and frequently asked questions (FAQs) can be updated. Even "evergreen" content must be updated on a regular basis to remain relevant.
Search engines such as Google place a high value on new and relevant content. Look for algorithms that strive to deliver accurate and up-to-date information when consumers seek for answers to their questions. While your previous blog entries may still include useful information, some of them may be out of date. By upgrading and refreshing your previous content, you increase its value for readers while also demonstrating to search engines that your information is always current, evolving, and rank-worthy.
How Does AI Help in Refreshing Your Content?
It can take a lot of time to complete traditional content audits, particularly when working with huge blog collections. AI technologies, however, can accelerate the procedure and offer data-driven insights to direct your approach for a content refresh. Here are several ways in which AI can help you optimize your old blog posts:
Examine keyword trends: AI systems have the ability to examine keyword trends and recommend the addition of more recent, pertinent terms to your updated content.
Detect broken links and out-of-date references: Artificial intelligence is capable of scanning your content to find out-of-date or broken references that require updating or replacing.
Analyze reader sentiment and feedback: AI-powered technologies can evaluate reader sentiment and feedback, pointing out specific parts of your blog post that may require revisions or more thorough explanations.
Give samples of high-performing content: Artificial intelligence (AI) systems can give examples of articles or blogs that are similar and performing well, enabling you to compare and enhance your own blog articles.
Even if AI offers insightful information, it's crucial to keep in mind that human creativity and comprehension nonetheless remain at the core of quality content. AI should improve the process of creating content, but humans should still write the story and make the final decisions based on their knowledge and experience.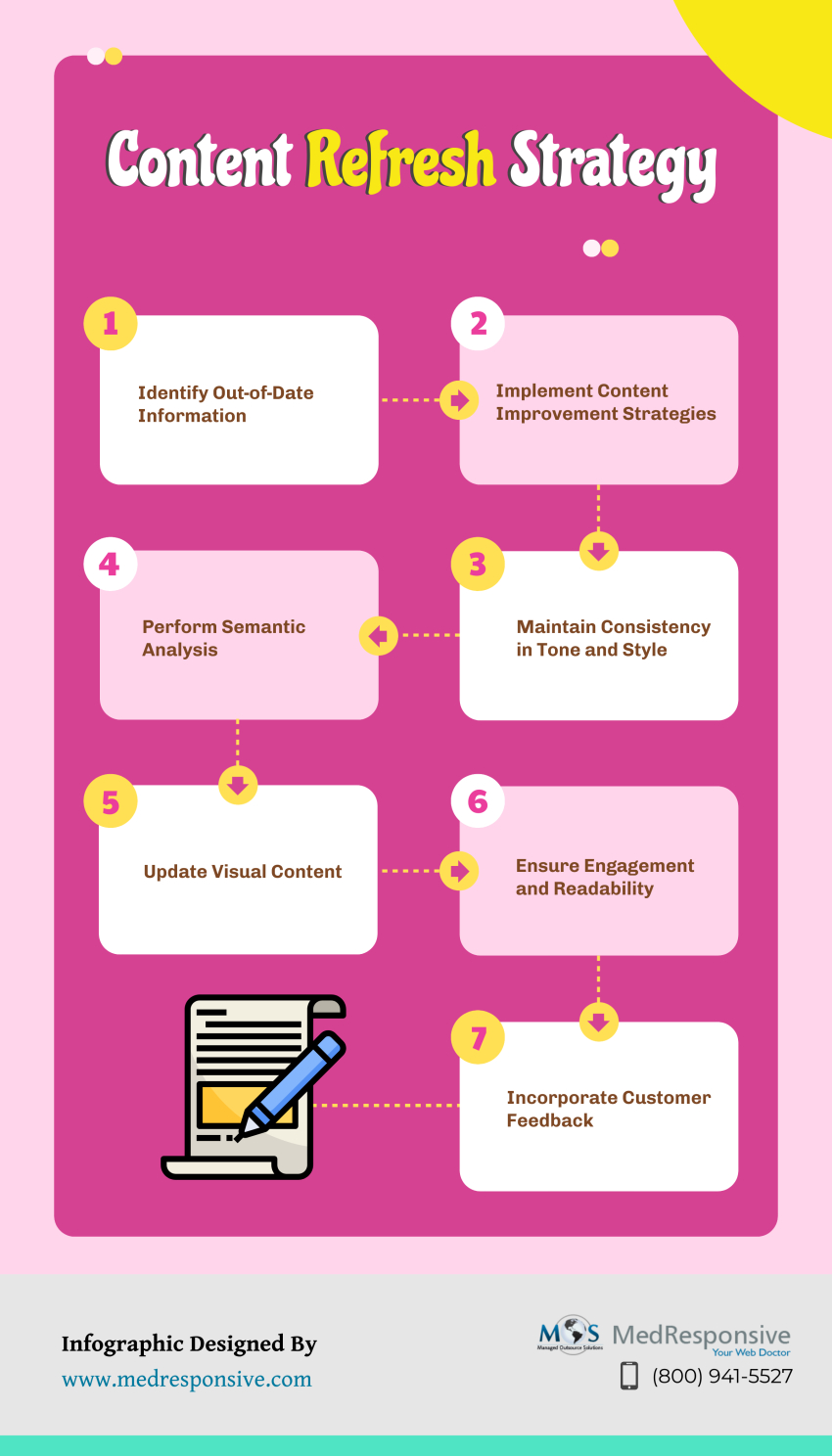 How to Refresh Your Existing Content
Identify Out-of-Date Information: Review your older blog entries to identify any out-of-date information-facts, figures, sources, or viewpoints. This is the first step toward revitalizing them. AI technologies have the ability to cross-reference your content with an extensive database of up-to-date data, pointing out any inconsistencies or out-of-date passages that require attention.
Content Improvement and Growth: Once the out-of-date content has been identified, search your blog posts for sections that could use more in-depth or comprehensive information. For the purpose of making the post more thorough, this may entail expanding on issues that were only briefly mentioned or introducing fresh, pertinent subtopics. AI can analyze high-performing content on related themes and identify areas in which your post could be improved or expanded to match the depth of top-ranking articles.
Consistency in Tone and Style: Make sure that the tone and style of the entire blog post remain the same, especially if there are any new sections or significant modifications. AI-driven writing helpers can assess an article's general tone and style, making sure that any changes or additions stay true to the original content.
Semantic Analysis: Making sure that the content is consistent and that updates don't accidentally alter a section's original meaning is crucial when updating your content. AI systems can comprehend semantics and context, giving them the ability to determine whether the updated content still conveys the same meaning and purpose.
Updates to Visual Content: It's critical to update or replace any out-of-date charts, graphics, or diagrams on your blog so as to make them consistent with the updated content. Based on the changed text, AI-driven design tools can improve photos, recommend new visual content, or even create simple infographics.
Engagement and Readability: Examine the article's flow to make sure the adjustments haven't affected the content's readability or engagement. Based on text analysis, AI technologies rate the readability of information, provide recommendations for adjustments to improve flow, as well as metrics on possible user involvement.
Incorporating Feedback: Think about adding pertinent observations from reader comments or suggestions to the original article. AI systems can analyze user comments to identify recurring themes or queries, giving a condensed picture of the topics that the updated content should cover.
By following these guidelines and making use of AI tools, you can update your outdated blog posts to make sure they draw new readers and offer insightful content to your audience.
Good content is still fundamentally based on human ingenuity and comprehension. AI tools can expedite the content assessment process, but they shouldn't be completely depended upon. Ultimately, it comes down to that priceless human understanding to evaluate any recommendations and provide a decision based on the person's SEO experience and skill. AI just provides the information. The content must be crafted by skilled content creators. Therefore, seeking the assistance of content creation services is the best way to update your existing content.