Digital marketing ideas pile up when the shopping season approaches and a reliable Long Island SEO company would be focused on providing customized marketing strategies for its clients. As Black Friday and Cyber Monday approach, Google has come up with new ideas to help retail advertisers increase their exposure.
Black Friday and Cyber Monday Deals Ad Units on Top of SERPs
Google is planning to show offers on top of its search results as part of tweaks for the Black Friday and Cyber Monday shopping season. The search engine giant is experimenting with some steps for that. Right through November 27, Google will serve some specific ad format for Black Friday and Cyber Monday promotions when people search for keywords related to these shopping days.
The keywords targeted include "Black Friday deals", "Cyber Monday deals", "Black Friday OLED TV deals" and other such variations. The ad unit, which basically contains offers that are linked to the website of the respective retailer, displays on top of the search results. Promotion extensions, which Google launched around this time last year, are powering these ads.
How to Become Part of This
Now your business can be part of this experiment. All you need to do is head to the interface of Google Ads and the Cyber Monday or Black Friday labels and add promotion extensions, as this image by Search Engine Land illustrates:

(Img link: https://searchengineland.com/google-launches-special-black-friday-cyber-monday-deals-ad-unit-308218)
Next, you need to create the ad groups for targeting the Black Friday/Cyber Monday keywords. Then add the relevant ad content or copy.
Here's how the ad unit appears, in this screenshot example mentioned in Search Engine Land: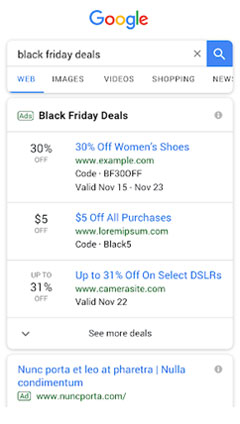 (Img link: https://searchengineland.com/google-launches-special-black-friday-cyber-monday-deals-ad-unit-308218)
The Week Culminating with Black Friday Has the Most Searches
Google reports that, last year, 100% of its Black Friday searches happened between the 19th of November, the Sunday before Black Friday and the 25th of November, the Saturday after Black Friday. That's the busy period, and with this experiment businesses could make themselves conspicuous to a new audience having many potential customers. This helps not just for Black Friday and Cyber Monday but also the festive season where there is a massive spike in shopping activity.
Get Black Friday Impression, Click & Share Trends
Google Ads is also revealing Black Friday impression, click and share trends in its Overviews. That means advertisers can check how their campaigns are trending in comparison to their performance during Black Friday last year. The interface contains a new card that reveals the aggregated trending data of clicks and impressions. This is one of the many tweaks and innovations Google is introducing to its Overview pages.
So with these innovations, Google is providing more opportunities for digital marketing companies to help their clients increase their visibility and potentially, sales and conversions. It requires experience and a deeper understanding of search trends to truly work out strategies to benefit from these innovations.