Medical SEO, like all other SEO applications, can only find success in having a deeper understanding of how the world's largest and most popular search engine, Google, works. Algorithms decide rankings and Google keeps updating them, which causes volatility. Tracking down these minor updates can be extremely difficult, particularly when Google doesn't confirm them. Following Google's January update, that left many confused, other updates followed too.
Looking Back at the January Update
As we all know, that January update came out of the blue and various webmasters reported issues. There was volatility felt by many webmasters. During this time there were more SERP results that appeared with the PAA (People Also Ask) section. This change appeared to indicate the increased importance Google placed on voice search. There was also a lesser number of shopping ads. All these seemed to aim at a more efficient search experience for users through better organic search results. Some sites found the rankings drop they experienced as part of 2018's Medic Update being reversed. This didn't seem to be a major algorithmic change, just one of the minor updates Google keeps introducing from time to time.
What Happened in February
After this, February saw chatter again from webmasters. In fact, all through February there were updates. It started with February 7. Search Engine Roundtable reported it to be "limited chatter" regarding changes in traffic and rankings in the forums, with most ranking changes appearing in UK results.
Around February 12th and 13th, more volatility was detected. And that continued all through the weekend of February 18. Again, this wasn't considered a major update but just one of the usual minor changes Google brings about.
The Update of February 22
The next big update was felt on the 22nd of February. Search Engine Roundtable's Barry Schwartz reported many discussions on WebmasterWorld as well as other forums regarding a Google update. Major changes were also witnessed by automated tracking tools from Friday, February 22 all through Saturday and Sunday. Here's the evidence from SERP Metrics:

RankRanger also revealed fluctuations:
SEMRush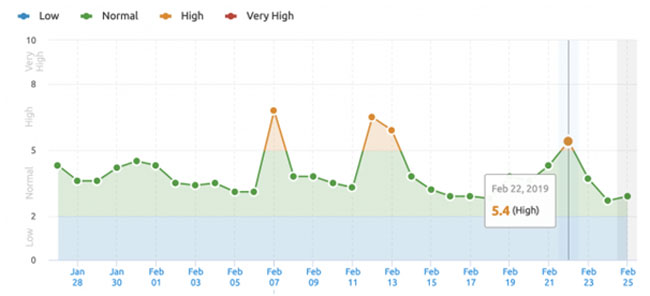 Google did not confirm any updates though.
What Else We Discovered on February 22
Adjusting Algorithms for Query CategoriesOn February 22 it was also reported that Google does adjust algorithms for query categories, though not for industries. It came from Google's John Mueller himself at his Google Webmaster Central hangout. He was addressing a hunch SEO people had been expressing about the possibility of Google using specialized algorithms for search rankings based on the industry being dealt with. But Mueller explained that Google looks at query types to find out if those kinds of queries are displaying search results that are irrelevant. In that case Google could "release" the algorithms to ensure improved results for those kinds of queries. Ultimately it is relevance to the searcher that, Mueller said, Google is interested in.
Click Through Rates and Core RankingsThat day also witnessed a bit of confusion as to whether CTRs (click through rates) determine core search rankings. The confusion arose with one of Google Cloud's developer pages that stated that a link that is clicked in the search results while searching for a particular topic is considered by Google as a ranking factor for that particular result in queries made in the future.
But Search Engine Roundtable's Barry Schwartz cleared the confusion by suggesting that what Google said probably referred to personal search. If a searcher clicks a particular link in the search results whenever he searches for a particular topic, Google may place that result higher the next time he searches for that topic. It won't be the same for any other user searching that topic.
Update Suspicions on February 27
On the 27th of February there were suspicions of another update. The WebMasterWorld forums were reported to have some discussions regarding changes in search results. It seemed to last through the night and into the 28th as well. And as is usually the case, there wasn't any confirmation from Google.
Here are the fluctuations reported by some of the tools:
SERP Metrics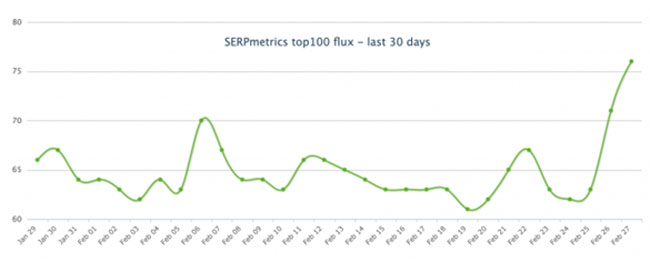 Mozcast
Google has maintained that it only announces major or core algorithmic updates. The other updates keep coming now and then. Medical website marketing companies closely observe all the changes happening, so that their clients can focus on their core tasks and not get affected by any volatility they notice in their website's performance in the search results.