Facebook says that more than 70 million moderators run active Facebook groups around the world. Though these groups include subject matter experts who love to share their knowledge – from fitness trainers to highly skilled crafters – it is not easy for them to stand out. But then recently, the social media giant announced a new way to spotlight subject matter experts in Facebook groups. Reliable social media marketing services would be aware of these new updates and let their clients know about this too.
What Are Facebook Groups?
A powerful marketing tool, Facebook Groups helps you attract new customers and engage current ones with exclusive content, community, and support – which will increase your organic reach. A group is a place for your fans/customers/readers to come forward and bond around on how much they love and like your business/product/services through discussions, memes, learning about products, getting access to exclusive knowledge and so on.
Facebook Group Expert: to Connect with and Spotlight Top Contributors
To recognize knowledgeable members in a group, Facebook has launched a new way for admins and that is, designating them as group experts. As expertise varies from group to group, admins and moderators now will have the ability to select specific members in their communities who stand out and empower them to play a more meaningful role.
When designated as group experts, these individuals will stand out from other members in group discussions. This will enable experts to be easily identified as those with considerable knowledge in a particular topic, and who have a history of sharing that knowledge with their community members.
Once the role is accepted by group experts, they will receive a badge next to their names which makes it easier for group members to spot their informative posts and comments.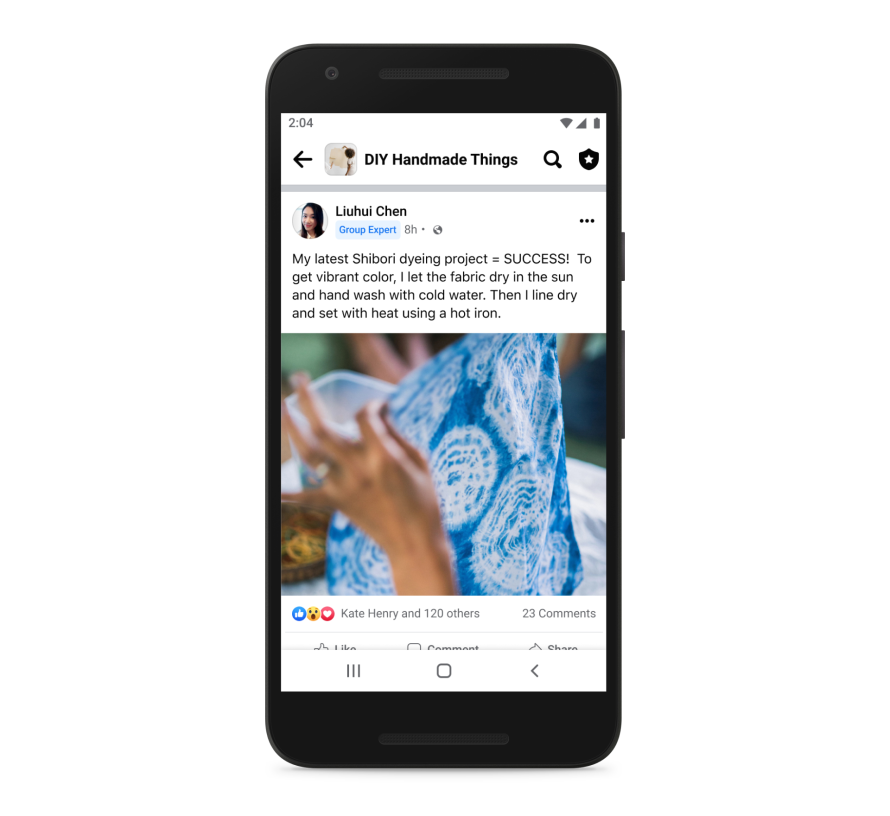 Image source
To designate a member as a Facebook Group expert, group admins should follow these steps:
Navigate to the member list
Search for an individual by name
From the member menu, select "Make group expert"
Wait for member to accept or decline the role.
Alternately, group admins can make someone an expert from the menu of a member's post, but then keep in mind that this role can be revoked at any time.
Group admins and moderators can collaborate with group experts to host Q&As, share perspectives on a topic and respond to questions. However, this feature is currently available only to selected groups across desktop and mobile.
Starting with some people in fitness and gaming, the new feature allows identifying specific topics they're knowledgeable about – such as yoga or a particular game. Once the topic is identified, admins can then search for these specific topics, discover significant people who are not yet members and invite them to join as group or subject matter experts.
However, to make it easier for group experts to engage with their followers and community members, the company has introduced some ways such as:
Automatic Invites: This feature allows admins to invite their recently engaged Page followers to join groups they've created.
Ask Questions: When people in a group write a post that looks like a question in their group, the post will automatically be upgraded to a format that encourages others to share advice, information or perspective.
Create Live Audio Rooms: Creating live audio rooms in groups is a low-pressure way for group experts and communities to get ideas and inspiration from each other through audio-first conversations. However, this feature is not currently available, but will soon becoming to Groups this summer.
Host Q&As: This is a way for people to lead real-time question-and-answer sessions with their communities, in a text-based format. All questions may be viewed in the Q&A's comment section and answered questions will be featured in an interactive, swipe able stack.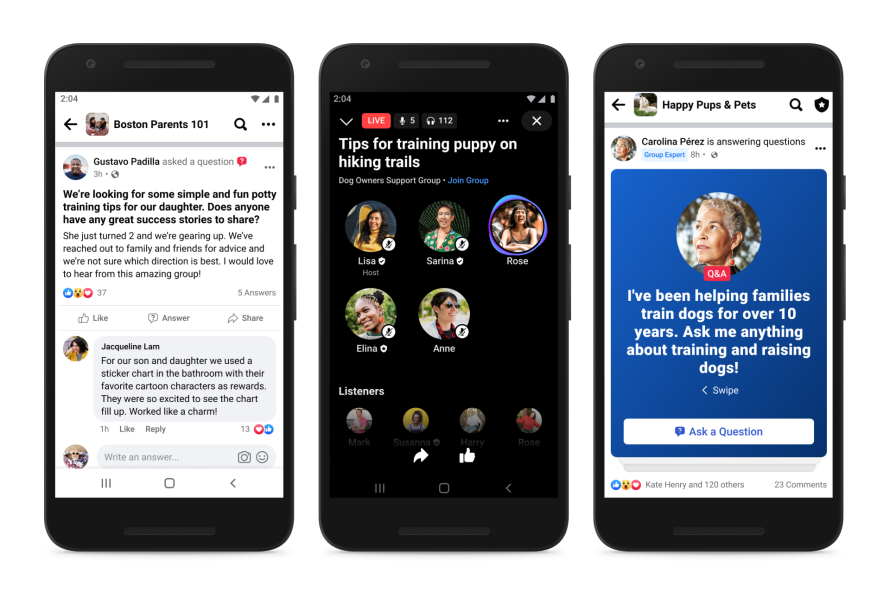 Image source
With the communities growing, group admins will be able to create more collaborative places for discussion and content sharing along with the group experts.
Along with Facebook Group experts, the company is also rolling out Streamer Fan Groups, a new type of expert-led community. This group is designed specifically with gamers in mind to small subsets of creators as it helps
Increase live streaming distribution
Community building
It also supports streamers in developing deeper connections with their fans after the Livestream ends.
As a digital marketing services company, we are well aware of the latest announcements and updates that social media platforms such as Facebook are launching.
Reach out for a free consultation at MedResponsive.
We will help personalize your campaign to match your brand and message!
Contact us today @ (800) 941-5527!