The rapid growth and popularity of social media platforms has made businesses try everything they can do to attract audiences through social networks and the education sector is no exception in this regard. Social media marketing is growing at an unprecedented rate. In fact, it has become a preferred channel for users to stay connected and for businesses to promote their brands. New social media channels are popping up every day – some live and die – but many have strong contenders. Despite the whispers that Facebook is dead – it is still alive and thriving. In fact, FB is one of the oldest networking platforms in space, and it still has more users than any other social media networks today. The Facebook platform has become an invaluable tool for communication and marketing in the field of education.
Facebook marketing is an essential tool for schools to promote their brand, connect with their audience, and achieve their marketing goals. Effective marketing strategies help to increase brand awareness, engage with prospective students and parents, enhance reputation, and increase enrolment. Schools can rely on professional social media marketing services to enhance their online presence.
Incorporating general best practices and keeping up with a consistent posting pace can give positive results. Schools that use Facebook actively can enjoy amazing results including –
Sharing valuable information quickly and safely through comments, replies and their messaging app to build brand engagement and loyalty
Specifically targeting demographics via social media advertisements to increase brand awareness and engagement
Scheduling content right on the platform under 'Publishing Tools' to save time
Leveraging Facebook analytics right inside the platform under 'Insights' to prove ROI
Top Facebook (FB) Brand Awareness Practices for Schools
There are different ways in which social media can be used directly in the classroom. There are many social media tools for schools that can be taken advantage of by students of any age. Here are some important steps to create an effective Facebook marketing plan for your school –
Build a FB Business Page for Your School – One of the first steps to understand how to effectively use FB is recognizing the real difference between personal profiles and business pages. The best practice for schools is to set up a separate FB business page to interact with FB users. However, you will need a personal FB page to start this as this is a primary requirement for any business page. In order to set up your FB business page, follow the steps below –

Select Business or Brand
The Page Name should be the name of the school or district
The category "Education" should be selected to automatically optimize the page
Upload your school's profile photo (logo), cover photo or video (campus/campus life), and add additional information. It is important to make surle that your profile picture is your school's logo so that it is recognizable in users' news feeds.
By incorporating the right images, you can really build a "branded" FB page
Soon after creating your school FB page, you can start posting content and engaging followers. Building out an effective content strategy can help you organize your ideas, and ensure you are publishing relevant content for all your visitors.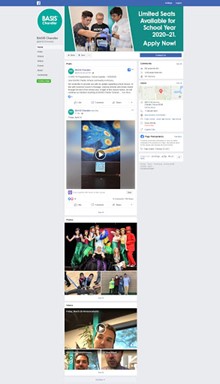 Image Source:
Facebook's Latest Algorithm Updates – Facebook favors user content over brand content, which means users are seeing more content from their friends and family than from businesses (like schools). The algorithm prioritizes active interactions, like commenting and sharing, over passive interactions, like impressions. It is important for users to engage with your content in order for Facebook to identify the content as something "worth" showing to other followers. In the same way, once Facebook sees that an individual often engages with your content, you are more likely to show up higher on their news feeds when you post in the future. In short, failing to post content on Facebook, even for a short period of time, can affect your reach. Here are a few ways to earn organic engagement –

Post content regularly – Posting content regularly for your followers is a best practice to be followed on every social media network. Scheduling the content consistently will help retain your followers. It will also help in closing content gaps and figuring out what works and what doesn't for your area of business. Posting content at least once a day (or up to 5-7 times a week) is highly recommended. Also, it is important to figure out the best time to make postings on FB. For instance, if you search for the "best" times to post on each channel, you are more likely to get mixed results. Finally, you should test out different times of the day to see what works best for your page. In order to see how well your posts perform on Facebook, consider using the Facebook Analytics section under "Insights" behind your business page. Under this section, you can get real data on how well your school's page is performing along with the different types of followers you have, past performance, engagement, reach and more.
Get Positive Reviews – Make sure that your school's reviews are turned on for your Facebook page. If a greater number of people are posting reviews on Facebook, chances are that an increasing number of people will read them. Thus, reviews and recommendations can help build the organic reach of your school.
Use Facebook Groups – FB groups are an effective way to reach audiences directly who may not catch your organic content. It is a great opportunity for your school to interact with specific members of your community. Groups come with features that give members an opportunity to interact with one another and get the most important information out of the group. Some of the unique features of these groups include – hosting watch parties, conducting polls and making specific posts as announcements.
Use Finalsite Feeds – Incorporating Finalsite Feeds into your school website can make it possible to filter in the content from your Facebook page right onto your website. With Feeds, you can monitor the content being pulled in, and allow your website visitors to view authentic and attractive content without having anyone leave your website.
Share Student and Faculty Success Stories – Highlighting the accomplishments of your students and faculty is an excellent way to showcase the school's strengths and generate positive word-of-mouth. Share stories, photos, and videos of students and faculty who have achieved significant milestones or awards. Also, share photos and videos of your school's facilities, classrooms, labs, and campus to give prospective students a glimpse of what it's like to study at your school. This will help them visualize themselves attending the school and create an emotional connection.
Build an Effective Social Content Marketing Strategy – Marketing on social media is all about posting the right content at the right time. For schools, it is important to plan out posts that highlight academic reputation, quality of facilities, location, third-party validation, sense of community, and a few more that highlight the brand as a whole. In addition, posts based on student news or other share-worthy posts that are less marketing-oriented and more community-based are encouraged. In addition to postings and other downloadable content, it is important to develop a strong content marketing strategy. This can help your school build a positive online reputation and benefit from SEO. One way to do this is by creating credible backlinks. Create content on your website that points to other pages on your site as additional resources, such as press releases and blog posts.
Add Visual Content – Facebook tends to give more priority to video content in the News Feed. This is because more than 50 percent of users prefer video content when compared to other forms of content. This can be done by posting Facebook Live Video. Live video is great for schools, as this can give a true picture about what is happening in the moment for individuals who can't be there at that time – such as a sporting event, open house, fundraiser, graduation, etc. Videos are an excellent way to showcase your school's culture and academic offerings. You can also create short videos that highlight the unique features of your school, including extracurricular activities, academic programs, and events.
Promote and Share Content of School Events – Reports suggest that about 62 percent of people use FB to know about a live event, more than any other social media platform. In fact, FB has an events feature in business profiles that allow you to add a photo for the event, give it a name, date/time, along with a description. Another option will be to integrate Facebook's Messenger App so that people can ask you specific questions about the event, provide a direct link to the page about the event, and add co-hosts if appropriate.
Create Facebook Stories – Social media platforms are constantly evolving and adding new features that brands can use to strengthen their marketing strategies. In March 2017, Facebook launched a new feature – "Facebook Stories". Made of visual content in video or slideshow format, FB stories are created on your Smartphone camera and last for 20 seconds. These stories are also inherently temporary and after 24 hours your story automatically deletes itself. However, there is an option to save your content into a private file for future insights. Facebook stories come packed with text, filters and stickers. Adding the right elements to your story, from location-specific tags to unique images, boosts engagement. It also gives an option to view who has watched your story.
Engage with Your Audience: Responding to comments and messages on your Facebook page shows that you care about your audience and are actively engaging with them. It also helps to address any concerns and questions that prospective students or parents may have.
Run Targeted Ads: Use Facebook's ad targeting features to reach your ideal audience, including prospective students, parents, and alumni. Create targeted ads that highlight the benefits of attending your school and why it's the best choice for students.
Today, many schools and educational institutions are adapting these strategies into their framework to improve the life of the students. Understanding Facebook's core and evolving features as well as its latest algorithms is important to ensure you are reaching the right people at the right time. Not only will it become more important to take your Facebook strategy to the next level and to interact with your followers more than ever before, but it will also make for an improved user experience on your school's Facebook page. Experienced social media marketing companies can help increase your school's online presence and improve its social media presence not only on Facebook but also across all other social media platforms.
Ready to maximize your social media presence and boost your business?
Call us at (800) 941-5527!