As the global pandemic COVID-19 is affecting almost every aspect of life all over the world, businesses – be it small or large – are coming to terms with the awareness that daily procedures are quickly changing. Businesses are changing strategies, hoarding cash and preparing for the worst, thinking that these changes can cause a severe aftermath in the global economy. In reality, some businesses can thrive during downtimes by investing heavily in digital marketing such as SEO. Regardless of whether your business has momentarily halted all business or chosen to actualize a home working routine, the approach to your digital marketing presence should be adjusted in response to this current health crisis. One of the lessons to learn in SEO is that sometimes unpredictable situations rise that help put things in perspective. Experienced SEO services in Long Island now focus on helping their clients boost their business by getting back the traffic and conversions they'd have lost during this outbreak.
It's very important to continue to have search engine marketing efforts during these difficult times, as it will help you build personalized and lasting relationships with your audiences from a safe distance. Most businesses are rethinking their approach to marketing and sales and for many, this change has prompted an interest in SEO. However, as coronavirus or COVID-19 has put the SEO efforts of nearly all industries in a slowdown, we have to put extra effort on SEO. The worst part is that the virus is spreading rapidly with a number of cases being reported each day. According to a New York Times database, at least 214,461 people across every state of the United States, have tested positive for the virus. At this point, the government has ordered many businesses to close and, in such situations, it would be futile for marketers to work for short-term gains. Industries that are not digital-native, may be less sophisticated in their digital growth and customer relations strategies, because people now rely more on search engines for enquiring a lot of things which might also include your business or products.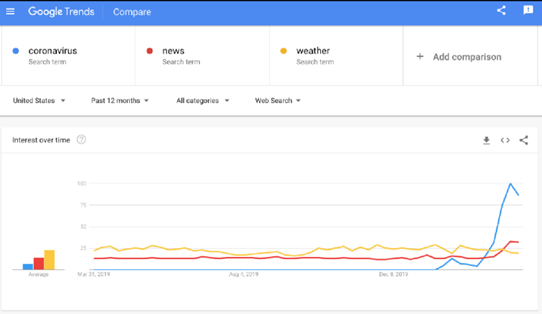 SOURCE:https://www.searchenginejournal.com/conductor-tips-build-strong-seo-program-covid-19/357654/
According to Search Engine Journal, "during economic downtimes, SEO is an especially smart investment in the future of your business. One of its key advantages is how cost effective it is compared to other channels, such as media."
Overview of SEO and Its Role during the Coronavirus Pandemic
According to tributemedia, setting your website up to be found by search engines is what SEO or Search Engine Optimization is. There are many aspects of optimization, which include both on-page and off-page. Generally, SEO is focused on Google, which means many of the guidelines and rules of thumb are based on what the search engine giant has said about how it ranks pages and evaluates sites. However, if you haven't approached SEO for your business (which should be considered as a long-term strategy), this is the right time to dive in. Some of your SEO tasks may bring some quick results, but for the most part what you'll be doing will help set you up for future success.
The Search Engine Results Pages (SERPs) of Google was always meant to better serve searchers but it also has often been impulsive. Features such as 'featured snippets', 'people also ask' boxes, and local packs (the map preview) have frequently interrupted SEO tactics, which means SEO is constantly developing. And especially during this coronavirus pandemic period, websites have an entirely new world of unpredictability, showing major changes and constraints that are impacting local businesses, ecommerce sites, and all other websites.
Here are some of the changes:
Changes seen in Google My Business (GMB): GMB is key to local business SEO, and Google has restricted some of the GMB features that might affect companies.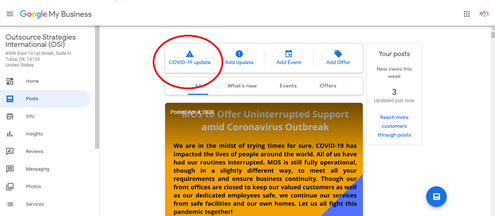 Interruption in search trends: As everything has moved online, the search engine trends have shaken up the websites in both positive and negative ways. For instance, even though online sales are booming, people are also looking for info like DIY projects, recipes, and homeschooling.
YMYL & EAT: Two factors in Google's evaluation of websites YMYL & EAT stand for Your Money or Your Life; and Expertise, Authority, and Trustworthiness respectively. YMYL means Google pays particular attention to anything that might impact someone's money or health and to determine EAT, Google factors in authors' and sites' knowledge and accuracy.
Changes to SERPs: This is one of the major changes in SEO, as the new pandemic has caused several changes in Google's SERPs, especially on queries related to the COVID-19 virus. That is, searchers looking for anything even slightly related to COVID are shown the top stories, health information from reputable sources, alerts and so on. Anything beyond those top results are pushed down the page, into the second page and beyond.
However, in the current context, depending upon how you work with SEO, you could avoid missteps and take advantage of the opportunities. Here listed is a 10-point SEO checklist that is differentiated into short-term and long-term strategies, which will help and ensure you are moving in the right direction.
Short-term SEO Strategies
If you're just starting out or looking for easy ways to start optimizing, here are a few things that you can include in your checklist:
Begin with an Audit: For identifying problems and opportunities, conduct an SEO audit using free tools such as Screaming Frog, WooRank, SEMrush and so on. This will help you crawl your site and see issues that should be addressed.As there are many ways to conduct an audit, figure out which strategies make the most sense for your site. Manual auditing is also possible by looking through your site's content, determining what needs uplifting, and keeping an eye out for design/usability issues.

Your site's indexability, crawlability, speed, content, schema markup, and overall user-friendliness are all essential components of technical SEO. If a search engine can't crawl your website, it can't rank your content or your products in search results. So, make sure you begin with an audit to check all these components, so that the rest of your SEO strategy will fall into place. This tip is also considered to be a long-term SEO strategy.

Have Good Knowledge of Google's Tools: Most of the valuable tools for SEO are free, such as Google Search Console and Google Analytics. Get to know about these tools very well, as Search Console lets you submit a sitemap so Google knows what to crawl, and you can get insights on what pages are showing up for what queries and also any errors that Google has found. Google Analytics gives you an overview of all your web traffic, and also has lots of options to drill down and get even more information about who is using your site and how.
Focus on Metadata: Make sure your titles, headings, image alt tags, and meta descriptions are doing their job, because all these help in SEO. That is, the title and meta description appearing on the SERPs should be informative and persuade searchers to click. Headings help organize a page's content, and they enable search engines to understand what your page is about. Image alt tags should describe the image accurately as it is a good practice and important for visually impaired visitors. (tributemedia.com)
Key Page Updation: If your website has any important pages or blog posts, then it's time for some polishing. Update all those important pages and make sure that they have unique, quality content, well-optimized data, and naturally used keywords. Create a content strategy for all of your website's content to maximize your visibility.
Long-term SEO Strategies
Generally, long-term strategies for SEO include:
Focusing on Technical SEO
Link building
Regular keyword, topic, and LSI keyword optimization
Content audits, pruning, and cropping
Pillar pages and content
Site audits and error management
Strategic internal linking and navigation
Apart from the above-mentioned, there are plenty more strategies that you can take on, but the key is to determine what aligns best with your long-term goals, as well as what's feasible for a long-term strategy. Always keep in mind that message tones, current campaigns, and the effect that the outbreak has on your industry should all be carefully considered before posting or sharing digital content.
The current situation with COVID-19 has undoubtedly affected all of our lives – from adapting our personal routines for the protection of others to overhauling the way we work within our organizations. If you are not sure where to start or feeling like these tasks are outside your expertise, rely on SEO experts. Despite the fact that you may be reluctant to spend money now (during this crisis), designating a portion of your budget for SEO is one way you can ensure strategic marketing and set yourself up for progress when this pandemic is over. An experienced Long Island SEO company can help make this period productive.